Crosby Blindsides Handel:
Saintly Sixteen Set!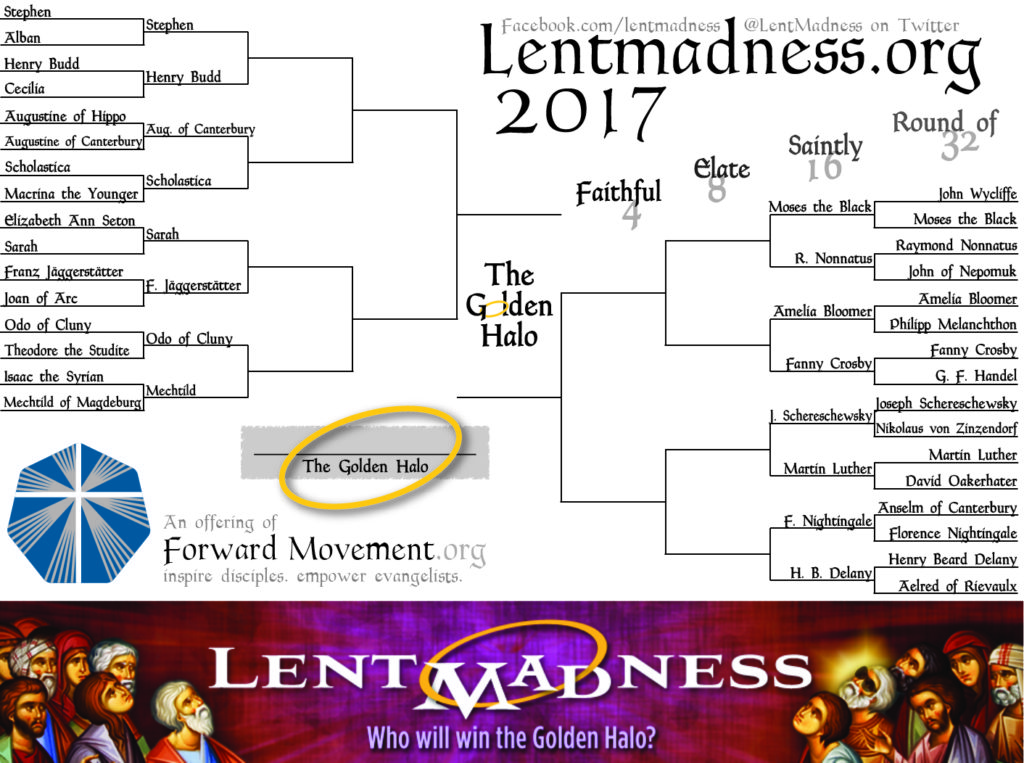 Check out the 2017 bracket, and then come here every day of Lent to keep up with your favorite saint. Clicking on the bracket will bring up a larger, printable, more readable one, or you can download a PDF version. You also can buy your very own Giant Bracket Poster from Forward Movement! Get one for everyone in your church and everyone on your street!
Round of 32
March 22nd: Fanny Crosby (53%) defeats G.F. Handel (47%)
March 21st: Sarah (51%) defeats Elizabeth Ann Seton (49%)
March 20th: Joseph Schereschewsky (69%) defeats Nikolaus von Zinzendorf (31%)
March 17th: Scholastica (63%) defeats Macrina the Younger (37%)
March 16th: Amelia Bloomer (74%) defeats Philipp Melanchthon (26%) 
March 15th: Franz Jägerstätter (52%) defeats Joan of Arc (48%)
March 14th: Martin Luther (58%) defeats David Oakerhater (42%)
March 13th: Augustine of Canterbury (57%) defeats Augustine of Hippo (43%)
March 10th: Raymond Nonnatus (83%) defeats John of Nepomuk (17%)
March 9th: Odo of Cluny (52%) defeats Theodore the Studite (48%)
March 8th: Florence Nightingale (81%) defeats Anselm of Canterbury (19%)
March 7th: Henry Budd (53%) defeats Cecilia (47%)
March 6th: Moses the Black (65%) defeats John Wycliffe (35%)
March 4th: Mechtild of Magdeburg (77%) defeats Isaac the Syrian (23%)
March 3rd: Henry Beard Delaney (78%) defeats Aelred of Rievaulx (22%)
March 2nd: Stephen (62%) defeats Alban (38%)
2017 Match-up Calendar
Click here to download a PDF of the 2017 calendar of Lent Madness match-ups or click on the picture below to view it in your browser.