Gobnait Gobsmacks Hrotsvitha!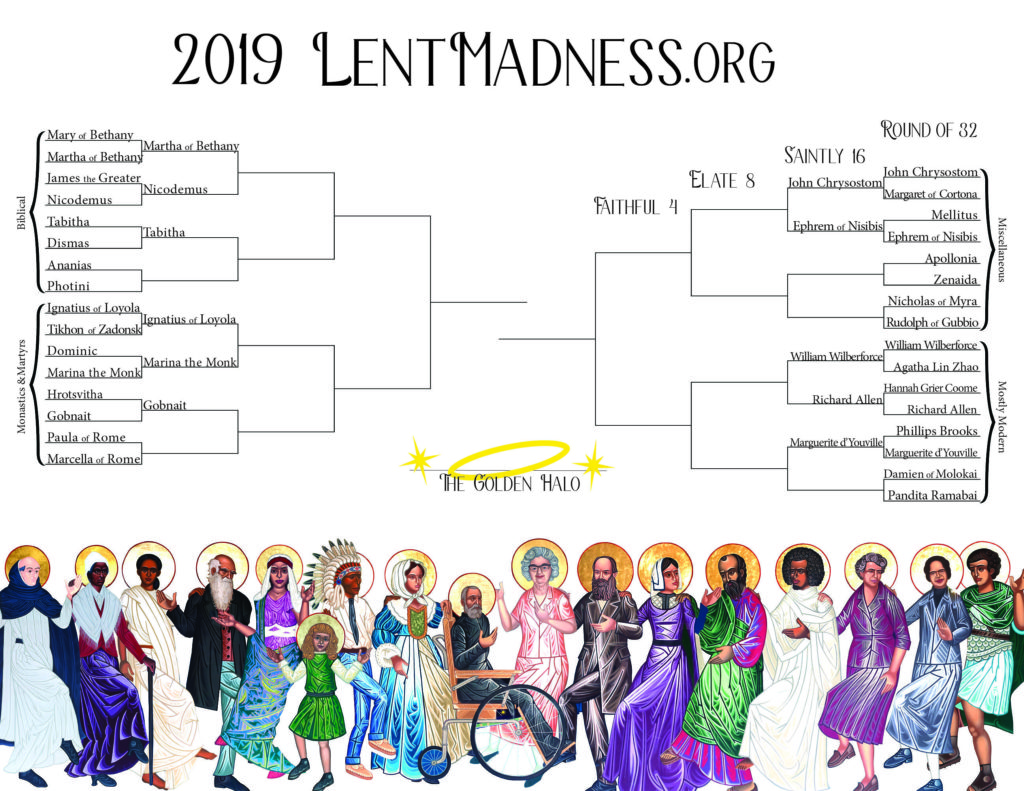 Check out the 2019 bracket, and then come here every day of Lent to keep up with your favorite saint. Clicking on the bracket will bring up a larger, up-to-date, printable one, or you can download a blank PDF. You also can buy your very own Giant Bracket Poster from Forward Movement! Get one for everyone in your church and everyone on your street!
Round of 32
March 20th: Gobnait (66%) defeats Hrotsvitha (34%)
March 19th: Marguerite d'Youville (70%) defeats Phillips Brooks (30%)
March 18th: Tabitha (74%) defeats Dismas (26%)
March 15th: Ephrem of Nisibis (70%) defeats Mellitus (30%)
March 14th: Marina the Monk (62%) defeats Dominic (38%)
March 13th: Richard Allen (61%) defeats Hanna Grier Coome (39%)
March 12th: Nicodemus (51%) defeats James the Greater (49%)
March 11th: John Chrysostom (53%) defeats Margaret of Cortona (47%)
March 9th: Ignatius of Loyola (65%) defeats Tikhon of Zadonsk (35%)
March 8th: William Wilberforce (59%) defeats Agatha Lin Zhao (41%)
March 7th: Martha of Bethany (58%) defeats Mary of Bethany (42%)
2019 Match-up Calendar
Click here to download a PDF of the 2019 calendar of Lent Madness match-ups or click on the picture below to view it in your browser.