Lentorium: The Lent Emporium
Looking for that perfect Lent gift? Here you can find Lent Madness goodies. Sure, the selection is small (but high quality!), though keep your eyes peeled as we're still on the fence about whether to offer Lent Madness dog collars, emery boards, car magnets, and foam fingers. Keep your wallets open and know that whatever money is raised will go to defray the costs of keeping Lent Madness up and running.
FRANCIS OF ASSIS MUG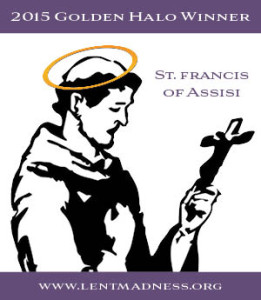 This mug features Francis of Assisi, the Lent Madness 2015 Golden Halo winner, along with the words "2015 Golden Halo Winner" and "Lent Madness." This is the perfect gift for every Episcopalian or any Lent Madness fan. Because it's dedicated to St. Francsis, why not order one for yourself, for your friends, and for all your pets? Just $11. Five or more are $9.00 each. Get yours today!
BRIGID OF KILDARE PINT GLASS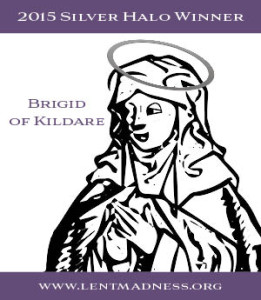 Raise a glass to the first-ever Silver Halo of Lent Madness with a Brigid of Kildare pint glass. Brigid may have promised a heavenly lake of beer, but we're pretty sure she'd also support a lake of root beer or any other beverage. Enjoy this custom glass (yes, it's 16 ounces, a real pint) with Brigid's likeness sporting a silver halo, along with the words "2015 Silver Halo Winner" and the Lent Madness web address. A bargain at $12. Order now!
PURPLE T-SHIRT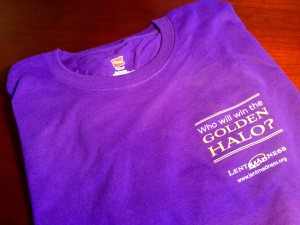 What better way to show your Lent Madness spirit than with a purple t-shirt? It's not the purple hair-shirt you've always dreamed of, but it is a high-quality 100% pre-shrunk cotton shirt. Emblazoned on the front left with "Who will win the Golden Halo?" and the Lent Madness logo and website; everyone will want to talk with you about their favorite saints. Available in small, medium, large, extra-large, and double-extra-large.
FLYING GOLDEN HALO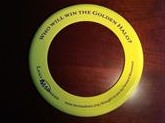 Enjoy Lent Madness in a totally new way with a Golden Halo Flying Disc. These bright yellow flying discs are easy to toss and catch. Emblazoned with Lent Madness purple ink, each disc says "Who Will Win the Golden Halo?" with the Lent Madness logo and URL, along with mention of Forward Movement, the official sponsor of Lent Madness. Measuring 9.5″ in diameter, the discs are sure to please every Lent Madness fan in your family or church. At the bargain price of only three bucks, buy one for everyone on your Lenten shopping list.

DRINKWARE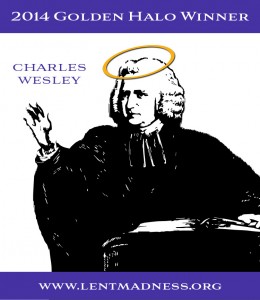 Commemorate this great moment in church history by purchasing your very own Charles Wesley mug. It features Charles with the words "2014 Golden Halo Winner" and "Lent Madness." This is the perfect gift for every Episcopalian and every Methodist. Or really anyone who likes good hymns. The Charles Wesley Golden Halo Winner Lent Madness 2014 mug is white ceramic, ready to hold 11 ounces of your favorite beverage. Buy five or more for just $9 each. Buy now!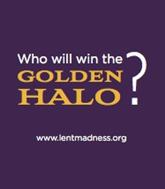 Maybe you want to get a more general Lent Madness mug. How about a purple ceramic mug that says "Who will win the Golden Halo?" on one side with the Lent Madness logo on the other? Eleven ounces of tea or coffee will be more delicious, thanks to the wondrous powers of purple. This makes a great gift for anyone who loves warm beverages, the color purple, or mostly cylindrical objects. Pre-order for just $11. Buy five or more for just $9 each. They'll ship soon! Buy now!
Do you love coffee as much as Scott and Tim? Probably not, but if you love it even a little, you are going to want your own Lent Madness mug. You can buy a mug with the Lent Madness 2013 winner, Frances Perkins for just $11. The mugs are made in the USA with union labor (because we didn't want the ghost of Frances Perkins to haunt us).
If you want a blast from the past, shop at our Cafe Press store for Lent Madness 2012 mugs. Sure, it seems like we're still selling junk from three years ago, but in only 47 more years, you'll be able to say you own a mug that's 50 years old. Or something.
PLAYING CARDS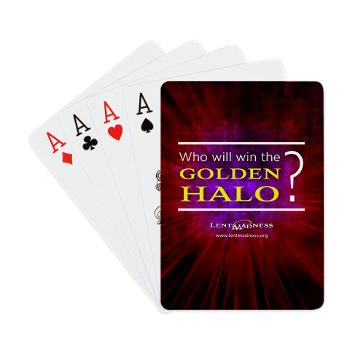 Pass the time while you wait for Lent Madness 2015 by playing card games with your friends. Or perhaps you'd like to try solitaire with real cards instead of that stupid computer game. Or make a few bucks on card tricks. Whatever you use them for, you'll love these high-quality shiny playing cards, featuring 52 cards spread over four suits with two jokers. Think of the jokers as Scott and Tim. Anyway, you can snag these babies from our Cafe Press store for just $21.50. Buy them now at a bargain price of just 39.8 cents per playing card.
CELEBRITY BLOGGER AND SUPREME EXECUTIVE COMMITTEE BOOKS
Head over to the Resources tab to see the books our Celebrity Bloggers and Supreme Executive Committee folks have written. You really can't claim to be a true Lent Madness fan until you own Tim's book, Dog in the Manger, available in print, Kindle, Nook, or iTunes or the newly released companion guide Dust Bunnies in the Basket.
THE OFFICIAL BOOK OF SAINTS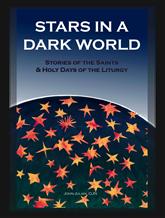 This year we've partnered with the Order of Julian of Norwich to make their fantastic book of hagiographies (fancy word meaning "saintly write-ups") available to the Lent Madness faithful.
"Stars in a Dark World illuminates for us those individuals who knew in their hearts the great love of God, who knew how far they were from perfection. They lived courageously, taking steps without knowing what would be accomplished, addressing the complexities of their world with singleness of purpose and understanding, and confronting the struggles of daily life because they were no more and no less. This compelling familiarity and intimacy invites us into the mystery of the gracious God who called the saints to maturity in Christ." — from the forward by Bishop Richard F. Grein
Stars in a Dark World, by Fr. John-Julian, OJN, is the most comprehensive and detailed collection of the biographies of the saints and background information about the holy days of the Episcopal liturgy available today. This 700-page book is the result of over seven years of research and study, and covers all liturgical commemorations approved for use through 2006.
You can buy it in print, Kindle, Nook, or iTunes. The massive book is $30 or $9.99 in ebook form.