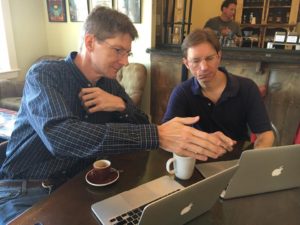 Late last week the Supreme Executive Committee met for their annual retreat at a secure, undisclosed coffee shop. Over 24 hours, Scott and Tim drank coffee, discussed saints, argued in a Biblical fashion over which one of them was "the greatest," and then drank more coffee. As befitting any church conference there was worship, plenary sessions, break-0ut groups, and easels with newsprint. Unlike your average church gathering, the coffee was outstanding. Because the SEC is composed of insufferable coffee snobs.
The major focus of this annual event is the discernment of the following year's bracket. This year was no exception and the SEC is pleased to announce that, while it was touch and go for awhile, there will indeed be a Lent Madness 2017. Scott and Tim sifted through 456 separate saintly nominations submitted by 637 people in order to whittle the field down to 32 saints. How did it go? All we can report for now is that Scott and Tim came to blows several times and that the official bracket will be released on All Brackets' Day, November 3.
There was also, apparently, a mole as photo documentation has been released highlighting some of what took place during this secretive session. This security breach means that the Lent Madness faithful have been given a unique glimpse into the inner workings of the SEC. Scott and Tim, naturally, blame each other for this dangerous situation.