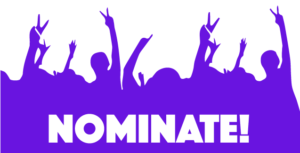 In the fullness of time, the Supreme Executive Committee rests from its Lenten labors and begins accepting nominations for Lent Madness 2018.
In other words…
Welcome to Nominationtide!
For one full week, Tim and Scott will be accepting nominations for Lent Madness 2018. The nominating period will remain open through the evening of Monday, May 22. At which point the window will unceremoniously slam shut.
Please note that the ONLY way to nominate a saint is to leave a comment in this post. Nominations will not be accepted via social media, e-mail, carrier pigeon, brick through a window at Forward Movement headquarters, singing telegram, sky writer, or giant billboard along I-95. Also, at least officially, bribes are discouraged.
As you discern saints to nominate, please keep in mind that a number of saints are ineligible for next year's "saintly smackdown." This includes the entire field of Lent Madness 2017, those saints who made it to the Round of the Elate Eight in 2016 and 2015, and those from the 2014 Faithful Four. Needless to say Jesus, Mary, Tim, Scott, and previous Golden Halo Winners are also ineligible. Below is a comprehensive list of ineligible saints. Please keep this in mind as you submit your nominations.