Lentorium: The Lent Emporium
Looking for that perfect Lent gift? Here you can find Lent Madness goodies. Sure, the selection is small (but high quality!), though keep your eyes peeled as we're still on the fence about whether to offer Lent Madness dog collars, emery boards, car magnets, and foam fingers. Keep your wallets open and know that whatever money is raised will go to defray the costs of keeping Lent Madness up and running.
Stay tuned while we update the Lentorium. If you want to order stuff immediately, head on over to Forward Movement.
ANNA ALEXANDER MUG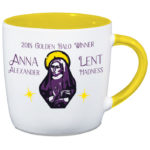 Raise a mug to the 2018 Golden Halo Winner of Lent Madness with an Anna Alexander mug. Enjoy this custom mug with Deaconess Anna's likeness sporting a golden halo, along with the words "2018 Golden Halo Winner."
LENT MADNESS TRAVEL MUG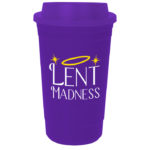 Enjoy your hot coffee or tea in this stylish purple Lent Madness travel mug. Show your Lent Madness pride at home, at work, or by sneaking it into church!
PERPETUAL PURPLE MUG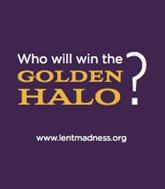 Maybe you want to get a more general Lent Madness mug. How about a purple ceramic mug that says "Who will win the Golden Halo?" on one side with the Lent Madness logo on the other? Eleven ounces of tea or coffee will be more delicious, thanks to the wondrous powers of purple. This makes a great gift for anyone who loves warm beverages, the color purple, or mostly cylindrical objects. Order now for just $11. Buy five or more for just $9 each. Buy now!
CELEBRITY BLOGGER AND SUPREME EXECUTIVE COMMITTEE BOOKS
Head over to the Resources tab to see the books our Celebrity Bloggers and Supreme Executive Committee folks have written. You really can't claim to be a true Lent Madness fan until you own Tim's book, Dog in the Manger, available in print, Kindle, Nook, or iTunes or the newly released companion guide Dust Bunnies in the Basket.
MEET THE SAINTS STORY BOOK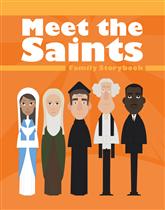 Forward Movement publishes an entire curriculum about the saints, and it's available free of charge! Designed for use in a congregation, it takes adults, youth, and children through a full year of learning about saints. Download now (adult/youth or children). You can also get the most excellent family story book, Meet the Saints, in print form. A bargain at $12, this book will take your family on a journey which unveils how Christ's light has shone brightly in the lives of men and women through centuries. Learn more about the monks, missionaries, prophets, doctors, evangelists, and more who have led us on our way. Buy now!