Lent Madness 2023 boasts an all-star lineup of Celebrity Bloggers serving as contributors. Laurie Brock, Megan Castellan, Anna Fitch Courie, David Creech, Neva Rae Fox, David Hansen, Heidi Haverkamp, Emily McFarlan Miller, Miriam McKenney, David Sibley, and Eva Suarez are all members of the Lent Madness team. Adam Thomas continues in his unsung role as Lent Madness Bracket Czar, regularly updating the bracket throughout Lent.
Enjoy reading the contributor bios below, log onto their respective website and blogs, and by all means buy their books! (where applicable). Oh, and PLEASE don't mob them when you see them out in public places. The aura of "celebrity" can be a heavy burden.
The Rev. Laurie Brock, returns as a Distinguished Celebrity Blogger because she loves getting free coffee mugs and receiving the celebrity red carpet treatment at Episcopal gatherings. One of those things may not be entirely accurate. She serves as the rector of St. Michael the Archangel Episcopal Church in Lexington, Kentucky. She blogs at www.revlauriebrock.com. Her book, Horses Speak of God, was published in Summer 2018. She frequently shares her quirky, snarky views on faith, Alabama football, and popular culture on Twitter at @revlaurieinlex, but don't follow unless you can laugh at yourself and your religion. Otherwise you'll just be offended. When she's not doing priest things, she is riding her horse Nina, the Official Horse of Lent Madness.
The Rev. Megan Castellan, Distinguished Celebrity Blogger, is the rector of St. John's Episcopal Church in Ithaca, NY. Previously, she lived and worked in Virginia, Pennsylvania, New York, Arizona, Missouri, and a period of time in the West Bank that the government can't know about. Her ongoing adventures and strong opinions are chronicled in her blog Red Shoes, Funny Shirt  and on Twitter @revlucymeg. (From time to time, you can also catch her writing in various other places, like Episcopal Café, Fidelia's Sisters, McSweeney's Internet Tendency, or The (late, lamented) Toast. Sometimes, even actual books.) In her spare time, she enjoys singing, playing with yarn, throwing jellybeans at politicians she disagrees with on TV, and contemplating Jesus-based revolutions.
Anna Fitch Courie's 25-plus years in the healthcare field include experience in public and private sector healthcare and health promotion. She is a passionate advocate for the health of special populations and loves to create innovative solutions to meet their health and wellness needs. Anna currently serves as the director, first responder wellness, with FirstNet, Built with AT&T, and formerly worked with the U.S. Army as the health promotion policy and evaluation officer for the Commander's Health Promotion Council process. Anna is a graduate of Clemson University, the University of Wyoming, and Ohio State University. She is a board-certified public health nurse and certified community wellness advocate. Anna loves her family, Clemson football, traveling, reading, and hiking. Home is wherever the Army (and God) sends her. You can find her on her blog at Christ Walk; on Facebook; on Twitter @christwalk1; and on Instagram @christwalk1.
Dr. David Creech is Associate Professor of Religion at Concordia College in Moorhead, Minnesota. David spends most of his days thinking, writing, and teaching on early Christianities. He is fascinated by hagiography, both ancient and modern. He is a product of an Evangelical seminary and a Catholic PhD program and teaches at a Lutheran college and worships with Episcopalians. Some would say he is an ecumenical voice but mostly he's just confused. His book title is long and boring (The Use of Scripture in the Apocryphon of John: A Diachronic Analysis of the Variant Versions) but nearly sold out of its initial print run of 200 copies. He also edited the New Testament portion of The Path, a fantastic abridged Bible (now in Spanish!) He is currently working on a project exploring early Christian criminality. You can follow David on Twitter @dyingsparrows. When not teaching and writing, he enjoys all sorts of outdoor activities (mountain biking, volleyball, and disc golf are his faves). A native of Southern California now exiled in the Upper Midwest, David lives in Minnesota with his three exceptional children, Ian, Ela, and Dylan.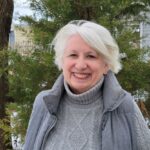 Another Lent Madness season, and Neva Rae Fox is, as always, excited to participate as a Celebrity Blogger. If the lockdown/quarantines/restrictions of the past few years (how many years has it been?) have taught us anything, it's that Lent Madness remains a mainstay of life. She looks forward to her usual Lenten disciplines: spiritual reading, reflective supplications, Lent Madness every day, and wearing only purple nail polish from Ash Wednesday to Easter.
The Rev. David Hansen, despite growing up as a pastor's kid, turned out okay. An ELCA pastor, he serves at Spirit of Joy! Lutheran Church in The Woodlands, Texas (outside of Houston), where he lives with his wife Megan, their daughter, and their menagerie of pets. When not preaching and teaching for the Lutheran diaspora in Texas, David is helping to drag the church into the digital age – teaching congregations and leaders to make use of online tools for ministry (You can catch David this year leading an Intensive as a part of the ELCA YouthMinistry Network Extravaganza. He is a regular contributor and moderator in the Church Social Media (#chsocm) community, and wrote the forward to Celebrity Blogger alum Meredith Gould's The Social Media Gospel. He is an occasional contributor to The Lutheran magazine and Living Lutheran, and blogs at Pastor David L. Hansen. David has recently begun work as the Director for LEAD -- an organization committed to providing resources for leaders and ministries. Connect with him on Twitter @rev_david and Facebook.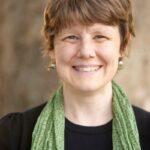 Heidi Haverkamp is a writer, Episcopal priest, and part-time hermit. She was a parish priest for 10 years in and around her beloved hometown of Chicago but now lives in Indianapolis with her husband, Adam. While she misses Lake Michigan, the Medici Bakery, and the CTA, she enjoys all the free parking in Indy and knowing that John Greene must live just around the corner somewhere. She has published four books, including Advent in Narnia and Everyday Connections: Year A. Her occasional Substack newsletter is called Letters from a Part-time Hermit. Subscribe or learn more about her and her work at heidihaverkamp.net.
Miriam Willard McKenney seeks to find God in everyone she sees. Miriam loves her husband David, their three daughters Nia, Kaia, and Jaiya, picture books, Jesus, Spring Grove Cemetery and Arboretum, libraries, and books. In her ministry, Miriam serves as director of development and mission engagement at Forward Movement and Becoming Beloved Community formation staff in the Diocese of Southern Ohio.
Emily McFarlan Miller is a national reporter for the Religion News Service, where she covers mainline Protestant Christianity and alternative faiths. In 2017, she wrote an article about Lent Madness, and the rest is history. When she's not writing for or about Lent Madness, she enjoys books, vinyl, reruns of The X-Files and working with her husband, Joel, on the fixer-upper they share in Chicago with their son, Asher, and cat, Poe. Find Emily on Twitter, Facebook and Instagram as @emmillerwrites.
Rev. David Sibley, Distinguished Celebrity Blogger serves as rector of St. Paul's Church in Walla Walla, Washington, within the Diocese of Spokane. Raised in South Carolina, David proudly studied and did research in chemistry at Furman University before a call to ordination. He is a graduate of General Theological Seminary in New York City, and spent the eight years prior to his move to Walla Walla serving as a priest at churches in Brooklyn and Long Island. When not in church or competing on the game show, Jeopardy, David enjoys hiking and camping around the incredible landscape of Eastern Washington and the Palouse, traveling to any number of places, all things food and music related, and enjoying any number of sporting events.David and his wife, Em, an adjunct assistant professor at Whitman College, share a home with their infant daughter and a Lakeland Terrier.
The Rev. Eva Suarez is an Episcopal priest in New York City; she serves at St. James' Church on the Upper East Side of Manhattan. Her preparation for the priesthood included stints at Union Theological Seminary, CUNY Hunter School of Social Work, working as a lunch lady in the D.C. Federal Court Cafeteria, and a very chilly period at popsicle factory in Brooklyn. Born in Chicago, raised in Washington D.C., and now a long time New York resident, she has no idea how to drive and prefers life in the bus lane. Her husband Robert is a professional food photographer, and you can usually find them reading on a blanket in Central Park.
The Rev. Adam Thomas, Distinguished Lent Madness Bracket Czar, has been with Lent Madness since 2012 in various capacities, most recently as the keeper of the bracket and writer of pithy headlines. Since 2014, he has served God as the pastor of St. Mark's Episcopal Church in Mystic, CT, where he lives with his spouse Leah and their twins. In the early 2010s, Adam wrote a few books for Abingdon Press, and now he independently publishes fantasy novels, as well as cohosting the Podcast for Nerdy Christians. You can find out more on his websites adamthomas.net, wherethewind.com, and nerdychristians.com, and on his Amazon author's page. You can also follow Adam on Facebook and Twitter @RevAdamThomas.