Scott Gunn and Tim Schenck serve as the self-appointed Lent Madness Supreme Executive Committee (an appropriately arrogant title considering they first met as members of the now-defunct Board of Governors of the now-defunct newspaper Episcopal Life). Tim handles the overall administrator/editor-in-chief role while Scott takes care of technology and marketing. Since Tim is the founder of Lent Madness, he insisted that his bio be listed first. Unfortunately, since Scott also has the password, this may change.
Scott and Tim both consider one another to be their online archnemesis. Lent Madness will likely do nothing to change this but hope, like Easter, springs eternal.
The Rev. Tim Schenck is rector of the Episcopal Parish of St. John the Evangelist in Hingham, Massachusetts, on the South Shore of Boston. He is the author of What Size Are God's Shoes: Kids, Chaos, and the Spiritual Life (Morehouse 2008) and Dog in the Manger: Finding God in Christmas Chaos (Forward Movement 2013) and the forthcoming Father Tim's Church Survival Guide (Church Publishing 2015). Tim writes a monthly syndicated column for Gatehouse Media titled "In Good Faith." When he's not tending to his parish, drinking coffee, or blogging at Clergy Confidential, he's likely hanging out with his family that includes his wife Bryna, two sons Benedict (15) and Zachary (13), his dog Delilah, and a ferret named Mimi. Friend him on Facebook or follow him on Twitter @FatherTim.
The Rev. Scott Gunn is an Episcopal priest and self-confessed technophile. He serves as the Executive Director of Forward Movement in Cincinnati, OH, whose historic mission is "to reinvigorate the life of the church." Scott is also a Deputy to General Convention, which will raise or lower his "street cred" depending on your perspective. Though Scott is happily married and the proud owner of two dogs, he will never, ever have ferrets at home. His blog is Seven whole days, where you'll read church rants and raves, thoughts about technology, and random musings. You can find him on Facebook, Twitter, flickr, or LinkedIn.
As members of the Supreme Execu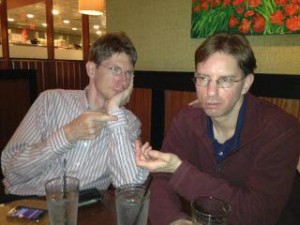 tive Committee, Scott and Tim have many fascinating conversations both online and in-person (only when absolutely necessary). These interactions almost always involve coffee since they tend to bore one another with tedious commentary about liturgical minutiae and the relative merits of various saints.
In this photo, taken after a particularly intense meeting of the Supreme Executive Committee, Scott and Tim appear to be sick of one another as they discuss St. Dymphna, patron saint of madness.