Lent Madness 2018 has officially begun! After months of soul-aching anticipation, "Ash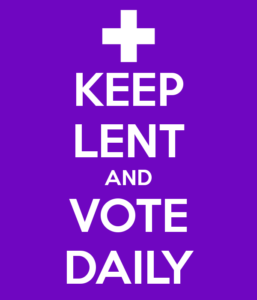 Thursday" has arrived. Over the next (more or less) 40 days and 40 nights, you will have the opportunity to re-immortalize one of our 32 competing saints with the coveted Golden Halo.
Today we see two heavyweights facing off in the Apostolic Rumble. Will we rob Peter to pay Paul or will Paul get robbed to pay Peter? That, dear friends, is up to you and your single (we mean that and we have spies everywhere) vote.
If you're new to Lent Madness, welcome! If you have any questions about how to participate, just let us know by leaving a comment. The Lent Madness community is both friendly and helpful, often answering questions before the Supreme Executive Committee arrives in their grand purple, if imaginary, chariot. You can view and/or print out the full bracket of saints by clicking here.
We urge you to take full part in the Madness. Leave comments here on the website. Read what others have to say. Enjoy the friendly rivalry and trash talk on social media. Do additional research. During the day, check in on the website often to see how each day's contest is going. And above all, delight in seeing how each saint was a powerful witness of Jesus Christ.
Be sure to sign up for e-mail updates on our home page (upper right corner) so you never miss a vote, like us on Facebook, follow us on Twitter, and encourage your friends to jump into the fray.
We can assure you this will be a wild, joyful, educational, ocassionally gut-wrenching ride. We're delighted to share this journey with you. Let the Madness begin!