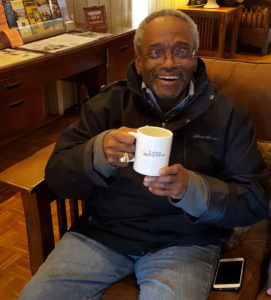 As some Lent Madness fans will know, the bishops of the Episcopal Church gather a few times a year to engage in important bishop activities. Normally, those who are not bishops are not privy to exactly what goes on at these meetings, but we know it's vital and holy, because bishops. Right now, the bishops are meeting at the Kanuga Conference Center in North Carolina. When they're not eating world-famous Kanuga Toast, the bishops are bishoping.
The Supreme Executive Committee has placed a spy inside the House of Bishops, and we are pleased to share exclusive photos of bishops doing important bishop things. We have learned that, in fact, Lent Madness is an important part of this bishops' meeting.
Even the Presiding Bishop has purple fever, not the kind that comes from a purple shirt, but the kind that comes from Lent Madness. See, pictured in the top-right, Bishop Michael Curry sporting a Dietrich Bonhoeffer 2016 Golden Halo winner mug (and you can get one too).
Here are some more exclusive photos showing the behind-the-scenes work of the House of Bishops.