In the final battle of the first round(!), we return to Confusion Corner as two giants of the faith, Thomas Aquinas and Jerome, face off. Yes, that would be Tom and Jerry. Who knows what hijinks will ensue as such intellectual firepower is engaged in the Saintly Smackdown?
Yesterday, Juana Inés de la Cruz defeated Gabriel the Archangel 66% to 34% and will face Origen in the Saintly Sixteen.
Now, go finish out the Round of 32!
Thomas Aquinas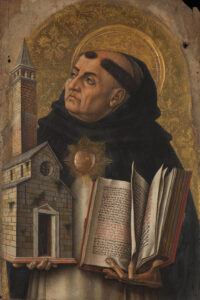 Thomas Aquinas was a thirteenth-century scholar, priest, and philosopher who single-handedly established the way we think about theology and philosophy.
Thomas was born around 1225 to a wealthy family in Roccasecca, governed by Sicily. His father was a knight, and his mother was a wealthy Neapolitan. At the age of 5, Thomas began to study at the Benedictine monastery at Monte Cassino, where his uncle was the abbot, but a local war soon put a stop to that. So, his parents packed him off to a university in Naples instead. There, he began to study Aristotle and encountered his first Dominicans. He found the Dominicans so intriguing that he decided to join them at the age of 19. This displeased his fancy family. So alarmed were they at his new vocation that his brothers kidnapped him and held him captive for a year at the family castle in an attempt to change his mind.
It didn't work. Thomas spent the time teaching his sisters and writing sad letters to other Dominicans. His brothers even hired a prostitute to seduce him, but he remained devoted to the faith. Finally, his family gave up. Thomas joined the Dominicans in Paris in 1245 and set about studying and writing. When his teacher, Albertus Magnus, departed for Cologne in 1248 to set up a new university, Thomas tagged along. Thomas taught classes on the Bible and theology while writing what we now recognize as the foundations of Western philosophical thought. His work sought to bring the philosophy of Aristotle into conversation with the Christian faith, proving that there is no
contradiction between the natural world we can observe through reason and the God-breathed world we know through faith.
After a wide-ranging career of writing, preaching, and teaching, in 1273, Thomas suddenly stopped. In the middle of writing his influential tome, the Summa Theologica, Thomas had some sort of profound mystical ecstasy while celebrating mass. Whatever he experienced drove him to stop his writing entirely, and he died several months later.
He was canonized quickly and is the patron saint of teachers, academics, theologians, and those who make pencils and books.
Collect for Thomas Aquinas
Almighty God, who has enriched your Church with the singular learning and holiness of your servant Thomas Aquinas: Enlighten us more and more, we pray, by the disciplined thinking and teaching of Christian scholars, and deepen our devotion by the example of saintly lives; through Jesus Christ our Lord, who lives and reigns with you and the Holy Spirit, one God, for ever and ever. Amen.
Jerome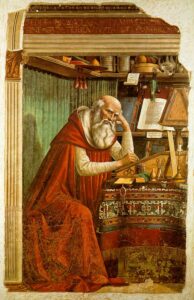 The life of Jerome (born circa 342 CE) straddled a time of great transition and growth in the Christian church. And Jerome found himself in the middle of it.
Jerome spent years of his life in Rome, where he encountered the new official religion of the empire—Christianity. He experienced a conversion and was baptized by the bishop of Rome. Energized by this new faith, young Jerome set out for the city of Antioch. He continued his academic studies in the city and ascetic prayer and reflection in the desert. This time of education and formation brought him to Constantinople, where he studied at the feet of the great Eastern theologian Gregory of Nazianzus.
Shaped by his years of study and prayer, Jerome returned to Rome to participate in the 382 Council of Rome. His quick intellect caught the eye of Pope Damasus I, who invited Jerome to serve as his personal secretary. Under the eye of Damasus, Jerome was encouraged in his intellectual work, including beginning work on biblical translations. In Rome, Jerome made fast friends with many of the noble women of the church. Their association with Jerome was used to cast suspicion on the morals of this increasingly influential scholar and priest. While his enemies accused Jerome of inappropriate relationships, especially with Paula of Rome, modern scholars argue that these women were patrons of and possibly collaborators with Jerome.
Jerome eventually made his way to Bethlehem, where he divided his time between a cave next to the grotto of the Nativity and a monastery that he established with Paula. Jerome spent 30 years working on his translation of scripture, weighing in on the theological controversies of the day, and pastoring pilgrims to the Holy Land.
Jerome translated the Bible from Latin into "common language" (vulgar/Vulgate). The Vulgate quickly became the primary Bible of the Christian church in the West. More than a thousand years later, the Council of Trent would uphold the Vulgate as the official Bible used by the church. For a millennium, the only Bible known to most Western Christians was the work of Jerome, and other translations for centuries after would lean on the patterns set by Jerome's translation. He died on September 30, 420, and was laid to rest under the Church of Nativity in Bethlehem.
Collect for Jerome
O God, who gave us the holy Scriptures as a light to shine upon our path: Grant us, after the example of your servant Jerome, so to learn of you according to your holy Word, that we may find the Light that shines more and more to the perfect day; even Jesus Christ our Lord, who lives and reigns with you and the Holy Spirit, one God, now and ever. Amen.
UPDATE: The Supreme Executive Committee noticed several irregularities with this very close competition. At one point in the evening of the voting, the SEC noticed that someone had cast 30 votes for Thomas Aquinas, so 30 votes were added to Jerome. In the final hours of the vote, several people cast multiple votes for both Thomas and Jerome, but the net influence was that there were more pro-Jerome cheaters than pro-Thomas cheaters.
In our current system, the post announcing the next day's vote goes live at 7:55 a.m., and when we published the next day's post, the very close vote resulted in a declared win by Thomas with a margin of just one vote. However, in the next five minutes, because the polls technically close at 8:00 a.m., several more votes were cast. At 8:00 when the vote officially ended, there was an exact tie in reported votes. However, as we said above, there had been some cheating, the net of which was more illilict votes in favor of Jerome. After reviewing everything today, the SEC added one vote to Thomas Aquinas, so that he is shown as the winner, and this was both the correct original result AND the correct result after removing the fraudulent votes.
This was all exacerbated by the fact that this was, apart from a few cheaters (casting around 60 votes for Thomas and around 70 votes for Jerome) the closest match in Lent Madness history.
We apologize for the confusion. Both Scott and Tim were occupied all day in meetings. Believe it or not, we haven't figured out how to turn Lent Madness into a full-time job. Still, you can be confident that Thomas Aquinas did in fact win this match-up by the narrowest of margins. Please cast one vote and one vote only; when you vote repeatedly, it creates an unfair advantage, it makes more work for the SEC, and it can cause confusion with the Lent Madness public.
Thomas Aquinas: Carlo Crivelli, Public domain, via Wikimedia Commons
Jerome: Domenico Ghirlandaio, Public domain, via Wikimedia Commons