Welcome to the ONLY Saturday matchup of Lent Madness 2023. From here on out, every weekday of Lent will feature a new opportunity for learning and voting. We won't stop until Spy Wednesday! (more about that in due time)
Today it's Olga of Kiev vs. Bertha of Kent. A woman who played a role in converting Russians to Christianity vs. a woman who played a role in converting the English to Christianity.
Yesterday, in the second romp in as many days, Florence Li Tim-Oi defeated Nicolaus von Zinzendorf 79% to 21%. Don't worry! We'll get some nail biters soon enough. It's all but guaranteed.
Well, go vote and we'll see you first thing Monday morning as Scholastica takes on Richard Hooker.
Olga of Kiev

"Vengeance is mine, says the Lord," (Romans 12:19). Or was it Olga's? A controversial figure in church history, Olga of Kiev is best known and canonized by the Orthodox Church for her role in the conversion of Russia to Christianity. She was born around the beginning of the tenth century in the northwest area of Russia that had been invaded by the Vikings (think Russia/Ukraine/Belarus/Estonia). Her husband, Igor, was murdered by the Drevlian tribe that no longer wished to be aligned with Igor. To make their distaste in his leadership abundantly clear, they tore him in half.
In an act both cunning and treacherous, Olga invited the new chief to court her. When his entourage arrived, she had her people escort them to a carefully prepared trench where she had all the men buried alive in revenge for the death of her husband. Olga continued to exact revenge and murder the people of Drevlian by playing their chief like a violin, capitalizing on his desire to marry her. She continued to have his emissaries killed through skillful plotting and ultimately had their village burned to the ground. To ensure her control over the area, she assumed leadership through regency for her son.
In the early to mid 900s, Olga traveled to the seat of the empire at Constantinople to ally with the Byzantine Empire. It is said that the emperor found Olga to be beautiful and wanted her to become a Christian. Olga said she would convert only if she was baptized by the emperor himself and instructed in the ways of the faith by the patriarch. It is said that during her baptism, she saw God. She became steadfast in her faith and began to shine with the light of God. The patriarch remarked that she would be a beacon to the people of the Rus' and their descendants would find favor with God. Olga returned to Kiev and worked to bring the Russian people to the faith. Although her grandson, Vladimir, is recognized as the founder of Russian Christianity, Olga is remembered in the Orthodox Church as "Equal to the Apostles."
Olga's story is controversial. She was a brutal and revengeful ruler who brooked no mercy on her enemies. Much of her life is an example of the ways we are taught not to live our lives in the Christian faith. But God has a habit of using the least expected, the most unqualified, and the least desirable to teach us about mercy, love, and who God is. Her story shows us that God's mercy can soften and redeem even the hardest of hearts.
Collect for Olga of Kiev
Almighty and everlasting God, we thank you for your servant Olga, whom you called to preach the Gospel to the people of Russia. Raise up in this and every land evangelists and heralds of your kingdom, that your Church may proclaim the unsearchable riches of our Savior Jesus Christ; who lives and reigns with you and the Holy Spirit, one God, now and for ever. Amen.
Bertha of Kent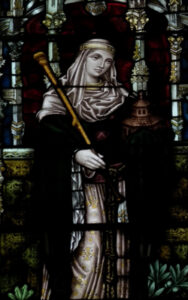 Bertha of Kent is one of those historical women whose imprint on medieval Christianity is indelible, though you might not know much about her.
The exact dates and years of her birth and death are unknown, and records vary. It's generally accepted that Bertha was born a princess around 565 into the royal French Merovingian family. As a young girl, she practiced her Christian faith. Her arranged marriage in 580 to the King of Kent was steeped in economic, military, and political motives. King Ethelbert was a pagan, worshipping Woden (aka Odin), Thunor (aka Thor), and other Norse deities. Her marriage agreement with Ethelbert was that she could continue to practice her Christian faith. Not only did he agree to her terms, but also Ethelbert renovated an old Roman church close to Canterbury, the capital of Kent, for his new queen. The chapel was dedicated to Saint Martin of Tours and served as her private chapel throughout her life.
In 597, Bertha welcomed none other than Augustine, who had been sent to the strategically important kingdom of Kent by Pope Gregory the Great. Augustine's travels and successes became intertwined with Bertha. Thanks to Bertha's influence, Ethelbert allowed Augustine and his 40 companions to preach Christianity, beginning what is known as the great Christian conversion in England. Augustine was later named the first Archbishop of Canterbury.
Ethelbert was baptized on the Pentecost following Augustine's arrival, and history records him as the first English king to convert to Christianity.
Though Bertha died sometime after 601 in Canterbury, evidence of the queen's influence is still clear today throughout the area. You can travel The Bertha Trail, also called Queen Bertha's Walk, which features 14 bronze plaques in various locations, including St. Martin's Church, Canterbury Cathedral, and St. Augustine's Abbey. A statue of Queen Bertha graces St. Martin's.
UNESCO named Bertha's Chapel in St. Martin's in Canterbury as the oldest church in the English-speaking world, with Christian worship taking place continuously since the sixth century. It is believed she is buried under the steps of St. Martin's.
Her feast is celebrated on May 1.
Collect for Bertha of Kent
Almighty God, by your Holy Spirit you have made us one with your saints in heaven and on earth: Grant that in our earthly pilgrimage we may always be supported by this fellowship of love and prayer, and know ourselves to be surrounded by their witness to your power and mercy. We ask this for the sake of Jesus Christ, in whom all our intercessions are acceptable through the Spirit, and who lives and reigns for ever and ever. Amen.
Olga of Kiev: Mikhail Nesterov, Public domain, via Wikimedia Commons
Bertha of Kent: Mattana, CC BY-SA 3.0 <https://creativecommons.org/licenses/by-sa/3.0>, via Wikimedia Commons