Welcome to the FIRST FULL WEEK of Lent Madness 2023! Today in the Saintly Smackdown it's Scholastica vs. Richard Hooker. Sixth century Italian nun vs. 16th century English theologian. This is precisely the kind of unusual pairing of saintly souls we've come to expect with Lent Madness. Is it fair? No! Is it Madness? Yes!
On Saturday, Bertha of Kent soundly defeated Olga of Kiev 76% to 24% to advance to the Saintly Sixteen. Will today's matchup finally bring us a hotly contested battle? Or will we endure yet another rout? Only time, and your (single) vote, will tell.
Scholastica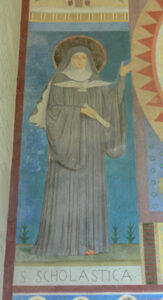 Little is known about Scholastica, the sister of Saint Benedict (yes, the guy with the Rule) and founder of Benedictine nuns. Like Benedict, she was born to wealthy parents in Nursia, Umbria in the late fifth century. (Some later traditions have her as Benedict's twin sister, but it is unclear if that is meant to be a literal or spiritual designation.)
An early glimpse of Scholastica's piety comes to us from Gregory the Great's Dialogues. He reports that Benedict and Scholastica would meet annually at a small house between their monasteries. On one occasion, as Benedict was preparing to return, Scholastica begged him to stay longer.
They had been discussing deep spiritual matters, and she wanted to continue the invigorating conversation deeper into the night. Benedict refused. One of the guidelines in his Rule was that he could not be absent from the monastery overnight.
Upon his refusal, Scholastica began to weep and pray. God responded to her prayers by causing a torrent of rain and thunder so great that Benedict and his companions could not leave the house. When he asked her what she had done, Scholastica retorted, "I asked you and you would not listen; so I asked my God and he did listen. So now go off, if you can, leave me and return to your monastery." Reluctantly, Benedict and his fellow monks stayed overnight, God's will having been made clear. Gregory writes that God answered Scholastica's prayers because her love for God was greater than that of Benedict's (high praise indeed!).
Three days later, in February of 543, while Benedict was in his cell, he saw his sister's soul ascend to heaven as a dove. He had her body brought to the monastery and buried in the grave he had prepared for himself.
Scholastica is the patron saint of Benedictine nuns, education, and convulsive children. For obvious reasons, she is sometimes invoked against storms and rain. Her feast day is celebrated on February 10.
Collect for Scholastica
Assist us, O God, to love one other as sisters and brothers, and to balance discipline with love and rules with compassion, according to the example shown by your servant Scholastica; for the sake of your Son Jesus Christ our Lord, to whom with you and the Holy Spirit be all honor and glory, now and for ever. Amen.
Richard Hooker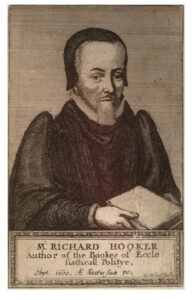 Richard Hooker was a priest and philosopher whose writings laid the groundwork for Anglican theology. Born to a family of moderate means in 1553, he was sent to Oxford through the generosity of local merchants. At Oxford, he studied for holy orders. While he read the Calvinism tracts popular in Protestant countries at the time, Hooker also dabbled in Thomas Aquinas and the church fathers. By the time he graduated, he managed to obtain a more diverse education than many other Anglican clergy.
Hooker initially received a fellowship for preaching at Oxford but lost it soon after because his preaching was not considered strictly Calvinist enough for the staunch Protestants. He was reinstated soon after the controversy but departed instead to take the position of Master of the Temple in London in 1585. He shared this prestigious post with a more Puritan-inclined preacher, Walter Travers. Often the two would spar in their respective sermons, which increased the overall attendance. In his first sermon, Hooker caused Travers untold fury by preaching a sermon that suggested that double predestination was nonsense and that Roman Catholics might be saved after all through the grace of a merciful God. Hooker refused to live in the church rectory with Travers and instead lived nearby with John Churchman—and ended up marrying Churchman's daughter, Jean.
In 1591, fed up with this life of churchly drama, Hooker moved to Boscombe in Wiltshire, where he began to compose what would become his magnum opus: The Laws of Ecclesiastical Polity. This multi-volume work was Hooker's entry into a debate about how the church and government ought to properly organize themselves. In the initial entries, Hooker offered the first glimpse of what has become the classic Anglican approach of via media.
Hooker argued that God didn't care much about institutions. Instead, he contended that what mattered was how pious and devout people were—and whether institutions fostered an environment of faithfulness and devotion. He also argued that the debate over salvation via works or by grace was pointless: good works were the inevitable result of a heart saved by grace and thus overcome with gratitude, and the two could not be separated. Despite completing only five of the eight planned volumes, Hooker's work lasted long past his death in 1600 and remains a cornerstone of Anglican philosophy.
Collect for Richard Hooker
O God of truth and peace, you raised up your servant Richard Hooker in a day of bitter controversy to defend with sound reasoning and great charity the catholic and reformed religion: Grant that we may maintain that middle way, not as a compromise for the sake of peace, but as a comprehension for the sake of truth; through Jesus Christ our Lord, who lives and reigns with you and the Holy Spirit, one God, for ever and ever. Amen.
Scholastica: Gabriel Wüger, Public domain, via Wikimedia Commons
Richard Hooker: Wenceslaus Hollar, Public domain, via Wikimedia Commons