Hey, it's the last battle of the week! How'd that happen? We're not sure. But we do know that today it's Brendan of Clonfert vs. David of Wales. Two saints deeply rooted in the monastic tradition and beloved in their home countries. But only one will advance to face Blandina in the Saintly Sixteen.
Yesterday, Leoba made it past Cuthmann of Steyning 58% to 42% to advance to the Saintly Sixteen.
I know you miss us already but, fear not, we'll be back first thing on Monday morning as Jonathan Daniels faces Rutilio Grande.
Now go cast your final vote of the week!
Brendan of Clonfert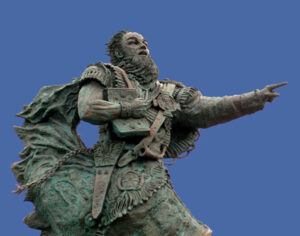 Brendan was born in 481, 482, 484, 486, or 488, in Tralee, County Kerry (that's for certain). His name can be rendered Brennan or Brennog, Bréanainn or Breandán. He is also known as "the Navigator," "the Voyager," "the Anchorite," or "the Bold." The immrama (Old Irish sea tales) recount his journeys by sea to the Hebrides and Western Scotland, perhaps to Wales and Brittany, Iceland and the Azores, and maybe, some claim, to the Americas.
Beloved by many of Irish descent, Brendan's life and its mythic uncertainties might leave some cold. But amidst the signposts of legend are the standing stones of Brendan's real life: a devoted abbot who founded monastic communities across Ireland, an influential figure in the development of Celtic Christianity, and one of the 12 apostles of Ireland.
Monastic life grew in popularity in the generations after Saint Patrick. Brendan felt the call to monastic life and was ordained to the priesthood in 512. The community at Ardfert was either entrusted to him (or he founded it), and life there was centered in prayer and silence.
After several years at Ardfert, Brendan and a small group of monks set off by boat to find the "Promised Land of the Saints," the site of the Garden of Eden, traveling for seven years before they reached Paradise. Most ancient maps place Brendan's destination somewhere around the Canary Islands, but the popularity of Brendan's story has led some historians to argue that his journey is related to contemporaneous feats of Irish navigation—namely, the evidence of Irish explorers in Greenland and Iceland.
Upon Brendan's return, Ardfert quickly became a destination for pilgrims and students. New religious houses were built, and the See of Ardfert was established. Brendan continued to roam, founding a monastery at Inis-da-druim in 550, later traveling to Wales and possibly Iona. Brendan established more churches after his return to Ireland, founding the monastery at Clonfert, perhaps around 557. At its height, 3,000 monks called Clonfert home.
In Brendan's life, we see aspirational characteristics, historically proven: faithfulness, leadership, and courage. Yet his legends can inspire, too. Brendan is a patron of seafarers, and for centuries sailors have prayed to Saint Brendan that they might see the promised land. Even for those who remain on dry land, Brendan is a companion in seeking and—even against all odds—finding God.
Collect for Brendan of Clonfert
O God, by whose grace your servant Brendan, kindled with the flame of your love, became a burning and a shining light in your Church: Grant that we also may be aflame with the spirit of love and discipline, and walk before you as children of light; through Jesus Christ our Lord, who lives and reigns with you, in the unity of the Holy Spirit, one God, now and for ever. Amen.
David of Wales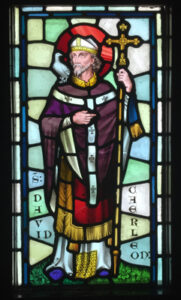 David, or Dewi in his native Welsh, was born about 500 to a ruling family near Menevia. Facts about his early life are vague, but he was educated and formed as a Christian as a child and young man. Early in his life, he founded a monastery near his home city to study and relished in the quiet and solitude of such a place.
Inspired by monastic life, David founded several additional monasteries in modern-day Wales to share the joy he found in a life avowed to prayer, study, and silence. David's monastic rule, however, was not simply one of time in quiet prayer. He demanded monks live deeply austere lives, drinking only water (rather than the usual wine or mead) and eating only bread flavored with a small amount of salt and herbs. Monks were required to pull their own ploughs, and no personal possessions or superfluous words were allowed.
While David certainly would have been content to live out his life as an ascetic, his fellow Christians had other ideas. Around 550, clergy in Wales gathered at the Synod of Brefi, which was called to counter the second invasion of the heresy of Pelagianism. Pelagius was a British monk who purportedly believed individuals could achieve their own salvation by making good life choices, and that original sin was a fallacy. When David spoke out against the Pelagianism heresy, legend has it that people in the back of the crowd struggled to see and hear him, so God caused a tiny hill to sprout under his feet and a white dove to alight on his shoulder. Legend says David was so impressive that the current bishop of the Cambrian Church resigned on the spot, and David was ordained to the position.
David served as an archbishop with the same prayerful asceticism he lived in his monastery. He moved the episcopal seat from Caerleon to Menevia, where his monastery was and still is to this day. During David's years of service, he guarded the Christian faith in Wales from invaders and heretics, and several well-known Irish saints were his students.
When he died on March 1, 589, the monastery was said to be filled with the light of angels sent by God to accompany David to heaven. David was buried on the grounds of the monastery he founded known today as the Cathedral of St. David. His tomb and subsequent shrine were declared a place of pilgrimage in the twelfth century, and they continue to be a sacred place for Christians from Wales and around the world.
Collect for David of Wales
Almighty God, who called your servant David to be a faithful and wise steward of your mysteries for the people of Wales: Mercifully grant that, following his purity of life and zeal for the Gospel of Christ, we may, with him, praise you both here on earth and also in your everlasting kingdom; through Jesus Christ our Lord, who lives and reigns with you and the Holy Spirit, one God, for ever and ever. Amen.
Brendan of Clonfert: MrCharco, CC BY-SA 3.0 <https://creativecommons.org/licenses/by-sa/3.0>, via Wikimedia Commons
David of Wales: Hchc2009, CC BY-SA 4.0 <https://creativecommons.org/licenses/by-sa/4.0>, via Wikimedia Commons