Happy Wednesday! Today in the Saintly Smackdown it's an East Coast vs. West Coast kind of day as Chief Seattle (namesake of that hip city in the Pacific Northwest goes up against St. Botulph (namesake of that tough town in Eastern Massachusetts we call Boston). Or, if you'd prefer, it's coffee vs. tea -- Starbucks vs. the Boston Tea Party. Whatever, it's sure to be an intriguing matchup.
In yesterday's saintly action, Josephine Bakhita ran away from Eric Lidell 57% to 43% to advance to the Saintly Sixteen.
Sip your coffee and/or tea and go vote!
Chief Seattle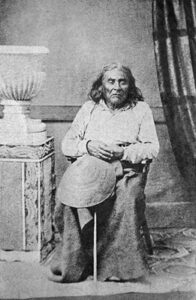 Chief Seattle, whose name in his own language was Sealth, was a chief, warrior, orator, and diplomat. He led the Suquamish and Duwamish people in the Northwest. Sealth was a large man, nicknamed "Le Gros" (the big guy) by French traders. His voice was strong, with reports that it could travel more than half of a mile. He worked closely with white settlers and colonizers, especially David "Doc" Maynard, as they arrived in Washington state. Against Sealth's wishes, Maynard named the city of Seattle in his honor.
Around 1848 at the age of 62, Sealth was baptized by the Roman Catholic Church and given the name Noah. His relationship with the settlers and colonizers was complicated. He worked closely with them and benefitted from partnership with them, but he also refused to learn English, perhaps suggesting discomfort with their ever-growing presence.
That discomfort would prove to be warranted, when the territorial governor of Washington, Isaac Stevens, began seizing (with money and force) tribal lands and expelling the tribal members to reservations.
In 1854, Sealth gave a speech in his native tongue in protest of the governor's actions. Published thirty years later in English, the speech became popular in the 1970s and has been influential in the modern environmental movement. There is quite a bit of debate about the authenticity of the speech as many of the ideas in it too easily apply to contemporary concerns.
In 1855, the Port Madison Treaty was formally signed, and Sealth and the Suquamish were settled on a reservation across the Puget Sound, south of the city that bears his name.
Three years later, old and poor, Sealth spoke one last time on record, asking the Congress of the United States to ratify the treaty. Their inaction had left him and his people poor and vulnerable. He lamented, "I have been very poor and hungry all winter and am very sick now. In a little while I will die. When I do, my people will be very poor; they will have no property, no chief and no one to talk for them."
Sealth died in 1866. He is a saint commemorated by the Evangelical Lutheran Church in America. His feast day is June 7.
Collect for Chief Seattle
Grant, O God, that your holy and life-giving Spirit may so move every human heart, that barriers which divide us may crumble, suspicions disappear, and hatreds cease; that our divisions being healed, we may live in justice and peace; through Jesus Christ our Lord. Amen.
Botulph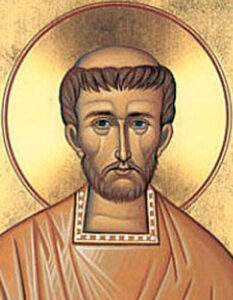 Botulph may never have parked a car in Harvard Yard, but he still left his mark on the city of Boston. Or, rather, his name.
Some sources say the city in Massachusetts takes its name from the town in Lincolnshire, a county in the East Midlands of England, which takes its name from Botulph (the thinking goes something like this: Botulph's Town… Bo's Town… Boston).
Botulph's name, spelled in various ways, also pops up on St. Botolph Street, Boston College's Botolph House, and the private St. Botolph Club in Boston. It appears in the names of five towns and villages and more than 70 churches in England, according to the Church of St. Botolph-without-Bishopsgate in London, where the poet John Keats was baptized.
For someone so popular, little is known about the details of Botulph's life. He built a Benedictine monastery in about 654 in a place called Icanhoh, according to The Anglo-Saxon Chronicle, which was compiled about two centuries later. The place has generally been identified with Boston, Lincolnshire, although its actual location is disputed. It also was rumored to be haunted.
The monastery later was destroyed by Danish invaders, and Botulph's relics made their way to a number of churches, including Westminster Abbey. Their journeys may be the reason why Botulph is considered patron saint of travelers.
Another document from the Middle Ages, The Life of St. Ceolfrith, mentions an abbot named Botolphus who was "a man of remarkable life and learning, full of the grace of the Holy Spirit."
Perhaps that's enough to be remembered for.
That and his wicked awesome name.
Botulph is honored as a saint in several Christian traditions. In addition to travel, he is the patron saint of boundaries and trade. His feast day is celebrated on June 17 in the Church of England.
Collect for Botulph
O Lord Jesus Christ, you became poor for our sake, that we might be made rich through your poverty: Guide and sanctify, we pray, those whom you call to follow you under the vows of poverty, chastity, and obedience, that by their prayer and service they may enrich your Church, and by their life and worship may glorify your Name; for you reign with the Father and the Holy Spirit, one God, now and for ever. Amen.
Chief Seattle: E.M. Sammis, Public Domain, https://commons.wikimedia.org/w/index.php?curid=515165
Botulph: Public domain