In the penultimate matchup of the Round of 32, Juan Diego faces off against John Donne. Yes, one of these saints will be Juan and Donne (or 'one and done,' if you prefer).
Yesterday, Jonathan Daniels swept past Rutilio Grande 79% to 21% to make the Saintly Sixteen, where he'll face Josephine Bakhita.
Obviously you watched Monday Madness yesterday. But if you insist on watching it again, you can watch it here. Tim and Scott thank you.
Time to vote!
Juan Diego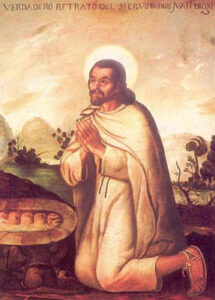 Juan Diego Cuauhtlatoatzin (whose Indigenous name means "He is who speaks like an eagle") was born in what is now known as Mexico in 1474. Although not poor, Juan was not considered rich or influential. But he was very devout, and every day, he walked from his home to see the Franciscan friars at the chapel at Tolpetlac. Along the way, he passed a hill at Tepeyac.
In December, 1531, he saw the Virgin Mary, appearing as a young Indigenous girl, standing on the hill. She told him to go to the bishop and tell him to build a chapel in her honor so she could help the locals who suffered. Juan immediately did so, but the bishop was not convinced. When Juan returned home past the hill, Mary was still there; he told her about his failure and suggested she send someone more important. She insisted Juan do it, and he agreed to go back to the bishop again.
The next day, the bishop was a bit more agreeable but asked for some sort of sign before he invested in the building project. Juan ran back to the hill and informed Mary, who agreed to provide a sign the following day.
However, on the next morning, when Juan was supposed to arrive at the hill to fetch his sign, he was instead caring for his uncle, Juan Bernardino, who had taken ill during the night. On the next day, as his uncle appeared to be near death, Juan left to fetch a priest to administer last rites. He intentionally avoided Tepeyac so as not to run into Mary, but Mary managed to show up to him anyway. He told her what had happened, expecting her to yell at him. Instead, she told him "¿No estoy yo aqui que soy tu madre/Am I not here? Me, your mother?" She said she had healed his uncle and for Juan to go up the hill and fetch the flowers blooming there to take to the bishop. Juan piled the flowers into his cloak, and when he unfurled it, the image of the Virgin of Guadalupe appeared on his cloak. The image convinced the stubborn bishop.
On December 26, 1531, the bishop led a procession to move Juan's cloak to a hastily constructed adobe shrine on Tepeyac hill, and Juan spent the rest of his life serving there. He died in 1548. While the apparition of Guadalupe was recognized early on, Juan himself wasn't made a saint until 2002, becoming the first Indigenous saint of the Americas.
Collect for Juan Diego
O God, you have brought us near to an innumerable company of angels, and to the spirits of just men made perfect: Grant us during our earthly pilgrimage to abide in their fellowship, and in our heavenly country to become partakers of their joy; through Jesus Christ our Lord, who lives and reigns with you and the Holy Spirit, one God, now and for ever. Amen.
John Donne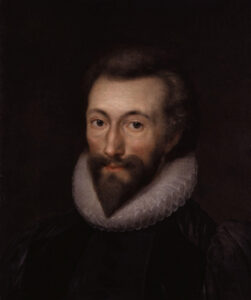 Gifted preacher, gifted writer, dean of St. Paul's Cathedral, prisoner, poetic rake, deeply faithful Christian: these titles all describe John Donne.
Donne was born into a Roman Catholic family in 1572 but struggled with religion for many years. During much of his youth, he was marginally spiritual and definitely not traditionally religious. A perpetual university student, he attended some of England's finest universities yet never obtained a degree. He traveled Europe and spent time courting affluent ladies wherever he went while writing groundbreaking, edgy, and even scandalous poetry. His charm and intellect guided him into a promising political career. He sat in Queen Elizabeth's last parliament and worked for the Lord Keeper of the Great Seal, a prestigious office of the court. The rake had turned a corner… almost. But Donne, who did not live life by halves, fell in love with Anne More. Her father was vehemently opposed to the match, so the two married in secret in 1601. When the marriage became public, Donne was fired from his post and imprisoned. Donne was eventually released from prison, and by all accounts, Anne and John lived a sincerely committed life together.
During this time, John became deeply involved in Anglicanism. As early as 1607, his friends encouraged him to seek ordination, but he refused and instead wrote about religious matters. His essays were widely published and captured the attention of King James, who wanted Donne to become a priest so badly that he declared to all of England that Donne could not be hired except in the church. Donne was ordained in 1615 and soon became known as a great preacher in an age of great preachers.
After serving in several congregations, John was named dean of St. Paul's Cathedral in London in 1621. His sermons attracted large audiences with his wit, intelligence, and passionate devotion to Christ. He served as dean until his death in 1631. Knowing his death was near, John planned his monument at St. Paul's; it does not depict him in pompous glory but rather in his burial shroud. For John, a life of faith saw God's love even in death. He believed with every bit of his soul that the resurrection wasn't just a story but truth. His statue survived the 1666 fire at St. Paul's and still watches over the cathedral where he preached the Good News.
Collect for John Donne
O God of eternal glory, whom no one living can see and yet whom to see is to live; grant that with your servant John Donne, we may see your glory in the face of your Son, Jesus Christ, and then, with all our skill and wit, offer you our crown of prayer and praise, until by his grace we stand in that last and everlasting day, when death itself will die, and all will live in you, who with the Holy Spirit and the same Lord Jesus Christ are one God in everlasting light and glory. Amen.
John Donne: National Portrait Gallery, Public domain, via Wikimedia Commons
Juan Diego: Miguel Cabrera, Public domain, via Wikimedia Commons