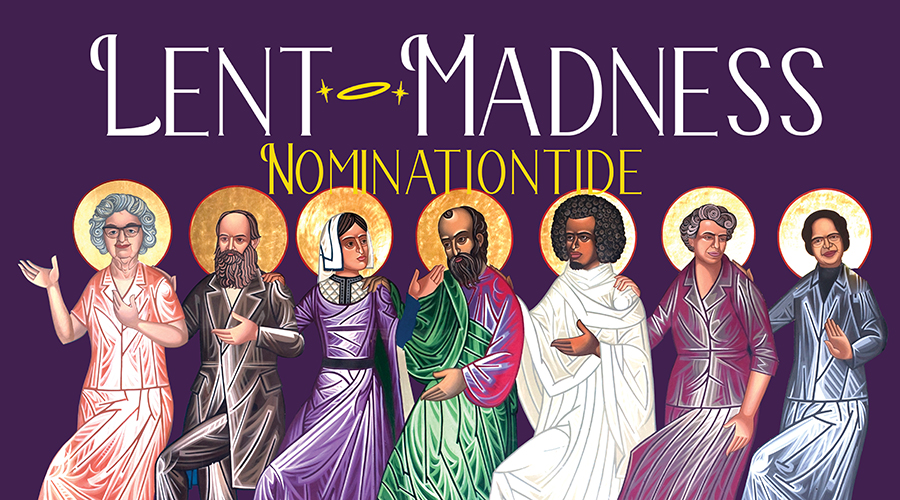 For one full week, the Supreme Executive Committee will be accepting nominations for Lent Madness 2024. The nominating period will remain open through Saturday, May 27, at which point this brief exercise in Lenten democracy will cease and the SEC will return to their regularly scheduled benevolently authoritarian ways.
Nominationtide, the most underrated of liturgical seasons, never begins at the same time other than the vague "sometime after Easter Day." This is partly because Tim and Scott have day jobs and partly because "whim" is one of their ecclesiastical charisms. But it's here! And the world rejoices!
To insure your SUCCESSFUL nomination, please note the Nominationtide Rules & Regulations, which reside in an ancient illuminated manuscript tended to by aged monks who have been set aside by saints and angels for this holy calling.
The nominee must, in fact, be dead.
The nominee must be on the official calendar of saintly commemorations of some church.
We will accept only one nominee per person.
You must tell us WHY you are nominating your saint.
The ONLY way to nominate a saint will be to leave a comment on this post.
That means comments left on Facebook, Twitter, attached to a brick and thrown through the window at Forward Movement headquarters, or placed on giant placards outside the residences of Tim or Scott don't count.
As you discern saints to nominate, please keep in mind that a number of saints are ineligible for next year's Saintly Smackdown. Based on longstanding tradition, this includes the entire field of Lent Madness 2023, those saints who made it to the Round of the Elate Eight in 2022 and 2021, and those from the 2020 Faithful Four.
Needless to say Jesus, Mary, Tim, Scott, past or present Celebrity Bloggers, and previous Golden Halo Winners are also ineligible. Below is a comprehensive list of ineligible saints. Please keep this in mind as you submit your nominations. Do not waste your precious nomination on an ineligible saint! (it happens more than you'd think)
For the sake of "transparency," the rest of the process unfolds thusly: Tim and Scott will gather for the annual Spring SEC Retreat at a secure, undisclosed location/coffee shop to consider the nominations and create a full, fun, faithful, and balanced bracket of 32 saints. Then all will be revealed on All Brackets' Day, November 3rd.
Time to nominate your favorite saint! But first, look over this list. Don't throw away your shot.
The Saints of Lent Madness 2023 (ineligible)
Augustine of Hippo
Hippolytus of Rome
Monica
Joanna the Myrrh Bearer
Simeon Bachos
Blandina
Brendan of Clonfert
David of Wales
Rutilio Grande
Josephine Bakhita
Eric Liddell
Dorothy Sayers
Enmegabowh
Florence Li Tim-Oi
Nicolaus von Zinzendorf
Martin de Porres
Maximus the Confessor
Cuthmann of Steyning
Leoba
J.S. Bach
Harriet Monsell
Scholastica
Richard Hooker
Olga of Kiev
Bertha of Kent
Stanislaus the Martyr
Edmund
Chief Seattle
Botulph
John Donne
Juan Diego
Past Golden Halo Winners (ineligible)
George Herbert, C.S. Lewis, Mary Magdalene, Frances Perkins, Charles Wesley, Francis of Assisi, Dietrich Bonhoeffer, Florence Nightingale, Anna Alexander, Martha of Bethany, Harriet Tubman, Absalom Jones, José Hernandez, Jonathan Daniels
From 2020 to 2022 (ineligible)
Teresa of Avila
Juliana of Liege
Origen
Madeleine Barat
Thomas of Villanova
Thomas Aquinas
James Holly
Camillus de Lellis
Benedict of Nursia
Ives of Kermartin
Arnulf of Metz
Albert the Great
Catherine of Genoa
Catherine Booth
Hildegard of Bingen
Elizabeth Fry
Joseph
And remember, nominations are like voting: just one per person. Let the Nominations for Lent Madness 2024 start rolling in!