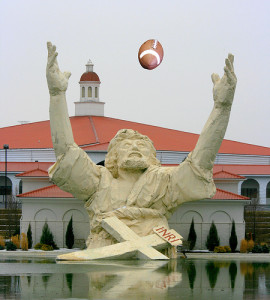 Ah, Super Bowl Sunday. The day preachers attempt to squeeze as many football analogies into the sermon as possible. Today, as The Big Game coincides with Luke's version of Jesus' transfiguration, it's clear what took place up on that mountain. After hearing the voice descend from heaven, "This is my Chosen One; listen to him!" Jesus waved a giant foam finger in the face of Peter, James, and John and yelled, "I'm number one!" That's in the spirit of the gospel, right?
Or maybe not.
But nonetheless, we'll still gather around our televisions for kickoff at 6:30 pm with a heaping pile of pre-Lent-so-there's-no-guilt nachos. We'll watch the game, live Tweet the commercials and halftime show, and pray no one gets seriously injured.
Just because we, like Americans everywhere, will watch the Super Bowl, doesn't mean Lent Madness isn't better. So, in the competitive spirit of the day, here are our Top 10 Reasons Lent Madness is Better than the Super Bowl...

10. Our saints are better than your (New Orleans) Saints.

9. Broncos and Panthers? Yeah, St. Francis blessed those animals too.

8. While some of the saintly match-ups may make your head explode, no one's getting a concussion.

7. Scott and Tim never experience "wardrobe malfunctions" when filming Monday Madness.

6. Nobody's scalping Saintly Scorecards (that we know of).

5. Forward laterals are illegal. Forward Movement is not.

4. No one has ever gambled away their life savings betting on Lent Madness.

3. The great saintly Cloud of Witnesses trumps pop-pom waving cheerleaders.

2. Losing in Lent Madness never "deflates" a saint's halo.

1. No more Roman Numerals, NFL? Fine. Enjoy Lent Madness VII.
By the way, if you send the SEC a million dollars, we'll give you 30 seconds of air time during Lent Madness.
It's only four days until the start of Lent Madness VII on Ash Thursday. We hope you have your jerseys purchased and Lent Madness Parties (with suitably penitential snacks) all planned. Enjoy the Super Bowl, but then be ready to join us for a wild, joyous, and educational ride through Lent.