We're back for another full week of saintly thrills and spills! Today, Emma of Hawaii takes on Hugh of Lincoln. With just three battles left in the First Round, we'll be on to the Saintly Sixteen on Thursday. Seriously.
On Friday, Juliana of Liege defeated Blaise 60% to 40% (insert joke about Juliana being cut throat).
Check back later today as Tim and Scott will surely bring you another madcap, yet subtly informative, episode of Monday Madness. In the meantime, go vote!
Emma of Hawai'i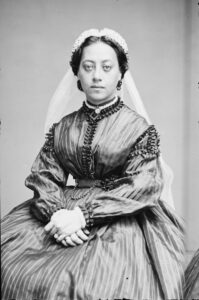 In Hawaiian, aloha means many things. It is the spirit of welcome, the spirit of the islands, the spirit of love. Aloha is what we share between each other. Aloha is all that God calls us to be to each other in our Christian lives. Queen Emma shares the spirit of aloha in her life.
Queen Emalani Kalanikaumakaʻamano Kaleleonālani Naʻea Rooke was born to High Chief George Na'ea and High Chieftess Fanny Kekelaokalani (members of the royal family of Hawai'i) on January 2, 1836, in Honolulu. In the tradition of the time, Emalani was adopted by her aunt and uncle and raised in a cross-cultural family. She was a gifted vocalist, equestrian, and scholar. On June 19, 1856, Emalani married Prince Alexander Liholiho, who would later be crowned King Kamehameha IV.
Queen Emalani and Kamehameha IV were greatly in love. Due to their cross-cultural upbringing, both had been influenced by the Church of England. Emalani petitioned the Church of England to establish the Church of Hawai'i in 1860, and Anglicanism formally arrived on the islands. Emalani and Kamehameha were baptized into the church, and Emalani changed her name to Emma in reverence.
Emma and Kamehameha had one child together, Prince Albert, whose godmother was Queen Victoria of England. However, Prince Albert died of a brain fever at the age of four. A year later, Kamehameha IV also died, and Emma was left childless and a widow. In her grief, Emma called on the spirit of aloha to guide her on. Through fundraising, humanitarian efforts, and philanthropy, Emma established St. Andrew's Cathedral, St. Andrew's Priory for Girls, the Iolani School for Boys, and the Queen's Hospital, all of which still exist today and provide world-class care and education for the people of the islands. At its founding, St. Andrew's Priory for Girls was committed to offering the same quality of education for girls as for boys, a rarity in that time.
The Episcopal Church recognizes Emma as a saint for her works of aloha for the people of Hawai'i. She passed away on April 25, 1885, and her estate was left to establish the Queen Emma Foundation for scholarships for the people of Hawai'i and to maintain the Queen's Hospital. Her feast day (along with her husband) is November 28.
Collect for Emma of Hawai'i
O God, who called your servant Emma to an earthly throne that she might advance your heavenly kingdom, and gave her zeal for your church and love for your people: Mercifully grant that we also may be fruitful in good works, and attain to the glorious crown of your saints; through Jesus Christ our Lord, who lives and reigns with you and the Holy Spirit, one God, for ever and ever. Amen.
Hugh of Lincoln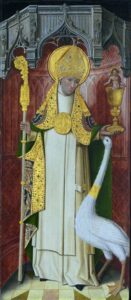 Seemingly few bishops are remembered first and foremost for their deep anchor in solitude, silence, and stillness, which is why Hugh of Lincoln holds a fitting place in the church's calendar of saints.
In 1180, King Henry II of England had a problem. He famously, and later to his deep regret, was responsible for the martyrdom of Thomas Becket in Canterbury Cathedral in 1170. In penance, Henry decided to establish England's first house for the Carthusian monastic order in Witham, Somerset. The road was rocky—the first two priors had little success. At the recommendation of a French noble, Henry II sent a legate to the principal Carthusian monastery; he asked for Hugh, a 40-year-old man of noble and wealthy birth turned to a life of silent and prayerful contemplation, to head the new monastery at Witham.
Upon arrival at Witham, Hugh found not only a lack of monastic buildings but also a lack of compensation for the people to be evicted from their lands in order to build the monastery. Hugh refused to take up his charge until the people were fully compensated.
Hugh's quiet humility and lack of self-regard enabled him to be a tireless champion for the church and the people under its care—and gave him the political capital to intercede with three kings for the church, Henry II, Richard I, and John, all while maintaining good relations.
Hugh was elected and appointed as bishop of Lincoln in 1186, filling a see that had been vacant for nearly eighteen years. He undertook major reforms that restored pious discipline among the clergy. Hugh is remembered for inciting others to divine love while being full of gentle talk and fun. He was, according to one account, a particular fan of puns and wordplay. He is remembered for his forceful advocacy for those in his care. He provided a personal and spirited defense of Jews in his diocese during a period of persecution; he stood for his people over and against greed of royal foresters, and he refused to raise money for the king's wars. Yet his personal humility and charity of spirit prevailed for the people of God. Richard I said of him that, "If all bishops were like my Lord of Lincoln, not a prince among us could lift his head against them."
Collect for Hugh of Lincoln
Holy God, who endowed your servant Hugh of Lincoln with wise and cheerful boldness, and taught him to commend
the discipline of holy life to kings and princes: Grant that we also, rejoicing in the Good News of your mercy, and fearing nothing but the loss of you, may be bold to speak the truth in love, in the name of Jesus Christ our Redeemer; who lives and reigns with you and the Holy Spirit, one God, for ever and ever. Amen.
Emma of Hawai'i: Mathew Brady, Public domain, via Wikimedia Commons
Hugh of Lincoln: Art Institute of Chicago, Public domain, via Wikimedia Commons