Well, today's matchup is an odd pairing. You might even say that Felix of Burgundy and Oscar are an...Odd Couple. Anyway, we're confident you'll choose the right criteria for your vote and ignore the fact that one of these two may be a neat freak and the other a slob. Frankly, we have no idea.
Yesterday, Origen defeated Hilda of Whitby 55% to 45% to advance to the Saintly Sixteen. Go vote!
Felix of Burgundy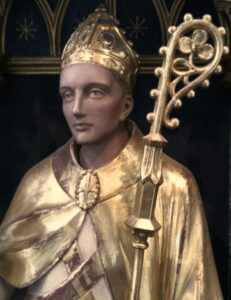 Felix of Burgundy is known as the Enlightener of East Anglia and credited with bringing Christianity to the east of England, founding the University of Cambridge, and consecrating a small, furry animal as bishop—but we'll save the legends for a later round of Lent Madness.
Felix was born and ordained in Burgundy, the French region perhaps better known for its wines, but not much was written about him until his arrival in East Anglia, which today includes the English counties of Norfolk and Suffolk. Some sources claim he previously had met Sigebert, who would become king of East Anglia, when the latter was in exile. Through their friendship, Sigebert became a Christian, and when he returned to East Anglia in 630 CE to take the throne, he invited his "spiritual father" Felix to join him as its first bishop.
Together, Felix and Sigebert founded a school "wherein boys should be taught letters," according to The Ecclesiastical History of the English People by the Venerable Bede. Felix supplied the teachers for the school, which later became the University of Cambridge. Not long afterward, Sigebert abdicated the throne to enter a monastery and eventually became a saint himself.
Felix remained bishop of East Anglia for 17 years. In that time, he founded churches, monasteries, and schools throughout the area and brought not only Christianity but also happiness to its people. "He delivered all the province of East Anglia from long-standing unrighteousness and unhappiness," Bede writes in a play on the saint's name, which means "happy."
Felix died in 647 or 648 and was buried at Dommoc, his episcopal see, which has since been swallowed by the sea. His body was moved to Soham and then, after a Viking attack destroyed the monastery, rescued dramatically under the cover of a miraculous—or, perhaps, typically English—fog.
While those places may no longer remain, the impact Felix made while there certainly does. He is buried at a Benedictine abbey in Ramsey and remembered by the Church of England on March 8.
Collect for Felix of Burgundy
O God, our heavenly Father, who raised up your faithful servant Felix, to be a bishop and pastor in your Church and to feed your flock: Give abundantly to all pastors the gifts of your Holy Spirit, that they may minister in your household as true servants of Christ and stewards of your divine mysteries; through Jesus Christ our Lord, who lives and reigns with you and the Holy Spirit, one God, for ever and ever. Amen.
Oscar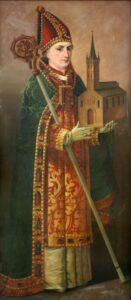 Contrary to the similar sounding names, Oscar (commonly known as Ansgar) is not related to either Loki or Thor of Asgard. Rather, Ansgar is a derivation of the Germanic Oscar. Ansgar translates roughly to mean the "spear of God"—a most appropriate name for a man who was called to teach the word of God to Vikings. And, like Loki and Thor, Ansgar/Oscar has a cinematic claim to fame in the modern TV show "Vikings."
Born in 801 in Amiens, in present-day France, to a noble family, Oscar entered a Benedictine monastery following the death of his mother. It is said that Oscar had a vision of his mother at the side of Mary, the mother of God, and his cavalier attitude to the church was transformed into a more serious appreciation.
Because of his noble background, Oscar was sent to Jutland (around modern-day Denmark) to serve as a missionary to the baptized King Harald Klak. Under Harald, Oscar built a school for Christian teaching for the children of Jutland. When Harald died, the new Viking king was not a Christian, so Oscar moved back to Germany.
However, the north was not done with Oscar. The new king of Sweden, Bjorn at Hauge, wanted a missionary to build a school. Oscar returned to Scandinavia and built a congregation of northerners, living out his call to bring Christianity to the Vikings and earning the moniker Apostle to the North. In 831, Oscar returned to Worms to receive his next call from the pope: Archbishopric of Hamburg-Bremen. His charge included a mission to evangelize the people of Denmark, Sweden, and Norway.
Considered the founder of the Denmark and Swedish arm of the church, Oscar provides a witness to us on how we can bring to Christ others who are different from us and come from varying traditions and cultures. Oscar was known for making relationships across cultures and cultivating understanding rather than discord during these turbulent times. His feast day is February 3, which is the date of his passing in 865.
Collect for Oscar
Almighty and everlasting God, we thank you for your servant Oscar, whom you called to preach the Gospel to the people of Denmark, Sweden, and Norway. Raise up in this and every land evangelists and heralds of your kingdom, that your Church may proclaim the unsearchable riches of our Savior Jesus Christ; who lives and reigns with you and the Holy Spirit, one God, now and for ever. Amen.
Felix of Burgundy: Amitchell125 at English Wikipedia, Public domain, via Wikimedia Commons
Oscar: Siegfried Detlev Bendixen, Public domain, via Wikimedia Commons