Only in Lent Madness will you find a seventeenth-century nun doing battle with an archangel. But that's what we have going on in today's matchup between Juana Inés de la Cruz and Gabriel the Archangel. Is pitting a mere mortal against an ephemeral being unfair? Perhaps. Though, as always, it's up to the Lent Madness voting community to decide who advances to the next round.
In Monday action, Emma of Hawaii took down Hugh of Lincoln 64% to 36%.
In case you missed yesterday's stirring edition of Monday Madness, you can watch it here. Still hungry for Lent Madness news? Watch the Lent Madness anchor desk from Christ Church in Charlotte, North Carolina. The Lenten creativity knows no bounds!
Juana Inés de la Cruz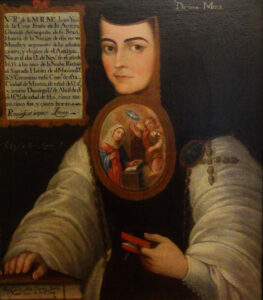 Juana Inés de la Cruz was a seventeenth-century nun, writer, philosopher, mystic, poet, and pot-stirrer in Spanish colonial Mexico.
Born in 1648 near Mexico City, Juana is described on her birth certificate as "a daughter of the Church," which was a quaint way of stating that she was illegitimate. Her maternal grandfather, however, let her and her mother live in his massive hacienda, and little Juana would sneak into his library—something she was punished for as girls were not encouraged to educate themselves. By age 3, she had taught herself to read and write Latin, by age 5 she had taken over the hacienda's accounts, and by age 8, she had written a lovely poem on the meaning of the eucharist.
At age 16, having thoroughly frustrated her mother and grandfather, her guardians sent her off to Mexico City, in a sort of debutante/finishing school situation. She didn't take kindly to this—she wrote home and requested permission to disguise herself as a boy so she could enroll in real school. No luck. Instead, she was assigned as a lady-in-waiting to the colonial vicereine (the wife of the viceroy of New Spain.)
In 1667, she joined a Carmelite nunnery, seeking more time for study, quiet, and contemplation. The Carmelites didn't quite fit the bill, so in 1669, she tried again, joining a Hieronymite order. This one stuck, and her fame began to spread throughout colonial Mexico for her writings and her poetry. Everything was fine until 1690, when the local bishop published a letter she wrote, containing her critique of a 40-year-old sermon given by a well-known Portuguese priest. The bishop attached his own commentary to Juana's critique, saying, essentially, "This is why women shouldn't write and should stick to praying." Juana, irate, then published another letter, which argued at length for a woman's God-given right to educate herself and instruct others. "One can perfectly well philosophize while cooking dinner," she said, while listing all the women in the scriptures who did not appear to heed the bishop's advice. The local bishop (and the archbishop of Mexico) did not care for her input. They convinced her to cease public writing and counseling, at the risk of official censure or ex-communication. (It was the Inquisition. They weren't playing.) She died in 1695 while nursing her fellow nuns during a plague outbreak.
Collect for Juana Inés de la Cruz
Almighty God, Source of all knowledge, we give you thanks for the witness of your servant Juana Inés de la Cruz in her fierce passion for learning and creativity. Teach us to be faithful stewards of our minds and hearts, so that, following her example, we might forever proclaim the riches of your unending love in Jesus Christ our Lord. Through Jesus Christ who, with you and the Holy Spirit, lives and reigns, one God, for ever and ever. Amen.
Gabriel the Archangel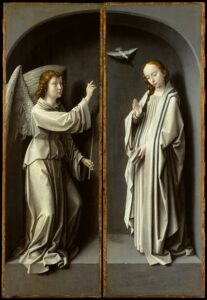 Three of the world's major religions—Christianity, Islam, and Judaism—hold Gabriel in high esteem, as he appears in the Old Testament, the New Testament, and the Qu'ran.
While Gabriel means "God is my Strength" in Hebrew, the archangel has many monikers: Celestial Messenger, Strength of God, Keeper of Holiness, Angel of Mercy, and Angel of the Power of God. In the Bible, angels are considered agents of God. And being an agent was clearly Gabriel's calling.
We first meet Gabriel in the Old Testament where he explains and interprets Daniel's dreams to him. The Book of Daniel contains two other references to unnamed angels who some scholars believe are both Gabriel.
His most famous appearances are in the New Testament Gospel of Luke, where Gabriel has two significant visitations: to Zechariah to announce the birth of his son, John the Baptist, and to Mary announcing the coming of her son, Jesus. Gabriel's greeting to Mary forms the basis of our familiar and loving prayer: Hail Mary, full of grace.
Gabriel is believed by some to be the angel who sang to the shepherds at the birth of Jesus. Other legends point to Gabriel as the angel who warned Joseph to take the Holy Family to Egypt, sat with Jesus in the Garden of Gethsemane, and spoke to the women at the tomb on the third day. Gabriel is a favorite subject for artists. For example, the Annunciation—the commemoration of when Gabriel visited Mary—is illustrated in many forms, from famous paintings to magnificent stained-glass windows. In these depictions, Gabriel is often portrayed with his wings outstretched, wearing white, carrying a lily, a scroll, or a trumpet.
His feast day is September 29, shared with fellow Archangels Michael and Raphael. Gabriel is the patron of telecommunication workers, radio broadcasters, messengers, postal workers, clerical workers, diplomats, stamp collectors, Portugal, Santander in Spain, Cebu in the Philippines, ambassadors, delivery workers, and garbage collectors.
Collect for Gabriel the Archangel
Pour your grace into our hearts, O Lord, that we who have known the incarnation of your Son Jesus Christ, announced by an angel to the Virgin Mary, may by his cross and passion be brought to the glory of his resurrection; who lives and reigns with you, in the unity of the Holy Spirit, one God, now and for ever. Amen.
Juana Inés de la Cruz: Fray Miguel de Herrera, Public domain, via Wikimedia Commons
Gabriel the Archangel: Gerard David, CC0, via Wikimedia Commons