Welcome to the first and only Saturday matchup of Lent Madness 2022. Today Mesrop Mashtots faces off against Madeleine Sophie Barat. And, yes, that's Barat not Borat -- that's something else entirely. Haven't heard of these two saints? Meeting some new spiritual companions is, of course, one of the joys of Lent Madness.
Yesterday Kateri Tekakwitha trounced Olaf 72% to 28% to advance to the next round.
We're testing out a new even-more-secure voting system today, so casting your vote will look sightly different. But fear not! We still support universal (one vote) suffrage.
Enjoy the First Sunday in Lent tomorrow (make sure to talk about Lent Madness with all your friends at coffee hour) and we'll look forward to seeing everyone back here first thing Monday morning as Hilary of Poitiers faces Melania the Elder. Now go exercise your God-given right to vote (once) in Lent Madness!
Mesrop Mashtots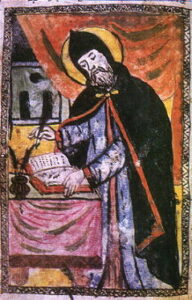 If you like words, reading, and sharing good news, you will love Mesrop Mashtots. In 405 CE, he invented the Armenian alphabet and translated the Bible into Armenian, bringing the Word of God to the people of Armenia.
After serving in the military and the Armenian royal court, Mashtots joined the Christian church and worked as a missionary in southern Armenia. As a student of Greek, he could read the Bible but realized that most people could not. He believed that the ability to read the Bible would be an excellent tool for encouraging people to join the church. But Mashtots couldn't make this happen alone. Where could he find help?
Fortunately, Vrampshapuh, the ruler of the Armenian dynasty, was Christian. He sponsored the project along with the head bishop of the Armenian church, Sahak the Great. Beyond enlightening their people about God's story, they had goals of securing Christianity as the main religion in Armenia, and they wanted to build national community and unity. With this backing, Mashtots got to work.
As he spent time traveling and researching different languages to adapt to the new alphabet, Mashtots realized he'd have to start from scratch. Mashtots worked with Rufinus, a Greek calligrapher, to create an alphabet with 36 symbols to cover all the sounds in the Armenian language.
He and Bishop Sahak translated the Bible, obtaining an official copy from Constantinople and checking it against other versions to create their Armenian version. Mashtots put together a team of linguists to translate canons of the church councils, liturgies, and other important texts. The alphabet, with the addition of two letters, is still used today.
Armenians responded enthusiastically to the ability to read in their own language. Mashtots continued to translate and write Armenian hymns and other works until he died in 440. He chose this verse from Proverbs 1:2 for his first sentence of translation: For learning about wisdom and instruction.
Collect for Mesrop Mashtots
O God, by your Holy Spirit you give to some the word of wisdom, to others the word of knowledge, and to others the word of faith: We praise your Name for the gifts of grace manifested in your servant Mesrop Mashtots, and we pray that your Church may never be destitute of such gifts; through Jesus Christ our Lord, who with you and the Holy Spirit lives and reigns, one God, for ever and ever. Amen.
Madeleine Sophie Barat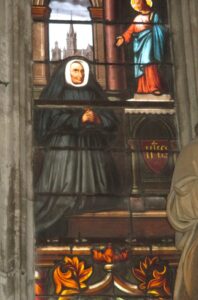 You could say Madeleine Sophie Barat was baptized by fire. On the night of December 12, 1779, a house fire raged next door to the Barat family home in Joigny, France. Terrified and exhausted, Madeleine Fouffé Barat went into premature labor; the fragile baby Sophie was baptized at her local church early the next morning, with her 10-year-old brother, Louis, by the font.
That her brother was her spiritual guardian from the first was fitting: Louis felt a strong call to the priesthood from an early age. As he studied, Louis shared all that he was learning with his little sister. It was an education that a young woman would otherwise never receive, and it stoked both Sophie's passion for learning and her deepening faith. A seminarian at the start of the French Revolution, Louis took the dangerous stance of opposing the Civil Constitution of the Clergy and was eventually arrested and jailed for two years. After his release, Sophie boldly followed him to Paris, where they lived in a safe house so they could continue to practice their faith. Unable to explore a religious vocation for herself due to the abolition of most religious communities in France, Sophie secretly taught catechism to local children and tried to keep busy with prayer, study, and helping her family in their vineyard.
In the early 1800s, Sophie could no longer wait. Inspired by local Jesuits' desire to organize more religious education for women, Sophie and three other women in her safe house consecrated themselves to God on the evening of November 21, 1800, pledging their lives to "make known the revelation of God's love." While devotion to the Sacred Heart of Jesus remained illegal in France, the Society of the Sacred Heart was born. Madeleine Sophie Barat was only twenty years old.
Sophie and her sisters in Christ established schools across France focused on the education of girls and young women, offering academic rigor regardless of a family's ability to pay. Barat's faith was a coherent philosophy of education: children needed guidance to grow, and education is meant to "reveal the heart of Christ." Mother Barat served as superior of the Society of the Sacred Heart for 65 years and was beloved for her strong life of prayer, her mentorship of others, and her collaborative leadership style.
Collect for Madeleine Sophie Barat
O God, by whose grace your servant Madeleine Sophie Barat, kindled with the flame of your love, became a burning and a shining light in your Church: Grant that we also may be aflame with the spirit of love and discipline, and walk before you as children of light; through Jesus Christ our Lord, who lives and reigns with you, in the unity of the Holy Spirit, one God, now and for ever. Amen.
Mesrop Mashtots: Hovhannes, artist of the XVIII century, Public domain, via Wikimedia Commons
Madeleine Sophie Barat: Thomon, CC BY-SA 4.0, via Wikimedia Commons