Welcome to Tuesday in the first full week of Lent Madness action. Today Teresa of Avila takes on Crispin. Medieval mystic vs. 3rd century martyr.
Yesterday, amid some early voting trials and tribulations, Hilary of Poitiers handily defeated Melania the Elder 61% to 39%. Perhaps no one was surprised voting was an issue in a matchup between Melania and Hilary?
In case you missed yesterday's world-changing episode of Monday Madness, you can watch it here. Tim and Scott address the voting issue, while reminding everyone that universal suffrage is a God-given right. As long as only one vote is involved.
Teresa of Avila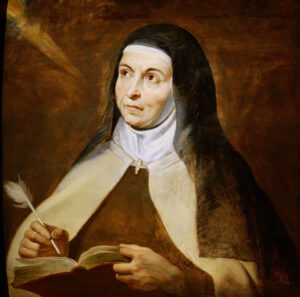 Teresa is one of only four women among the 36 doctors of the church. And that's just one of her many accomplishments as a mystic, reformer, prolific writer, and theologian.
Teresa Sánchez de Cepeda y Ahumada was born into wealth on March 28, 1515, near Avila, Spain. Even as a young girl, she was a dedicated Christian, learning about the saints. When her mother died, Teresa called herself "worldly," according to her autobiography. Her father enrolled her in an Augustinian convent for education. However, illness sent her home. Recovered and now determined for a religious life, she joined the Carmelites; again, illness sent her home. She eventually returned to the Carmelites but grew weary of what she perceived as the order's lax rules. She inaugurated a reformed Carmelite order with a more ascetic lifestyle, eventually founding 17 convents.
In her meditative life, she tried to ignore her visions, which included an angel piercing her heart with a golden lance. She was also prone to raptures, sometimes including levitation. Though she found writing burdensome, she was a prolific writer, articulating Christian mysticism and meditation practice. Her writings include The Interior Castle; The Way of Perfection; and an autobiography entitled The Life of Teresa of Jesus.
Teresa is the subject of much artwork, paintings, and sculpture, such as Bernini's famous The Ecstasy of St. Teresa. She is usually shown dressed as a Carmelite nun holding a pieced heart, book, and crucifix. She is also presented in music by such greats as Virgil Thomson and Joan Osborne; in literature by Simone de Beauvoir and George Eliot; and her statue played a central role in the movie, Angels and Demons.
After her death in 1582, she was buried at the Convento de la Anunciación in Alba de Tormes; her relics are scattered in Rome, Lisbon, Paris, and other locales. Teresa was canonized on March 12, 1622, by Pope Gregory XV, and her feast day is October 15.
She is the patron saint of Spain; sick people; religious orders; people ridiculed for their piety; lacemakers; Požega in Croatia; Cebu in the Philippines; the Diocese of Amos, Canada; and the Diocese of Avellaneda–Lanús, Argentina.
Collect for Teresa of Avila
O God, who by your Holy Spirit moved Teresa of Avila to manifest to your church the way of perfection: Grant us, we pray, to be nourished by her teaching, and enkindle within us a keen and unquenchable longing for true holiness; through Jesus Christ, the joy of loving hearts, who with you and the Holy Spirit lives and reigns, one God, for ever and ever. Amen.
Crispin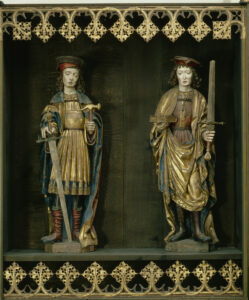 Thanks to the Battle of Agincourt and Shakespeare's Henry V, Crispin's name may be more familiar to English majors and fans of British military history than the Christian faithful. Yet deep devotion to Crispin and his brother Crispinian can best be captured by a pun—the relationship between the soul and the sole.
Crispin and his brother Crispinian were born in the third century, sons of a wealthy Roman family. As young men, they fled Rome and the anti-Christian persecutions of emperor Maximian to settle in northern France. There, these once-pampered sons became humble shoemakers, working through the night so they could preach the gospel by day. The brothers were known for their generosity and their contempt for material goods, and their witness inspired many to become Christians. Once Roman authorities got wind of their exploits, Crispin and Crispinian were martyred by the governor of Gaul. Some accounts say they were beheaded; others say they were thrown into a river with millstones around their necks. The confusion may stem from the fact that killing the brothers was no easy task—from whips and rods and even shoemakers' awls, every weapon of torture wielded against them wounded their captors instead. By the eighth century, the date of their execution had become their feast day, October 25.
Crispin and Crispinian are the beloved patron saints of cobblers, shoemakers, curriers, tanners, and leatherworkers. Shoemakers were both common laborers and skilled craftsmen, and they held a particularly important role in medieval Europe. All shoes were custom shoes, and a visit to the shoemaker was not unlike a visit to the hairdresser—shoemakers had to be trustworthy enough to work in intimate conditions (like lifting ladies' long skirts to better grasp their feet). In England, shoemakers were among the only people allowed to work on Sundays, and over time they became associated with spiritual assistance and support—"sole menders" became "soul menders" in a popular pun. Saint Crispin's name comes up again and again in the history of labor unions across both Europe and the United States. For example, the Daughters of St. Crispin was a union of female shoemakers—and the first national women's labor union in the United States.
Collect for Crispin
Almighty God, by whose grace and power your holy martyr Crispin triumphed over suffering and was faithful even to death: Grant us, who now remember him in thanksgiving, to be so faithful in our witness to you in this world, that we may receive with him the crown of life; through Jesus Christ our Lord, who lives and reigns with you and the Holy Spirit, one God, for ever and ever. Amen.
Teresa of Avila: Peter Paul Rubens, Public domain, via Wikimedia Commons
Crispin: Kerstgen van Ringenberch (début du XVIe siècle), Public domain, via Wikimedia Commons