The Round of Saintly Kitsch continues as José Gregorio Hernández faces James Holly in a battle of the J's. Which J will advance to the Faithful Four? That's up to you. To get here, José defeated Constance of Memphis and Emma of Hawaii, while James took down Lydia and Kateri Tekakwitha.
In yesterday's Elate Eight action, Teresa of Avila trounced Juliana of Liege 75% to 25% to become the fist saint to nab a spot in the Faithful Four.
José Gregorio Hernández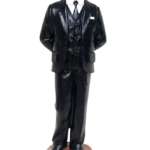 Images of Dr. Jose Gregorio Hernandez are ubiquitous across Venezuela–miniatures, prayer cards, candles, rosaries, statues, murals, and more.
These images tend to be modeled on the most famous photo of the good doctor, which accompanied his initial biography in the Round of 32. So they mostly look like this.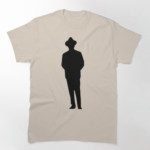 But perhaps you'd prefer to sport your devotion to el medico del pobre a little bit more subtly…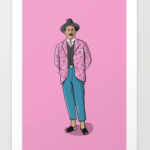 Or Dr. Hernandez may just be a man for all seasons, and you'd appreciate a print for your wall with this summer-y get-up. He's looking quite vaxxed and relaxed, if you ask me. 
Did you look at the bracket on Lent Madness Eve and wonder, "Who is Jose Gregorio Hernandez?"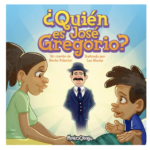 This book is here to help you!
There are many excellent documentaries on Dr. Hernandez's life. This is not one of them! But listen to the groans of the hospital patients around 1:40–they are giving it their *all* for the saint they adore. Remember that time is a flat circle when "el general" lectures his doubtful wife that the flu pandemic is real and very, very serious, and tells his daughter that she ought not to run around kissing people. And watch a shiny new car slowly cruise the streets of Caracas, much like Jaws cruised the beaches of that town in the movie Jaws.
But things like this remind us that one man's kitsch is another man's faithful work. About an hour and a half in, when two parents cry their hearts out that their daughter is dying, only for her to be healed by the gentle touch of el santo medico, it is genuinely affecting! Affecting enough for this to be a good movie? You be the judge. 
Just as devotion to Jose Gregorio Hernandez can stretch the bounds of orthodoxy, so did this sick groove defy the conventions of traditional salsa music! Tap your toe to its irresistible rhythms, and ponder the way Christ is drawing all people to himself through the lives of His saints in heaven and on earth, even circuitously. 
You may be hoping for Dr. Hernandez's gentle face on a commemorative mug, looking a bit more golden and halo-y…in the meantime, sate yourself with this more adorable rendering. Sip your coffee while you ponder life's more difficult questions–what would it take for you to fully give yourself away to others, like Jose did? Would you let people pay you with your own money? How can you fight to dismantle barriers to health care in your own community and around the world? How do you, in your own life of discipleship, promote the dignity of every human being?
-- Eva Suarez
James Holly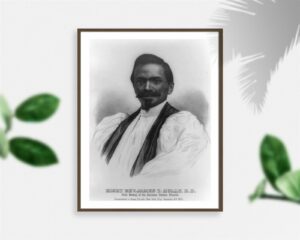 You'll notice a pattern for James Theodore Holly's saintly kitsch: print, print, and more print. Let's get into it. 
There appear to be exactly four images of Bishop Holly: one of him young, one of him older facing right, one of him older facing left, and one of him older and standing. You can purchase a framed picture of him on eBay - or get it free in the public domain for your saintly shrines. With this photo you get an idea of much of what pops up when you search James Theodore Holly. That's right - lots of holly. LOTS.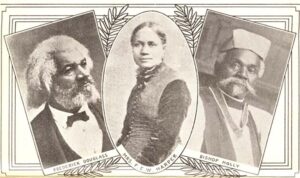 This portrait of Bishop Holly with Frederick Douglass and F.E.W. Harper shows that at the time, Bishop Holly was held in high regard as an abolitionist.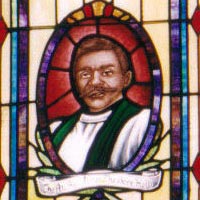 St. Edmund's Episcopal Church, Chicago honored Bishop Holly with a glass window.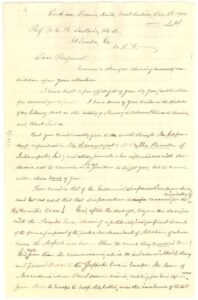 In 1904, W.E.B. DuBois wrote Credo, in which DuBois states many beliefs, beginning with his belief "in God who made of one blood all races that dwell on earth."  Although they had never met, Bishop Holly wrote Dr. DuBois  a six-page response to Credo. Read Credo and Bishop Holly's letter - and be prepared to use the zoom function on your computer. Dr. DuBois's magazine The Crisis reported Holly's death in March 1911 on the front page.
You might consider books kitsch, and in the case of Bishop Holly I believe it is meet and right so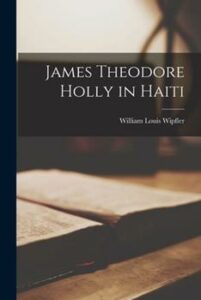 to do. You already know of his book which was heavily quoted in the last round. Several books about or by Bishop Holly are out of print, but digitized copies are available for online reading. You can still find print copies of Facts about the Church's Mission in Haiti by Bishop Holly and James Theodore Holly in Haiti by William Louis Wipfler. Or, click the links to read them online.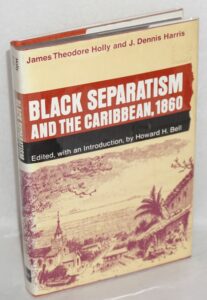 Another book you'll find is Black Separatism and the Caribbean, 1860 by Bishop Holly and J. Dennis Harris from a bookstore called Bolerium Books, purveyors of rare and out-of-print books, posters, and ephemera on social movements. 
Now, I can't say if this is directly connected to Bishop Holly,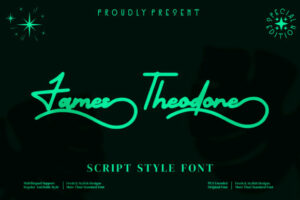 but I did find a James Theodore font. Compare this font to Bishop Holly's letter to Dr. DuBois and judge for yourself whether or not the creator of this font was inspired by The Episcopal Church's first African American bishop.



UPDATE: At 10:54 a.m., the Lent Madness team noticed someone voted for José Hernández 21 times. We blocked that address and added 21 votes for James Holly. We're watching another address carefully. Please vote once only, and invite your friends to vote! But don't cheat.