Welcome to the Saintly Sixteen! We have now cut the field of 32 saints in half. 16 remain and one of these inspiring souls will eventually be crowned with the 2023 Golden Halo. We kick things off with Augustine of Hippo facing Joanna the Myrrhbearer, with the first spot in the Elate Eight at stake.
In this round, we move from basic biographical data to Quirks & Quotes. You'll learn some unusual facts or even legends about the remaining saints, along with quotes either by or about the holy ones in question.
And if you'd like to fill out a bracket online to see how you'll fare the rest of the way, click here.
Yesterday, Martin de Porres easily grabbed the last spot in the Saintly Sixteen by cruising past Maximus the Confessor 78% to 22%.
Vote now!
Augustine of Hippo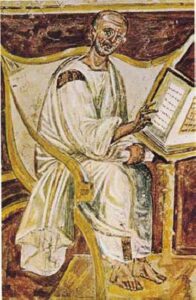 "Oh Lord, give me chastity and continence, but do not give it yet." Augustine, famed for his years of indissolute living, knew how to offer a prayer – in this case, one famously recounted in his Confessions, his famed memoir of his conversion to Christianity. Confessions is, in a sense, the first Christian autobiography ever written, the story of the stirring of Augustine's soul toward God. He famously opens that work by saying "You have made us for yourself, O Lord, and our hearts are restless until they rest in You."
Apart from Confessions, Augustine was well known for his many sermons. Among your author's favorites is his exposition on the Incarnation in a Christmas Day Sermon: "What greater grace could have shone upon us from God, than that having God's only begotten Son God should make him a Son of man, and thus in exchange make the Son of man into the Son of God? Look for merit there, look for a cause, look for justice; and see whether you can find anything but grace." Augustine was a firm believer in grace; it animated his spirit and his theology; he knew that his life had been changed and transformed by the unmerited favor of God. Augustine also knew the importance of opening ourselves to God's purposes: "God who created us with our help," he wrote, "will not save us without our consent."
In his many writings, Augustine also was a distinguished systematic theologian. In De Trinitate (On the Holy Trinity), he spoke of the persons of the Trinity as mediated through love: "When I, who conduct this inquiry, love something, then three things are found: I, what I love, and the love itself… There are, therefore three things: the lover, the beloved, and the love." Augustine's analogy has become a favorite analogy in seeking to understand the nature of our Triune God.
Yet of all the stories and writings of Augustine, it is perhaps an apocryphal story, once recounted by Louis-Victor-Emile Bougaud, that sums up Augustine's unending thirst to know God: "St. Augustine occupied himself with several religious works, and among others, a Treatise on the Trinity. One day, as he was walking up and down the shore, meditating on this mystery with his mother, they saw a little child, who, having dug a tiny hole in the sand, was filling it with sea-water out of a cockle-shell. Augustine, smiling, asked him whether he thought to empty the whole ocean into it? The child replied, 'Why not? It would be easier than to get into your head the incomprehensible ocean of the Holy Trinity!'"
Yet write and search Augustine did; our faith is richer for his inquiry.
Joanna the Myrrhbearer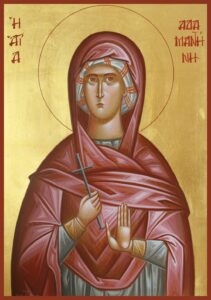 Joanna the Myrrhbearer was a woman of means — means, the Gospel of Luke says, she used to help support Jesus' earthly ministry as she traveled with him, the Twelve and several other women "who had been cured of evil spirits and diseases."
That same passage identifies Joanna's husband as Chuza, the manager of Herod's household. There are a handful of Herods in the Bible. This is the Herod who imprisoned and beheaded Jesus' cousin, John the Baptist.
Awkward.
The Gospels tell us that John's body was then retrieved by his followers.
Legend tells us that his head was tossed in an unclean place and it was Joanna who chased it down and gave it an honorable burial on the Mount of Olives — on Herod's estate, no less.
Beyond the quirky story, Joanna's position in Herod's court tells us a lot about what she may have given up to follow Jesus and the role she may have played in the early church.
She would have lived in the sparkling, lakeside city of Tiberius, attending dinner parties, enjoying the nearby baths and hot springs and mingling at Herod's palace, write historians Joan Taylor and Helen Bond in their 2022 book "Women Remembered: Jesus' Female Disciples."
She would have had more wealth, connections and status than most of the women – or men, for that matter – who traveled with Jesus, they write.
She also would have had more to lose.
Nothing tells us what prompted Joanna to leave her life of luxury behind to follow Jesus to the margins and, later, to the empty tomb.
Nothing tells us how her discipleship or head retrieval went over with Herod or Chuza either.
Joanna herself is silent on these things, though two recent TV series have given her a voice: "Killing Jesus" and "A.D.: The Bible Continues."
Scholars have this to say about her:
"All indications are that the women had exactly the same relationship with Jesus as the twelve male envoys, that they had also been with Jesus from his earliest ministry and that they would play an equal part in proclaiming the kingdom of God. All that sets them apart is the fact that they provided for/ministered to the group from their own resources," write Taylor and Bond.
"Throwing in her lot with Jesus was a radical conversion to the poor, but it must have been the nondiscriminating acceptance with which the community of Jesus' disciples welcomed all who  joined them, even tax collectors, that gave (Joanna) the confidence to risk her reputation among her peers, burning her bridges behind her, in order to identify herself as fully as possible with Jesus and his movement," writes Richard Bauckam.