And...we're back for a FULL WEEK of Saintly Sixteen action! Today Bertha of Kent takes on Edmund. Like a penitential chess match, it's queen vs. king.
On Friday, in the second matchup of this round, Florence Li-Tim Oi defeated Enmegahbowh 64% to 36% to advance to the Elate Eight.
Will the Lent Madness voting public be "blessed" with another episode of Monday Madness? Stay tuned to find out.
And in the meantime, go vote!
Bertha of Kent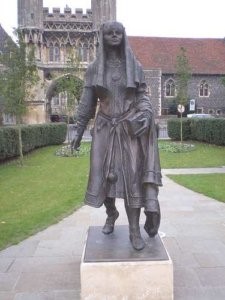 Queen Bertha of Kent is a medieval silent influencer - her indelible marks on religion and society were not clearly visible until long after her death. Feasibly, without her prodding her husband the king, St. Augustine might not have been as successful in bringing Christianity to England, thereby changing the course of history.
Bertha, a Christian, was born in France around 539 CE; she married Ethelbert, a pagan, in 580, and moved to his home in Kent, England; she died about 602.
One of her lasting imprints is found in her beliefs, which swayed her husband, King Ethelbert, to convert from his pagan beliefs and gods. Centuries later, Ethelbert is known as the first Christian king of England.
While records of her actual words have not been unearthed, there is an array of what others have said about her. History tends to show her in the shadow of her husband; nonetheless, the church chronicles tell otherwise. Bertha is mentioned by some of the great messengers of her day: Bishop Gregory of Tours; the Anglo-Saxon scholar/historian the Venerable Bede; Pope Gregory the Great; plus all the references to her influence in numerous books through the ages.
Bertha's marriage to Ethelbert is the main reason that anything is known about her early years in France. Gregory of Tours' comments about Bertha were fleeting, but noteworthy. His only mention of Bertha put her in relation to the men in her life, her father and her husband: "He [Charibert, her father] had a daughter who afterwards married a husband in Kent and was taken there."
Venerable Bede acknowledged Bertha's influence on the king: "The fame of the Christian religion had already reached Ethelbert as a result of his wife's faith."
In 612, Bertha persuaded Ethelbert to welcome Augustine to Kent, thereby establishing her as a mover and shaker in Christian history. After Augustine was settled and was baptizing new Christians, Pope Gregory wrote a long letter to Bertha brimming with glowing praise: "For your good deeds are known not only among the Romans, who have prayed earnestly for your life, but also through diverse places, and have come even to the ears of the most serene prince at Constantinople."
There are books about her, such as "Queen Bertha and Her Times" and the young adult book, "Bert & Bertha, King & Queen of Kent: A Love Story Maybe, Maybe Not." A film, Saint Bertha Queen of Kent, was produced in 2014.
Thanks to Queen Bertha's Trail and the14 bronze plaques directing the way through the city of Canterbury and the UNESCO World Site, she is mentioned in numerous historical references and travel guides.
Edmund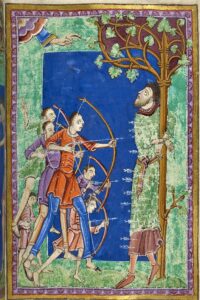 Edmund, the King of East Anglia from around 855 until his death on November 20, 869, is remembered as Martyr for his death in defense of East Anglia from pagan Viking invasion in 868-869.
While markedly few historical facts of Edmund's life and death are known, largely thanks to the victorious Vikings who destroyed evidence of his existence and reign, he was canonized by the church quite soon after his death – by the time East Anglia was absorbed by Wessex in 1918, a series of coins remembering Edmund had been minted – they are now known as St. Edmund pennies. Over 1800 specimens were found in the 19th century.
Edmund's remains travelled as much, if not more, than the martyr and king himself. In 1010, his remains were moved to London to protect them for veneration and keep them away from the Viking pestilence. By 1013, they were moved again, this time to a town bearing his name to this day – Bury St. Edmunds – there to rest for ever.
Or so one would think. In the 17th century, a lawyer in Toulouse decided that Edmund's remains had been taken from Bury as Louis VIII of France retreated after a defeat in Lincoln in 1217. Indeed, the records of the Basilica of Saint-Sernin in Tolouse show "St. Edmund" among the church's relics in 1425. The relics are credited with saving Toulouse from the plague of 1628-1631; the remains were placed in a religquary, there to rest after much travel.
Or so one would think. By 1901, the Roman Catholic Archbishop of Westminster, received relics from Saint-Sernin for inclusion in London's Westminster Cathedral. Upon their arrival in England, they were housed in the Fitalan Chapel at Arundel Chapel in West Sussex. Never translated from Arundel to Westminster Cathedral, it was there the purported remains of Edmund were left to rest in peace.
Or so one would think. In 1966, three teeth, purportedly from some portion of Edmund's relics, were given to a monastery in Berkshire, England. As of 1993, the vast majority of Edmund remained in West Sussex. Or at least, so one would hope.