Well, friends, we are exactly halfway through the Saintly Sixteen, with four battles down and four to go. The round of Quirks and Quotes continues today as Brendan of Clonfert faces off against Blandina in a battle of the Bs.
Yesterday, JS Bach sung his way past Richard Hooker 64% to 36% to advance to the Elate Eight.
Vote now!
Brendan of Clonfert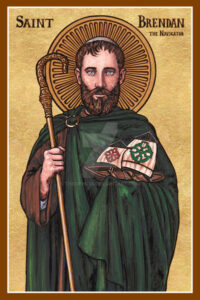 SEint Brendan pe holi man: was here of ovrelonde.
Monek he was of harde liue: as ich me under-stonde.
–A Middle-English rhyme, ca. 1280-1320
You could say Brendan of Clonfert is the victim of his own success. The success of his ministry encouraged the spread of legends; the more the legends spread, the more fantastic they became; the more fantastic the legends, the more historians began to doubt he ever existed at all. Yet consensus now stands that Brendan lived, and even sailed. In the words of the Vitae Hiberniae, "there was a man of venerable life, Brendan by name, who, like the glowing dawn, dispelled the darkness of sin from the hearts of many, and afforded an infallible guidance to the port of salvation for those who were wandering the sea of vice."
Both St. Patrick and the prophet Bec mac Dé foretold Brendan's birth. The night he was born saw strange happenings in the countryside; people awoke to find gifts and went searching for the home "in which the little child had been born," so that they could kneel at his feet. Brendan's mother had a vision of a gold ingot falling into her bosom as she nursed; that night, a local Bishop had a vision of a fire-like glow. The light was full of angels "from heaven to ground." When he woke up, he too rushed to see the baby.
Brendan became famous for his zeal as an evangelist, he founded monasteries in part to accommodate the sheer number of people called to Christ through his witness. His monastic rule of life is said to have been dictated to him by an angel. Brendan never listened to music, instead putting two balls of wax in his ears. A novice wanted to play the harp for him, but the teacher could only manage a few notes before popping in his balls of wax. Why? Years before, St. Michael appeared to him in the guise of a songbird, and Brendan was transfixed for hours by the music. Ever since, music made him long painfully for heaven. But touched by the young man's desire to please the community with music, Brendan blessed him.
The 15th century Book of Lismore explains that Brendan entreated God "to give him a land secret, hidden, secure, delightful, separated from men," where he could pray. The decree to set sail came from—who else? —an angel. Brendan's crew of monks saw wonders: a deserted island, somehow prepared for a feast (the Devil lurked there); a community of completely silent monks (each night, their lamps were lit by a flaming arrow) an island of immense sheep. Brendan and his companions even celebrated 5 consecutive Easters on a whale's back.
Various ancient maps attest to Brendan's landing all over the place, and a few modern authors maintain fantastic sights could be real—a crystal temple in freezing waters could have been an iceberg, flames and ash shooting up from the ground a volcanic eruption. In 1483, Brendan's story became one of the first books printed in English. More recently, J.R.R. Tolkein penned the poem Imran, which concludes: Saint Brendan had come to his life's end, under a rain clad sky, and journeyed whence no ship returns, and his bones in Ireland lie.
Blandina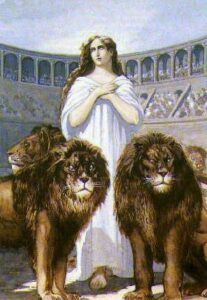 "I am a Christian, and nothing vile is done among us."
Blandina may have only been a teenage girl, but her words reveal a depth of understanding and knowledge far beyond her age.
She was a child slave, a mere 15 years old, when she was martyred in the major Roman city of Lugdunum in Gaul, which is modern-day Lyons in France. Blandina - her name is translated from Latin as "Charming" - died in 177.
Her only recorded comment has a few translations - sometimes as "I am a Christian, and we commit no wrongdoing" or "I am a Christian, and nothing wicked happens among us." Nonetheless, the meaning is the same – the innocence of the Christians did not warrant the harshness of their treatment, the lies circulated about them, and the torture they endured for being followers of Jesus Christ.
What is known and recorded about Blandina comes mostly from Eusebius of Caesarea, a renowned and significant Greek historian of Christianity. He provided the accounts of her trials and torment, along with her companions, in "An Account of the Martyrs of the Churches of Lyons and Vienne," found in his well-documented Ecclesiastical History.
Blandina was tortured for many days and, as Eusebius reported, "After having been flogged, mutilated, and burned, she was wrapped in a net and exposed to a bull, which played with her, tossing her into the air; then, finally, they finished her off with a sword. The pagans swore that never had they seen a woman suffer with such courage."
Her agony was part of the entertainment for a Roman Holiday feast. When she finally succumbed to the ongoing burnings, beatings, and humiliation, she finally perished as a result of stabbings. Eusebius wrote, "Blandina, last of all, like a noble mother who had encouraged her children and sent them ahead victorious to the King, hastened to join them."
A child slave. A dedicated Christian. Persecuted. Tortured. Brutalized. Degraded. Throughout her long travails, Blandina never betrayed her Lord, never betrayed her friends, never betrayed her convictions. She was unwavering in her beliefs.
The atrocious treatment coupled with their steadfast adherence to their faith earned Blandina and her companions, Deacon Sanctus, Attalus, and Maturus, the moniker of The Martyrs of Lyons.
Illustrations mostly depict Blandina surrounded by the wild beasts that stalked and attacked her.