Whew! It's been a wild week of Saintly Sixteen action, which concludes with today's battle between Chief Seattle and John Donne.
Yesterday, Jonathan Daniels swept past Josephine Bakhita 72% to 28% to advance to the Saintly Sixteen, where he'll face Florence Li Tim-Oi.
Enjoy (or rue) the weekend voting respite, and we'll be back to conclude the Saintly Sixteen first thing on Monday Morning as Martin de Porres faces Leoba. The Elate Eight looms...
But for now, go vote!
Chief Seattle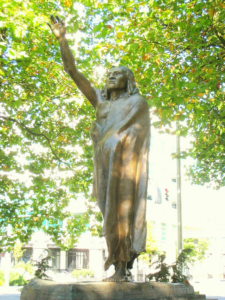 Most of the words that we have from Chief Sealth come from his famous 1854 speech (prior to signing the Port Madison Treaty) that was translated from his mother tongue into a trade language then into English and published by Henry A. Smith some 30 years later. Smith's recollections of the speech are worth reading in full and are available here.
Chief Sealth was a man deeply acquainted with loss and grief, losing his first wife after the birth of their daughter and losing his son in a battle. The agony of these losses is felt in Sealth's speech: "Revenge by young men is considered gain, even at the cost of their own lives, but old men who stay at home in times of war, and mothers who have sons to lose, know better."
Sealth was forced to make less than ideal compromises for the health and wellbeing of his people. Sealth makes this clear when he says, "Big Chief at Washington sends us greetings of friendship and goodwill. This is kind of him for we know he has little need of our friendship in return. His people are many. . . . My people are few." Sealth thus felt forced to concede that "the Red Man no longer has rights that [the United States] need respect, and . . . we are no longer in need of an extensive country."
Although he admitted that they may not have need for so much land, the connection of his people to the land (and the pain of its loss) is still underscored, "Every part of this country is sacred to my people. Every hillside, every valley, every plain and grove has been hallowed by some fond memory or some sad experience of my tribe." The contrast he sets up against the White settlers invites critical self-reflection even today: "Your dead . . . wander far off beyond the stars, are soon forgotten, and never return. Our dead never forget the beautiful world that gave them being. They still love its winding rivers, its great mountains and its sequestered vales, and they ever yearn in tenderest affection over the lonely hearted living and often return to visit and comfort them."
Years before the speech, Sealth built deep and lasting relationships with the White settlers and traders. In his work with Doc Maynard, Sealth envisioned a settlement where Native Americans and White settlers lived in a collaborative blended community. This desire to work together and help one another inspired Maynard to advocate that the new town established be named after Sealth (Sealth himself was not too keen on the idea). In 1853 the Town of Seattle was established. Sealth's vision never came to fruition. Soon, influential White settlers began their work to keep their people separate from the Native American population.
Sadly, as history has shown, the final plea and warning in his speech was not heeded: "Let him [the White man] be just and deal kindly with my people, for the dead are not powerless."
John Donne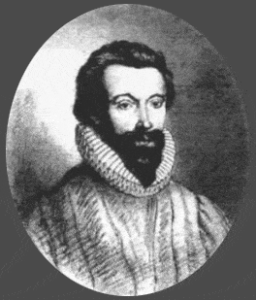 John Donne – priest, poet, playboy – and not always in that order, left a rich tome of words to express the messy holiness of humanity. His early poems, while not overtly religious, showed a sharp ability to observe and satirize the English society in which he lived, especially its surface sexual morality leaders embraced while ignoring deeper societal ills like poverty. He often used nature to speak of edgier topics (sex was a favorite). In The Sun Rising, Donne chides the sun for rising and disturbing he and his lover in their bed. Go and do something useful like wake others up from their blindness to the needs of the world around them, but let the lovers get back to their business.
Busy old fool, unruly sun,
            Why dost thou thus,
Through windows, and through curtains call on us?
Must to thy motions lovers' seasons run?
            Saucy pedantic wretch, go chide
            Late school boys and sour prentices,
        Go tell court huntsmen that the king will ride,
        Call country ants to harvest offices,
Love, all alike, no season knows nor clime,
Nor hours, days, months, which are the rags of time.
Donne eventually found a suitable job as a private secretary to one of the highest officials in the queen's court, then unsuitably secretly married Ann More. Her father and John's employer were totally opposed to the match. Donne got sacked and landed in jail, along with the priest who married them. Donne summed up the experience in one sentence: "John Donne, Ann Donne, Undone."
As Donne began to deeply explore his faith, his poetry found new words, new questions, and new depths of mysticism. His friends began to urge him to consider holy orders. He resisted, noting that some in England considered him a pornographer and that, "some irregularities of my life have been so visible to some men." Eventually, Donne was ordained and soon became known as a great preacher in an era of great preachers. Soon after his ordination to the priesthood, Donne wrote the Holy Sonnet with the opening lines, "Batter my heart," which reads as Donne finally succumbing to God's ravishment to call to ordination.
Batter my heart, three-person'd God, for you
As yet but knock, breathe, shine, and seek to mend;
That I may rise and stand, o'erthrow me, and bend
Your force to break, blow, burn, and make me new.
During his 10-year tenure as Dean of St. Paul's the Black Plague swept through London thrice (this is about Donne; I can use thrice). His beloved wife Ann died before he became Dean and 5 of his 12 children died in childhood. He had a painting done of himself in a death shroud before he died. Death was a familiar companion and theme of his writings, yet his words focus not on the hopelessness of death, but the embrace of God's love that awaits us through the gates of death.
Death, be not proud, though some have called thee
Mighty and dreadful, for thou art not so;
For those whom thou think'st thou dost overthrow
Die not, poor Death, nor yet canst thou kill me....
One short sleep past, we wake eternally
And death shall be no more; Death, thou shalt die.
Donne's life – all of it – preached. His sermons, his poetry, his satire, and his essays weave the fullness of human life together. Courageously he did not edit out the distasteful, racy parts, but allowed all the words he lived and wrote to be offered to the glory of God. Donne's life was filled with love, loss, passion, mistakes, poverty, riches and redemption. No chapter was wasted or ignored by Donne or God.