Sometimes Lent Madness includes well-known saints, sometimes lesser known ones. Today may be the latter for many people as Cuthmann of Steyning faces Leoba for a shot at the Saintly Sixteen. Which among these near contemporaries with ties to England will advance? Well, that's up to you.
Yesterday, Chief Seattle sailed past Botulph 80% to 20%.
Time to vote!
Cuthmann of Steyning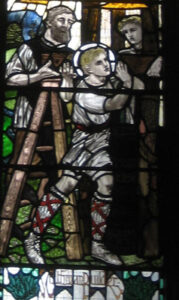 Church planting today is often a data-driven affair. Population growth is examined; demographics considered; community needs gathered and polled. But it's God who ultimately gives the growth to any new church. Cuthmann of Steyning might argue that because God gives the growth, sometimes, it's also possible to overthink things in choosing where to start a church.
According to legend, Cuthmann was born around 681 and became a shepherd in southern England. After his father's death, he was the sole caretaker for his paralyzed mother. The pair fell on hard times; after exhausting all other ends, he felt compelled to go house-to-house begging for alms and assistance. But Cuthmann couldn't leave his mother alone; he had to care for her, make sure she was safe and secure. So, he built a wheelbarrow in which he could place his beloved mother, using a rope tied to the handles and across his neck to help bear the load, so he could carry her as he went about seeking provision for their needs.
Setting out to the east, Cuthmann's plan initially worked. They travelled some distance until the rope around the handles broke. Ever ingenious, Cuthmann crafted a new rope from willow branches and decided that when that rope broke, he would build a church on the spot. The rope broke near the village of Steyning in Sussex. According to legend, he prayed: "Father Almighty, you have brought my wanderings to an end; now enable me to begin this work. For who am I, Lord, that I should build a house to name? If I rely on myself, it will be of no avail, but it is you who will assist me. You have given me the desire to be a builder; make up for my lack of skill, and bring the work of building this holy house to its completion."
First things first: Cuthmann built a hut to keep his mother safe. As the church neared completion, and he struggled to place a roof trestle into place, a stranger visited to help him fix it in place. When asked for his name, the stranger said that "I am he in whose name you are building this church." The task complete, Cuthmann spent the remainder of his days in Steyning.
Without data, a plant team, or even building supplies, God inspired Cuthmann to plant a church. So who can say that the task of growth is impossible in our own day?
Collect for Cuthmann of Steyning
Almighty God, whose will it is to be glorified in your saints, and who raised up your servant Cuthmann to be a light in the world: Shine, we pray, in our hearts, that we also in our generation may show forth your praise, who called us out of darkness into your marvelous light; through Jesus Christ our Lord, who lives and reigns with you and the Holy Spirit, one God, now and for ever. Amen.
Leoba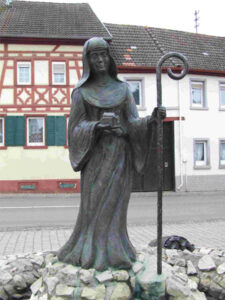 Leoba was born at the beginning of the eighth century, an unusual time during which women's voices were actually welcomed in the church and flourished. Born to a noble family in Wessex, England, her mother had a dream that she would conceive a cherished child of Christ, and her child would serve the church faithfully and with great insight and wisdom. Her parents named her Leoba, meaning "beloved."
Leoba's parents placed her in the double monastery of Wimborne for formation and education. There, she studied scripture, languages, the writings of the ancient church fathers, and canon law. Over time, she eventually took vows as a nun. While at Wimborne, she and other nuns and monks attended lectures at a nearby religious house. At these lectures, she became aware of Boniface, a Benedictine monk and leading figure in the spread of Christianity to parts of Germany. Leoba wrote Boniface, inquiring as to whether they might exchange letters on matters relating to theology and the church. Boniface, knowing of her reputation as a wise and devout person, eagerly added Leoba to the number of people he regularly corresponded with about all things faith.
They became friends and colleagues, engaging in deep theological discussions. When Boniface decided to establish monasteries in Germany, he asked Leoba and some of her fellow Wimborne nuns to assist him, so in 748, Leoba traveled with other nuns to Germany. She eventually became the abbess of a convent in the Franconian town Tauberbischofsheim. Leoba's ministry included not only forming and educating nuns, monks, and converts to Christianity but also serving as a trusted advisor to many bishops, kings, and queens. She was the only woman allowed in the monasteries in nearby Fulda, where she often advised bishops and monastic leaders. When Boniface left the region on his many mission trips, he left his monastic cowl with Leoba, indicating that in his absence, she was his delegate and embodied all his authority.
Boniface asked to have her body laid beside his when she died, "so we who with a like desire and devotion have served Christ here may side by side await the day of resurrection." Leoba outlived Boniface by some 20 years, dying in September 782. She was originally buried in the same room as Boniface, and her relics were later translated to another church in Fulda.
Collect for Leoba
O God, by your Holy Spirit you give to some the word of wisdom, to others the word of knowledge, and to others the word of faith: We praise your Name for the gifts of grace manifested in your servant Leoba, and we pray that your Church may never be destitute of such gifts; through Jesus Christ our Lord, who with you and the Holy Spirit lives and reigns, one God, for ever and ever. Amen.
Cuthmann of Steyning: unknown. Original reproduction uploaded by Neddyseagoon (Transfered by Wikipeder), Public domain, via Wikimedia Commons
Leoba: Kandschwar, CC BY-SA 3.0 <http://creativecommons.org/licenses/by-sa/3.0/>, via Wikimedia Commons