Welcome back for another full week of Lent Madness action! We kick things off with the long-anticipated matchup between Jonathan Daniels and Rutilio Grande. Two martyrs who embraced the prophetic call as followers of Jesus amid turbulent times in the United States and El Salvador.
On Friday, Brendan of Clonfert advanced to the Saintly Sixteen by defeating David of Wales 58% to 42%
Vote now!
Jonathan Daniels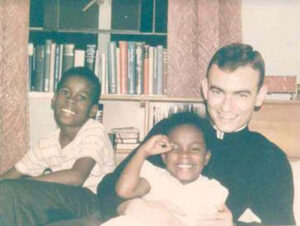 On the evening of March 7, 1965, Martin Luther King Jr. began sending telegrams and issuing public statements "calling on religious leaders from all over the nation to join us on Tuesday in our peaceful, nonviolent march for freedom." Empty tear gas canisters still littered the road before the Edmund Pettus Bridge in Selma, Alabama. More marchers, more voices were needed in the struggle against segregation and disenfranchisement of Black Americans.
The next day, a second-year seminarian at Episcopal Theological School named Jonathan Myrick Daniels pondered King's call. It was impractical to leave school in the middle of a term, but the images of Black people beaten by nightsticks and chased by dogs would not leave him. In the midst of singing the Magnificat at Evening Prayer, Jonathan felt "Mary's glad song" resound with the Holy Spirit's fire. "He hath put down the mighty from their seat, and hath exalted the humble and meek." Jonathan knew he had to go to Selma.
Jonathan initially planned to stay in Alabama only a few days but quickly received permission from ETS to stay longer, with a plan to return in May for final exams. Working with the Student Nonviolent Coordinating Committee (SNCC), Jonathan registered voters, enrolled poor families in benefit programs, tutored children, and protested. With a small, interracial group of friends, Jonathan attempted to integrate the all-white St. Paul's Episcopal Church. It took weeks to gain entrance to Morning Prayer, and when the group arrived for the Palm Sunday service, ushers called the police. The group was ultimately permitted to worship at St. Paul's on Palm Sunday and Easter, provided they sat separately from the rest of the congregation and took communion last.
On August 14, 1965, Jonathan was jailed in Haynesville, Alabama, along with 28 others for picketing whites-only stores. Released after six days, Jonathan and a few others walked to a nearby store for a cold drink. A white man named Tom Coleman was waiting with his gun, angered by the news of their release and spoiling for a fight. He aimed his gun at 17-year-old Ruby Sales, a young Black activist. Jonathan immediately pushed Ruby aside; he absorbed the full force of the shotgun blast and died instantly. He was 26 years old.
Upon hearing of Jonathan's murder, Dr. King said, "one of the most heroic Christian deeds of which I have heard in my entire ministry was performed by Jonathan Daniels." Had he survived Coleman's gunfire, Jonathan Daniels might still be with us today. March 20, 2023, would be his 84th birthday.
Collect for Jonathan Daniels
O God of justice and compassion, who puts down the proud and mighty from their place, and lifts up the poor and the afflicted: We give you thanks for your faithful witness Jonathan Myrick Daniels, who, in the midst of injustice and violence, risked and gave his life for another; and we pray that we, following his example, may make no peace with oppression; through Jesus Christ our Savior, who lives and reigns with you and the Holy Spirit, one God, for ever and ever. Amen.
Rutilio Grande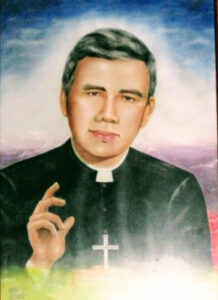 Rutilio Grande was a Jesuit priest who made his ministry among the poor of El Salvador in the 1960s and 70s. Born in 1928, he studied abroad in Venezuela, Belgium, and Spain before returning home. He became a quiet but powerful prophet standing against an archdiocese that upheld the status quo of rich oligarchs and opposed the reforms of Vatican II.
Grande was a dear friend of the famous archbishop, Óscar Romero (canonized in 2018). When Romero was made a bishop, he had no time or money to plan his consecration, so his friend Rutilio took over. Rutilio planned the liturgy, found vestments to borrow, and recruited colleagues to participate. The two friends were a sort of Ruth Bader Ginsburg/Antonin Scalia pair, enjoying each other's company enormously but disagreeing mightily about whether the church should take an active role advocating for the nation's poor. Unlike the carefree character sharing his name in the movie Romero (1989), Grande was a shy and introverted person who struggled with depression and panic attacks. Still, he was a devoted priest whose serious demeanor was transformed when he was out among his parishioners or preaching. "Father Tilo" was a collaborative leader, unheard of in the Salvadoran Roman Catholic Church: training lay people to teach and pastor alongside him and encouraging parishioners to read the Bible together and talk about their lives. He was a fearless preacher, denouncing the conditions of the working poor and the total control of the oligarchy over land, agriculture, and the national economy.
His quiet life began to attract a lot of attention. On March 12, 1977, after a particularly prophetic sermon Rutilio gave in response to the torture and deportation of a fellow priest, he and two of his parishioners were assassinated by anonymous gunmen. And then, Rutilio's quiet but prophetic life changed his whole country. Not only did Archbishop Romero fully awaken to his life's work of speaking out for the poor but also other clergy, religious, and lay leaders throughout the Salvadoran church rose up. Tragically, before long, they too, were murdered, tortured, and disappeared by the thousands.
Romero himself was assassinated in 1980. El Salvador remains one of the most violent countries in the world, besieged by gang violence, but Rutilio and Óscar are icons of hope, appearing often together in devotional art. Rutilio Grande was beatified by the Roman Catholic Church on January 22, 2022.
Collect for Rutilio Grande
Almighty God, by whose grace and power your holy martyr Rutilio triumphed over suffering and was faithful even to death: Grant us, who now remember him in thanksgiving, to be so faithful in our witness to you in this world, that we may receive with him the crown of life; through Jesus Christ our Lord, who lives and reigns with you and the Holy Spirit, one God, for ever and ever. Amen.
Jonathan Daniels: MrCharco, CC BY-SA 3.0 <https://creativecommons.org/licenses/by-sa/3.0>, via Wikimedia Commons
Rutilio Grande: Hchc2009, CC BY-SA 4.0 <https://creativecommons.org/licenses/by-sa/4.0>, via Wikimedia Commons