We're back for another exciting matchup as Josephine Bakhita takes on Eric Liddell. Who will run away with the victory? That's up to you!
Yesterday, in the tightest race of Lent Madness XIV to date (by far), Blandina squeezed past Simeon Bachos 51% to 49% to advance to the Saintly Sixteen. You see, your (single) vote does actually count!
Obviously you watched Monday Madness yesterday. But if you want to watch the rerun (we really should put these into syndication), you can watch it here.
Time to vote!
Josephine Bakhita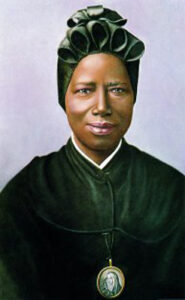 Josephine Bakhita was born in 1869 in what is now the Darfur region of Sudan, among the Daju people. By her account, she enjoyed a happy childhood in a relatively prosperous family in the town of Olgossa. However, in February of 1877, raiding slave traders put an end to that. She was captured and marched barefoot for more than 600 miles to be sold.
For the next 12 years of her life, Josephine was enslaved. So deep was the trauma from her kidnapping that she forgot her own birth name. She had various owners—some were benign; others tortured her with beatings, whippings, and cutting. Finally, in 1883, she was sold to the Italian Vice Consul of Sudan, Calisto Legani, who took her to Italy with him. Once there, he gave her as a gift to serve as a nanny for a friend's family.
With her young charge, Josephine traveled to Venice to accompany the young girl to study with the Canossian Sisters. There, for the first time, Josephine found language to describe her sense of God's presence and love. By her own account, she had always had a belief in a creator of the universe and a sense of a protective presence, but now, she understood what that presence was. With this new understanding, she also began to discern a call to enter the sisters' community herself. Meanwhile, the girl's family returned to pick up their daughter, but Josephine declined to leave. For three days, she raised such a ruckus that no one knew quite what to do until finally the mother superior went to the Italian authorities on Josephine's behalf. The court determined that since slavery had been outlawed in the Sudan before Josephine was captured—and also, by the way—was illegal in Italy, Josephine was now free… and should have been free the whole time.
Presented with agency over her own person and the freedom to make her own choices, Josephine decided to stay with the sisters. On January 9, 1890, she was baptized and named herself Josephine Margaret, and she entered religious life in 1896 as a Canossian Daughter of Charity. She ended up in Schio, Vicenza, where she lived until her death, working as the doorkeeper and cook and occasionally traveling around to other convents to prepare fellow nuns to work in Africa. She became known for her gentle voice and her smile, and during World War II, the people of the village attributed their safety to her protection. She died in 1947.
Collect for Josephine Bakhita
O God of Love, who delivered your servant Josephine Margaret Bakhita from the bondage of slavery to the true freedom of your service; Grant to the wounded your healing grace in mind, body, and spirit and to your church the zeal to combat exploitation and slavery in all its forms; through Jesus Christ our Lord. Amen.
Eric Liddell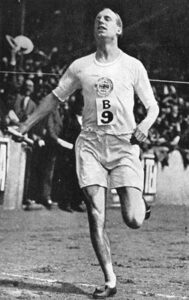 Eric Liddell was born to Scottish missionaries in Tientsin, China, on January 16, 1902. When he was six years old, he and his older brother, Robert, were enrolled in a boarding school in London that served the sons of missionaries. While at the school, he began to distinguish himself as an athlete, excelling in cricket, rugby, and track and field.
Liddell's true gift was speed. He began to attract international attention while at the University of Edinburgh. He competed for Great Britain in the 1924 Olympics in Paris. Although his strongest event was the 100 meters, he refused to race because the heats were scheduled on a Sunday. Instead, he ran in the 400, a distance that he was not known for. Nevertheless, he won the race and set Olympic and world records. He also won the bronze medal in the 200-meter race.
Perhaps more relevant to the current competition for the Golden Halo, Liddell decided to follow his parents' footsteps and became a missionary to northern China in 1925, at the peak of his athletic career. After his first furlough in 1932, Liddell returned to China as an ordained minister in the Congregational Union of Scotland and married his wife, Florence Mackenzie, a daughter of Canadian missionaries. They had three daughters together, the youngest of whom he would never meet.
In 1941, Japanese aggression toward China prompted his wife and children to return to Canada for safety. Liddell stayed in China and moved to Xiaozhang to give his ailing brother, Robert, a medical missionary, a chance to furlough. When the fighting between Japan and China reached the town, Liddell returned to Tianjin. In 1943, Liddell was interned at the Weihsien Camp. He became an important leader in the camp, advocating for access to food, medicine, and supplies. He was called on to resolve disputes and was known to be an impartial arbiter between various groups and also taught and organized activities for the youth in the camp.
He wrote his last letter to his wife on the day that he died. He was suffering a nervous breakdown on account of all the work and responsibilities he had assumed. Further, he was suffering from an inoperable brain tumor, and the malnourishment and stress at the camp exacerbated his poor health. He died on February 21, 1945, five months before the camp was liberated.
Collect for Eric Liddell
Almighty God, you have surrounded us with a great cloud of witnesses: Grant that we, encouraged by the good example of your servant Eric Liddell, may persevere in running the race that is set before us, until at last we may with him attain to your eternal joy; through Jesus Christ, the pioneer and perfecter of our faith, who lives and reigns with you and the Holy Spirit, one God, for ever and ever. Amen.
Josephine Bakhita: Unknown author, Public domain, via Wikimedia Commons
Eric Liddell: unknown (Sports event handout)[1], Public domain, via Wikimedia Commons