Welcome to the FINAL matchup of the Saintly Sixteen. With the conclusion of today's battle between Martin de Porres and Leoba, the Elate Eight will be all set.
In case you missed it, on Friday Chief Seattle sent John Donne packing 60% to 40% to set up a matchup with Bertha of Kent.
Look for the Elate Eight edition of Monday Madness later today. Assuming Tim and Scott get to it, which we assume they will?
And in the meantime, go vote!
Martin de Porres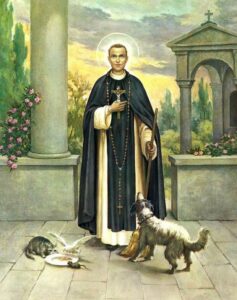 I am alone. I am forgotten. I am different. I am unwanted. I am hated. I am persecuted. I am afraid. I am marginal. I am misunderstood. I am lonely. I am sad. I am scared. I am shameful. I am ugly. I am hurt. I am isolated. I am hopeless. I am unloved.
These are the words of generation upon generation of individuals throughout history of all races, education, economic standing, religions, and cultures. These are the words of humanity that struggles. These are the words of humans who crave welcome, kindness, and love. They likely resonate with all readers, because at some point, all humans struggle. It resonates because it is an experience, we all share. It is also a hallmark of the human and Christian experience that we should most seek understanding in those that are unlike ourselves. God calls us repeatedly to love first because we all struggle. We all hurt. And in the moment of hurt, struggle and rejection, the most profound action we can take is to show compassion.
Martin de Porres understood these words and his sainthood is marked by compassion,  welcome and service to others as he understood the loneliness and isolation of the human condition. These are the people that Martin cared for: all people. He welcomed them, fed them. Cleaned for them, and in his service, threw open the gates to the love of God for which all healing flows. Martin's words are words of welcome, to love our neighbors first, and that compassion is never a wrong choice:
"Compassion is preferable to cleanliness,
With a bit of soap I can clean my bed,
but think of the flood of tears I would
require to clean from my soul
the stain that harshness against
the unfortunate would leave."
Martin's words remind us that our Grace is through God alone, and that we are called to extend the grace to others that God gives so freely to each of us: "What real merit have you? Remember that you ought to be nothing but a slave. Only through the mercy of God are you tolerated by others."
Martin's testimony echoes Paul's teachings in 2 Corinthians 12:9: "'My grace is enough for you, because power is made perfect in weakness.' So, I'll gladly spend my time bragging about my weaknesses so that Christ's power can rest on me." When we embrace our suffering and the suffering of others, when we lend grace to ourselves and others in these moments, it is then we are living out, even in the middle of life's greatest difficulties, is what Martin realized was the utmost spiritual salve of them all, love.
Leoba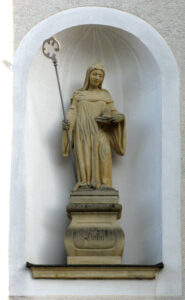 Leoba was one of the leading figures, regardless of gender, in the Christianization of what is now Germany. Born in the early 8th century, Leoba lived much of her early life in a monastery in Wimborne. While there, she met Boniface, who was a relative of her mother and began a correspondence with Boniface. In the one surviving letter, likely one of the early ones in their correspondence, she shares of her father's death, her mother's ill health, and asks prayers for both of them.
She states further: "I am the only daughter of my parents and, unworthy though I be, I wish that I might regard you as a brother; for there is no other man in my kinship in whom I have such confidence as in you…. May the bond of our true affection be knit ever more closely for all time."
She then signs off with a poem that she has written, saying she is learning the art of poetry under a woman named Eadburga, likely another abbess. The poem reads:
Farewell, and may you live long and happily, making intercession for me.
The omnipotent Ruler who alone created everything,
He who shines in splendour forever in His Father's kingdom,
The perpetual fire by which the glory of Christ reigns,
May preserve you forever in perennial right.
This poem, along with longer poems in the same era, suggest that the evangelism of women through poetry was much more common and normative in that era than first believed in the era – a contribution minimized in subsequent decades and centuries by the male leadership of the church. Women like Leoba were not only literate in Latin (the language in which Leoba writes), they were teaching each other in the art and craft of poetry and sharing their work to preach the Gospel. Women were using the poetic form of literary art to evangelize.
While sadly, precious little of Leoba's actual correspondence and poetry remain, accounts of her life, particularly as abbess of Tauberbischofsheim, are captured in the words of a biography written by Rudolf of Fulda, considered by many to be one of the most learned men of his age. He writes of no less than 7 miracles connected to Leoba, from the mystical vision of the purple thread emanating from her mouth into the world that accompanied to her birth to an account of a nun of the order who was wrongfully accused of infanticide by the local villagers. Leoba called the sisters to pray the psalms and offer laments for the child and the one who took the child's life. After a day of prayer and lament, mystical flames surrounded the actual killer, absolving the sister of any guilt and bringing peace in a situation that simmered with danger for the sisters.
When a much-maligned sister died, some of the other nuns took out their frustrations from her constant abuse by stomping on her grave, causing the dirt of her grave to sink many inches below ground level. Leoba called the sisters together and invited them as a group to explore Christ's commandment to love our enemies, even those who had died, and to offer forgiveness so they would not be burdened by resentment. The sisters prayed and fasted, and after three days, Leoba prostrated herself in front of the altar. The ground on the grave rose at the end of her prayers, and the sisters found a new balance in their lives together.
Much of Leoba's leadership is intertwined with Boniface, yet much of her life and saintly ministry occurred within the monastery she led and the sisters she gently guided to deepen their faith. Her examples were ones of witness, of love, and of prayer. May we all pray, live, and share the poetry of God's love as Leoba did so faithfully.
Martin de Porres By CAMILOFORE2 - Own work, CC BY-SA 4.0, https://commons.wikimedia.org/w/index.php?curid=115398449
Leoba By Andreas Schwarzkopf - Own work, CC BY-SA 3.0, https://commons.wikimedia.org/w/index.php?curid=55584029