In the penultimate matchup of the Saintly Sixteen, it's Emma of Hawaii vs. José Gregorio Hernández. The winner advances to the Elate Eight to take on James Holly.
Yesterday, in another hotly contested battle, Juliana of Liege took down Ceceilia, narrowly defeating her by less than a percentage point. What is it with these absurdly close battles of Lent Madness 2022?!
Emma of Hawai'i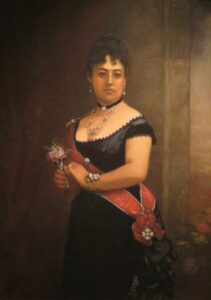 The arrival of Anglicanism to the Hawaiian Islands is wrapped in politics, family, grief, and faith.  Queen Emma was a devout mother and wife, friend of Queen Victoria of England, cultural representative of the people of Hawai'i (but also mixed race as her father was English), and Christian.  The influence of the English monarchy in England developed from the shared grief between the queens (Victoria with the loss of Prince Albert, and Emma with the loss of her son Prince Albert—named for the aforementioned prince), the desire to stop American colonization, and the conviction that the Christian faith should be brought to the people of Hawai'i.
Upon her husband's death, Emma declared her candidacy to rule her people in an effort to stave off American colonization by saying:
"Therefore, in view of the foregoing considerations and my duty to the people and to the memory of the late King, I do hereby announce and declare that I am a Candidate for the Throne of these Hawaiian Islands, and I request my beloved people throughout the group, to assemble peacefully and orderly in their districts, and to give formal expression to their views on this important subject, and to instruct their Representatives in the coming session of the Legislature. "God Protect Hawaii!"
Despite the overwhelming support of her people, Queen Emma was not allowed to reign. King David Kalakaua was named king with the support of American businessmen.  Although Emma was unable to lead as a monarch, she led as one of the people by raising funds to address the smallpox infection, build hospitals and places of learning, and establish a legacy to ensure the people of Hawai'i were cared for regardless of who was in power.  Her estate was left in trust to the Hawaiian people on her death.
Emma is still known in the islands as "Our beloved Queen."  And curiously, Emma and her husband are one of three couples the Episcopal Church recognizes as saints (the other being  Bertha and Ethelred of Kent, and the Parents of the Blessed Virgin Mary.)
The Priory of St. Andrew's wrote this collect about the works of Queen Emma (and her king):
"O Sovereign God, who raisedst up (King) Kamehameha (IV) and (Queen) Emma to be rulers in Hawaii, and didst inspire and enable them to be diligent in good works for the welfare of their people and the good of thy Church: Receive our thanks for their witness to the Gospel; and grant that we, with them, may attain to the crown of glory that fadeth not away; through Jesus Christ our Savior and Redeemer, who with thee and the Holy Spirit liveth and reigneth, one God, for ever and ever. Amen."
José Gregorio Hernández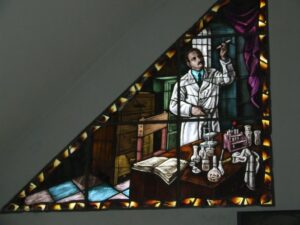 Dr. Jose Gregorio Hernandez died on June 29th, 1919, run over by one of the first cars to ever drive the streets of Caracas. There was instant commotion–official statements of grief from the government were insufficient, city services ceased in a so-called "pious strike", shops voluntarily closed their doors. Upwards of thirty thousand people filled the streets for his funeral procession. Authorities had constructed a float to bear his coffin through the streets but the crowd surged forward, in grief the multitude seemed to cry as one, "Dr. Hernández is ours!" The float abandoned, the coffin of el médico del pobre, "the doctor of the poor'' was carried to the church, shouldered by the same common people to whom he dedicated his life.
Jose's gifts had taken him from his rural hometown to medical school in Paris, and back again. Feeling a duty to teach, he became a popular professor and an important medical researcher. His innovations ran the gamut, from isolating the "bacillus pestis" in a 1909 plague outbreak to introducing the thermometer. In his book Elements of Philosophy, he attempted to reconcile science and religion, reflecting on topics like God's role in evolution and the inadequacy of medical diagnosis like hysteria to explain the ecstasy of saints like Teresa of Avila.
His true passion was patient care, and he refused more prestigious posts in order to spend his time in barrios and remote villages. He kept a bag of money outside his office for patients, they could use it to pay for their visit or privately take money for their needs. "Most of these people do not have resources; I am not going to deny them the consultation and I am not going to make them go through the pain of telling me that they have no money. God will help", he explained.
Posthumously, miraculous healings were attributed to Dr. Hernández and his tomb became a pilgrimage site. One unique practice is be treated by Dr. Hernández in your sleep. Patients make their environment as hospital-like as possible, putting a white sheet on the bed and laying out whatever medical supplies they can access, things like gauze or isopropyl alcohol. The "operating room" prepared, they pray before going to sleep and awaking healed. The Doctor always leaves some sign of his work behind—pieces of discarded surgical equipment, medical prescriptions, and even scars. These sacred beliefs have built up slowly around the miracles that began as soon as el santo médico died, observed by Christians, Spiritists, and those that fall somewhere in between. Altars to Dr. Hernández are also found in Venezuelan hospitals, where patients can leave notes of gratitude.
Dr. Hernández's legacy can feel contradictory, he is both a scientific icon and a faith healer, responsible for thousands of miracles in life and death—but what is biomedicine, if not a miracle?  The Doctor has been beatified by the Catholic Church, and embraced by indigenous syncretic traditions like Santeria and the cult of Maria Lionza. In this, he is the perfect saint, a mirror and a canvas–a real, historical life and a mystical, symbolic figure, in whom meaning can be both made and found. The malleability of his holiness also asks those of us in North America to open our hearts and minds to South America–the diversity of religious experience, the complex legacy of colonialism, and the power of the love of Jesus Christ to break into the world in unexpected, even unrecognizable ways.
For Jose Gregorio Hernández, perhaps there are not many quirks and quotes as such—as much as the essential quirkiness of sainthood itself.