We're back for more Saintly Sixteen action as Hilary of Poitiers faces Thomas of Villanova. As a reminder, this round is all about Quirks and Quotes. If you're seeking to refresh your memory on the basic biographical data for each saint, you can search for this in the post archives on the home page of the website. For saints who continue to advance, there is more and more information shared that builds throughout the season.
Yesterday, Madeleine Sophie Barat trounced Columbanus 84% to 16% to advance to the Elate Eight.
And later today we have a special treat for you: a Tuesday edition of Monday Madness! And, no, you didn't miss yesterday's episode. There wasn't one. Now go vote!
Hilary of Poitiers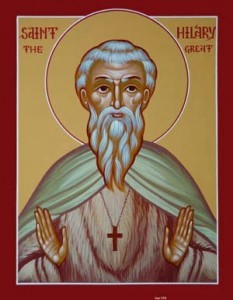 Hilary of Poitiers - "The Hammer of the Arians," "Athanasius of the West" – lived his life battling heresy and believing in the Trinity. A prolific writer and poet, Hilary had a lot to say! And, what he had to say illustrates his dedication to the Almighty and his groundedness in understanding the Trinity.
Hilary's impact on knowledge and society is still evident after all these centuries. Villages in England bear his name. His January 13 feast is known as the coldest day of the year because of record freezes during the Middle Ages on that date. It also kicks off "Hilary Term," an academic time at the Universities of Oxford and Dublin.
Shrines to Hilary are found in France, Canada, and Italy, where Sant'Ilario at Casale Monferrato was dedicated to him as early as 380 C.E.
Hilary is depicted in great artwork and icons with books, a quill pen, vestments, mitre, crozier, and a long white beard.
But let his powerful words speak for himself.
"The chief service I owe you, O God, is that every thought and word of mine should speak of you."
"The Son of God is nailed to the cross; but on the cross God conquers human death. Christ, the Son of God, dies; but all flesh is made alive in Christ."
"He conquered death, broke the gates of hell, won for Himself a people to be His co-heirs, lifted fleshed from corruption up to the glory of eternity."
"When we are overcome by some evil will, should we not tremble before the presence of the choirs of angels that surround us?"
"The perfection of learning is to know God in such a way that, though you realize he is knowable, yet you know him as indescribable."
"There is no space where God is not; space does not exist apart from Him. He is in heaven, in hell, beyond the seas; dwelling in all things and enveloping all. Thus He embraces, and is embraced by, the universe, confined to no part of it but pervading all."
"Heresy lies in the sense assigned, not in the word written; the guilt is that of the expositor, not of the text."
"For he is the best student who does not read his thoughts into the book, but lets it reveal its own; who draws from it its sense, and does not import his own into it, nor force upon its words a meaning which he had determined was the right one before he opened its pages."
"The utter folly of our time is lamentable, that men should think to assist God with human help and to protect the Church of Christ by worldly ambition."
-- Neva Rae Fox
Thomas of Villanova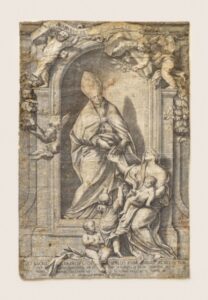 To Thomas, lavish generosity came naturally. His parents, who were not wealthy but very comfortable, regularly assisted those in their town who needed food. They regularly distributed portions of their wheat or corn, produce, and livestock to those who were hungry. Thomas, following the example of his parents, would frequently set aside part of his daily meals and gather the leftovers from others' meals to share with people who were hungry. The first words his parents taught him were the holy names of Jesus and Mary, and from a very young age Thomas would spend hours kneeling in prayer, asking God for ways to serve him.
Thomas graduated at a very young age with a degree in theology, and was quickly appointed professor. Even in his academic life, he engaged in the practice of Christian perfection - something he realized he could never attain. His day was given to study, prayer, and acts of charity. His students noted he had no time left for pastimes or entertainments, as other professors did.
At 26, his father built him a house, celebrating his successful scholarly career. Thomas donated it to be used as a hospital. Becoming uncomfortable with the ever-increasing celebrity his scholarship brought Thomas, he began exploring a way to remove himself from the world.
Thomas found that opportunity when he took vows as an Augustinian friar in 1518 and ordained a priest in 1520. Thomas became a renowned preacher, often falling into rapturous ecstasy during a sermon. Once, during a sermon, he stopped preaching and embraced the crucifix he'd been holding, imploring those in the congregation to look upon the great sacrifice of Christ's love, then falling into a euphoric stupor, unable to finish the sermon. Preaching to Charles V on Maundy Thursday, Thomas became so overwhelmed with the realization that Jesus would have washed his (Thomas') feet, he collapsed in the pulpit in a flood of tears.
Thomas was eventually, over his many objections, appointed bishop. When Thomas was installed in 1545, during the service, as Thomas was to be seated in the cathedra laden with silk tapestries and cushions, he instead removed them from the throne, fell on the stone floor in front of a cross, and wept. He then kissed the ground at the foot of the cross and stood to continue the liturgy. His first act as bishop was to visit the jails, and, finding them in deplorable condition, ordered them cleaned up.
Throughout his life, he remained committed to using any wealth and power he attained to improve the lives of those in need, often sacrificing comforts his fellow bishops took as part of their order. He encouraged other wealthy people to do the same. That more leaders in our church and world adhered to these particular quirks of extreme generosity in every aspect of their lives.