Hey, we've almost made it through the entire Saintly Sixteen! After Oscar/Ansgar takes on Thomas Aquinas (he of the one vote victory over Jerome), we'll be on to the Elate Eight.
On Friday, Origen edged his way past Juana Inés de la Cruz to make it to the next round.
And since it's Monday, you can start refreshing your browser until a new episode of Monday Madness magically appears. Which it will. eventually. Now go vote!
Oscar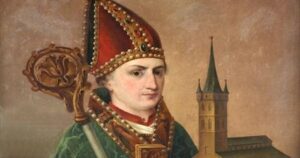 "I, St. Ansgar, Archbishop of Hamburg and Bremen, Enlightener of Denmark and Sweden call on the people to repent.  God's flaming sword of righteousness will smite Odin, Thor, Loki, and Freya.  The wrath of God will tear down your high places built to false God's.  The retribution of your maker will cause your people to quake in fear and bow down before the Lord our God and repent.  Repent, I tell you, people of Denmark, people of Sweden, people of Hamburg and Bremen.  Repent, before the wrath of God descends upon you and causes you to live in purgatory all your days.  Burning in hell forever.  Hear the words of your Bishop and heed my warning. Repent."
These are not the words of St. Ansgar AKA Oskar.  Purely fiction, but I bet I had you believing, just for a moment that a man might go into another nation, pointing fingers and calling for justification through repentance by use of force.  Perhaps you judged before knowing?  Perhaps your beliefs of how the old traditions of some people were overwhelmed by the uncomfortable relationship the Church has had with power and conquering armies in history.  Perhaps your assumptions colored your beliefs.
It's not uncommon.  Some of what we know about the saints are shrouded in myth and legend, where it is difficult to discern truth and clarity.  What we do know about many of the saints, especially those without historical documentation of their words, is that they made such an undeniable impression on the course of Church history that they are remembered.  While Ansgar's words are not recorded for perpetuity, he is documented as at captivating preacher, caring individual, whose actions cared for the sick, the needy, the poor.  He did not treat the Vikings as pagans unworthy of the love of God.
Ansgar did not come to the north men with a flaming sword of retribution.  He came preaching and speaking about Christ.  He told the story of the man who died on a cross for our sins.  And he took action to alleviate the burdens and atrocities of the Viking slave trade.  He came with love and compassion and caring for a people which ultimately turned their hearts to God. My favorite description of Ansgar is that the Church remembers the works of Ansgar as one who worked to make a crooked road straight.  Ansgar came to a harsh and hard people with a belief that soft over comes hard.  That love could make a difference.  And it did.
Thomas Aquinas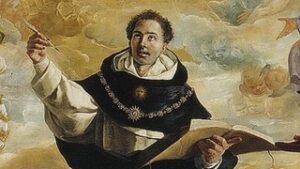 Thomas Aquinas, founder of the basics of Western philosophy, was a scholar, priest, and writer.  While he wrote only a few actual books, the impact of his contributions is so vast that it is hard to overstate how profoundly his work has shaped the way we in the Western church think about our faith, our world, and our entire existence.  What's striking (besides the whole "Thomas invented our civilization" part) is that he wrote as little as he did: Summa contra Gentilies, and Summa Theologica, which was never finished were his two major works, along with some commentaries and hymns, and liturgies.  A great portion of his time was spent teaching, and in particular teaching new monks the basics of their faith.  In fact, Summa Theologica is designed to be a primer to theology for newcomers.  Aquinas felt that the best vocation was to teach the beginners how to learn and think about God, and so he spent much of his time doing just that, instead of pursuing ever loftier flights of heady fancy.
His hymns, however, also have staying power, and we in the Episcopal church still sing certain texts, like Humbly I Adore Thee, and Now my Tongue the Mystery Telling.  Not content to put his ideas into theoretical texts alone, Thomas also wanted to put them into liturgical texts, and so he wrote hymns, and the whole Roman Catholic liturgy for the (then-new) Feast of Corpus Christi.
Thomas, of course, was a veritable fount of excellent quotes.  To wit: "Suppose a person entering a house were to feel heat on the porch, and going further, were to feel the heat increasing, the more they penetrated within. Doubtless, such a person would believe there was a fire in the house, even though they did not see the fire that must be causing all this heat. A similar thing will happen to anyone who considers this world in detail: one will observe that all things are arranged according to their degrees of beauty and excellence, and that the nearer they are to God, the more beautiful and better they are." 
And of course, it is widely known that Thomas did not finish his Summa Theologica because he had some sort of mystic experience towards the end of his life.  He told his scribe at the time, "All I have written seems as straw to me, compared with what has been revealed" and he never wrote anything else.  Accounts differ as to what exactly he witnessed: some say he levitated during his celebration of the Mass, others that he beheld the Beatific Vision, or that Jesus appeared and spoke to him at length.  What is clear is that the experience so awed Thomas, that he retreated into silence for the final year of his life.