Hey, it's the final battle of the week and the second matchup of the Saintly Sixteen! Today Florence Li Tim-Oi faces Enmegahbowh.
Yesterday, Joanna the Myrrhbearer soundly defeated Augustine 65% to 35% to become the first saintly soul to reach the Elate Eight.
Oh, and if you're looking to refresh your knowledge by re-reading the first round information? Go to the Brackets tab and scroll down. Right underneath the updated bracket, you'll find links to all the earlier matchups.
Have a great weekend full of Lenten life, and we'll see you bright and early Monday morning as Bertha of Kent faces Edmund.
Vote now!
Florence Li Tim-Oi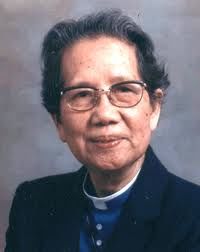 Florence Li Tim-Oi had five brothers and two sisters. Her family lacked the resources to continue her education past age 14, but she resumed her studies at age 21 and finished at age 27. That's determination!
Upon her baptism into the Anglican church, she took the name Florence because she was born in May, a month of flowers and blooms. Florence means I blossom, I flower, I flourish. Yeah, she did! She also chose it because of Florence Nightingale, which you probably remember from her bio. Both Florences felt a call from God - Nightingale to help through medical care and Li through spiritual care.
After hearing a priest issue a call in his sermon at the ordination of an English deaconess where a call for someone to step forward to be a Chinese deaconess, Li Tim-Oi knelt and prayed, "God, would you like to send me?" Call heard and received!
Li Tim-Oi served in the Portuguese colony of Macau as a deacon. One of the war refugees records this about Deacon Li: "Life in Macau at this time was not easy. We were very short of food and sometimes were unable to find any. Miss Li visited us and managed to bring us a little rice and dried beans and we could make soup. She also visited others who needed help." Inspired by Deacon Li Tim-Oi, two of the brothers became priests in South Africa after the war. Not one, but two!
She visited a middle school in Macau, resulting in seventy-two girls asking to prepare for baptism. Her bishop reportedly said: "No other man pastor has yet had that experience in the Anglican Church in South China, but she is not primarily an evangelist; she is a quiet, competent, and sympathetic pastor." It sounds like evangelism to me!
Reverend Li could not practice her priesthood for thirty years for political reasons. Someone asked her how she sustained her faith during that time. She said, "I just went up the mountain and nobody knew." Nobody but God!
Even though Reverend Li suffered multiple indignities and hardships, she kept her focus on those she served. Ted Scott, the Primate of Canada, said: "She was never bitter, never harbored any resentment against those who caused her suffering. She had the resources to forgive all that had been done to her." Reverend Li said this about herself: "I am just an earthen vessel with God's treasure inside me." She also said: "I know I'm not a diamond. Beautiful diamonds experience many cuttings and polishing." Raw diamonds are beautiful!
After Reverend Li's death, her sister Rita provided initial funding for  the Li Tim-OI Foundation, which "exists to  empower Christian women as agents of change within their own cultures." More than 250 women are ordained priests, and many others live out their calls as social workers, teachers, legal advisors, diocesan secretaries, and many other service careers that people need. Amen!
Enmegahbowh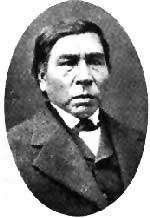 When Methodists abandoned missions in Minnesota in 1840, Enmegahbowh had what the Rev. Jackie Bernacchi, who currently pastors the churches he later helped found on the White Earth Reservation, describes as his "Jonah" moment.
Enmegahbowh, who was Ottawa, had been working with the Methodists as a missionary and interpreter and said they had "failed to meet the wants of the Indians and failed to secure a single convert."
Discouraged and missing his parents back in Ontario, he boarded a ship home with his wife Biwabikogizigokwe (also known as Charlotte), who was Ojibwe, and perhaps two children.
The ship encountered high winds, and the captain turned back.
"I believe, as I believe in God, that we are the cause of almost perishing in the deep waters. I believe that although poor, God wanted you to do something for our dying people," his wife told him, according to Verne Pickering and Stephen Schaitsberger's book, "Stands Before His People: Enmegahbowh and the Ojibwe."
Enmegahbowh agreed, but couldn't imagine he could have success where "white missionaries with means, education, experience" had failed.
"To be recognized by my Heavenly Father and to be impeded on my journey to the rising sun, I am too small! Too poor! It is impossible!" he wrote.
The couple set out again for Canada. This time, their ship encountered a storm, and, Bernacchi said, Enmegahbowh had a "mystical sort of experience with Jonah, who kind of accusingly said, 'Are you going to do what I did?'"
The wayward biblical prophet Jonah appeared to Enmegahbowh, telling him, "Ah, my friend Enmegahbowh, I know you."
After telling Enmegahbowh he was doing the exact thing he had by running from the people God told him to serve – and cracking, "There is no whale in this lake, no fish big enough for your huge body" – Jonah tells him to repent.
"God is great. He knows of your every step. He governs the elements of the world and He has sent this wind to tell you that you cannot escape his notice. … May the Great Spirit pardon you and bring you to dry land," Jonah said.
Enmegahbowh took the vision to heart and, without being cast overboard and swallowed by a fish like Jonah, decided to return to Minnesota and to the Ojibwe people.
He went on to become the first Indigenous deacon in the Episcopal Church and, later, its first Indigenous priest, remaining with the people when they were forcibly relocated to the White Earth Reservation and translating hymns that continue to play an important role in the culture and preservation of the Ojibwe language.
The ship went on to sink less than a month later.