Welcome to the Faithful Four! From an initial field of 32 saints, we are down to a holy four: Joanna the Myrrhbearer, Martin de Porres, Jonathan Daniels, and Chief Seattle.
Today it's Joanna vs. Martin. To get to this point, Joan defeated Monica, Augustine, and Blandina, while Martin made it past Maximus the Confessor, Leoba, and JS Bach.
So, what happens in this round? Well, throughout Lent Madness, our saintly heroes have battled via basic bios, quirks and quotes, and even kitsch. In this round, we let our remaining Celebrity Bloggers loose as they answer the question "Why should Saint XX win the Golden Halo?" In other words, they've been charged with letting us know why their particular saint is so awesome. We have also invited them to share their two favorite images of their saints.
The Faithful Four continues today and tomorrow and then, on Spy Wednesday, 24 hours of voting begins to determine the winner of the 2023 Golden Halo.
The end is near! Vote now!
Joanna the Myrrhbearer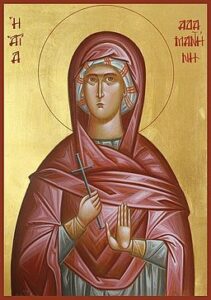 Sometimes we reporters think our articles will change the world. More often, I find, they change me.
Take, for instance, the article I wrote in 2019, interviewing Jewish New Testament scholar Amy-Jill Levine about her book "Entering the Passion of Jesus: A Beginner's Guide to Holy Week," which digs into the stories of the days leading up to Jesus' crucifixion and resurrection. One story she said she is particularly drawn to is the anointing of Jesus: During dinner, a woman anoints Jesus with expensive perfume, and he says her story will be remembered wherever the Gospel is preached. "I think that's the new feast that needs to be invented: We have a special dinner at the beginning of Holy Week and we tell stories about all the women who made this mission possible," Levine told me.
The idea stuck with me, and every year since, several friends and I have gathered during Holy Week for what we call the Feast of the Women.
In true Midwestern fashion, the Feast of the Women is a potluck, and each of us chooses a female disciple alongside a dish to share. We read the story of Jesus' anointing and then share Scripture, poems, music, artwork, or whatever else we can find about the women who followed Jesus and supported his ministry.
Year after year, we have returned to Joanna's story.
We often think we don't know much about Jesus' female followers, but it occurred to me at last year's feast, we know perhaps as much about some of The Women as we do some of The Twelve. We learn as much about Joanna in the Gospels as we do, say, Simon the Zealot.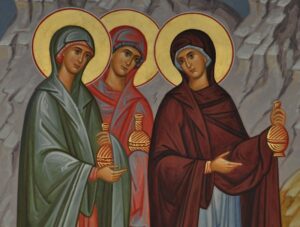 And scholars have gleaned a lot about Joanna from the two passages in which she is named (make that three if you believe she and Junia are the same person): She likely was born into a prominent Jewish family in Galilee and married into Herod's court. After a healing encounter with Jesus, she left her privilege behind to follow Jesus from one town and village to another, using it instead to benefit his ministry. She was one of three myrrhbearing women who followed Jesus to the tomb, and one of the first to proclaim the Good News he had risen. She may have continued sharing that message as a leader in the early church and as one of Luke's sources for his Gospel and the Book of Acts.
Joanna has my vote today because her story has challenged me and changed how I read the stories of women in the Gospels. Could I be so courageous in laying aside my own privilege and following Jesus to the margins?
Martin de Porres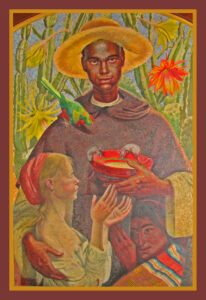 The man spat as Martin passed him in the street. The anger, disdain, and rejection were etched in the creases around his eyes, mouth, and forehead. Martin wasn't sure what set the man off as he passed, but it was clear that Martin needed to steer a wide berth. As Martin crossed the street to the other side, he whispered a prayer to God that God would soften the man's heart. That he would be healed of his affliction of anger and distrust, and he prayed silently that others would not feel the sting of rejection Martin felt his whole life.
As he continued on his way, Martin sighed. The world was a hard place. As he saw the beggars in the streets, the children without homes, the stray animals, the widows, the immigrants, the miserable shop keepers, and the unbending priests, he wondered at God's plans. He felt sad, and alone, seeking to do God's work, but felt rejected at the monastery as well. He wondered if he would ever be able to take vows and serve God as a full member of the order.
Shaking off his sadness, he thought of the trials of Job and God's promises to the afflicted, "Yet he rescues the orphan[d] from the sword of their mouth, the needy from the grip of the strong; so, the poor have hope and violence shuts its mouth." Martin knew God was faithful to God's promises.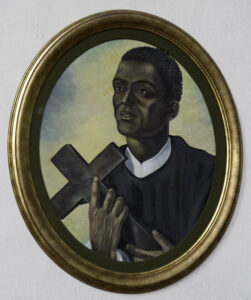 As Martin arrived at the Dominican Convent of the Rosary to serve the brothers, he smiled. He was heartened by God's promises. His joy came in service to others. As God continued to call his name, his smile grew further. It was in his care of the people who came to the Convent that he felt closest to God. Those that were sick, he could heal. Those that were lonely, he could comfort. Those that were forsaken, he could understand. Those that were confused and drawn by material things, he could teach. Those that were abandoned, he could offer shelter. Martin knew that simply by reaching to others in their moment of need, he could most live like Christ.
Martin arrived in the chapel for prayer. As he prayed, he asked God to show him all the ways he could act justly, love mercy, and walk humbly. He realized with these three things, he had all he needed. The scorn of others, easily washed away with the love he felt from God. He only wished to share that love with others.
Photos:
​​Αλκιβιάδης ΠαππάςVasiliou at Greek Wikipedia, CC BY-SA 3.0 GR, via Wikimedia Commons
Myrrhbearers by Fr. Ted Bobosh, CC BY-SA 2.0, via Flickr
St Martin de Porres and St Martin de Porres by Lawrence Lew, OP, via Flickr