Saintly Sixteen hump day finds us with Cecilia doing battle with Juliana of Liege. Who will advance? Well, that's up to you.
Yesterday, Thomas of Villanova swept into the Elate Eight with a victory over Hilary of Poitiers 65% to 35%.
And if you missed yesterday's special Tuesday edition of Monday Madness, color us shocked. And then watch it here.
Cecilia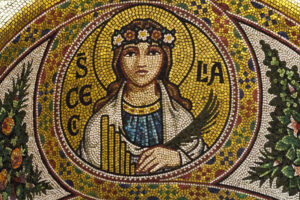 Much of what we know about St. Cecilia is legend.
It even comes to us from a book with "legend" in the title: "The Golden Legend," a collection of stories of the saints read widely in late medieval Europe that paved the way for Lent Madness.
According to legend, Cecilia's parents arranged her marriage to a pagan man named Valerian, though she wished to remain celibate. When she heard the music begin at her wedding, she "sang in her heart, only to God, saying: O Lord, I beseech thee that mine heart and body may be undefouled so that I be not confounded." Long story short: There was a whole thing with an angel, her husband converted, they never consummated their marriage and they ended up martyred for their Christian faith.
That legend has inspired countless artists, poets and musicians over the years to celebrate Cecilia, the patron saint of music, particularly with pieces of music written and performed for her feast day on Nov. 22.
For instance, Cecilia inspired English poet John Dryden to write "A Song for St. Cecilia's Day," which inspired Irish poet Nicholas Brady to write a poem of his own, which inspired English composer Henry Purcell to write "Hail! Bright Cecilia" in 1692. The 13 movements of Purcell's classical work invoke a number of musical instruments and ask the saint to fill hearers with the love of music, which brings infinite joy and happiness.
It begins:
"Hail! Bright Cecilia, Hail! fill ev'ry Heart
With Love of thee and thy Celestial Art."
Cecilia inspired George Frideric Handel's "A Song for St. Cecilia's Day," which also drew from Dryden's poem. The cantata, first performed in 1739, describes music bringing the universe into being. It then delves into Greek mythology, noting that the musician, poet and prophet Orpheus could charm animals and make trees dance with his lyre.
It continues:
"But bright Cecilia raised the wonder higher:
When to her Organ vocal breath was given
An Angel heard, and straight appeared –
Mistaking Earth for Heaven."
Cecilia inspired yet another pair of composers and poets: English composer Benjamin Britten and British-American poet W.H. Auden collaborated on the choral piece "Hymn to St. Cecilia," first performed in 1942. Britten had been born on St. Cecilia's Day and wanted for years to write an ode or song for the occasion.
Britten's work includes the refrain:
"Blessed Cecilia, appear in visions
To all musicians, appear and inspire."
Finally, Cecilia, standing in for an inconsistent muse, famously frustrated American folk-pop musician Paul Simon.
He wrote, in Simon & Garfunkel's 1970 hit "Cecilia":
"Cecilia, you're breaking my heart.
You're shaking my confidence daily.
Oh, Cecilia, I'm down on my knees.
I'm begging you please to come home.
Come on home."
Juliana of Liege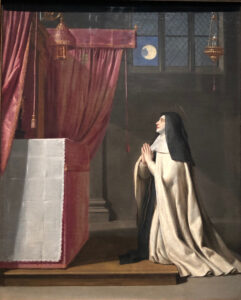 In this round of quotes and quirks, Juliana of Liège is perhaps the least quirky of all the saints in Lent Madness unless you consider her profound devotion to the Eucharist as the real presence of Jesus in the world. Then again, maybe all mystics are quirky, in that God draws close to them and speaks or reveals divine truths the rest of miss.
In medieval Belgium, she lived a holy life of scholarship, prayer, and service as a Norbertine abbess. She advocated for the recognition of the Feast of Corpus Cristi because of her appreciation of the mystery of Jesus becoming present to the church in the Eucharist–a ubiquitous yet profound miracle. And then, she composed the music for the first Latin office celebrating the feast, known by the first words of the opening antiphon, Animarum cibus.
She suffered tragic loss after loss, first being orphaned, then her twin sister dying. At the age of thirteen, she began working in the hospital for lepers attached to the canonry where she lived. Her mystical visions began soon, summarized in this teaching about the feast day:
"The feast day of Corpus Christi [The Body of Christ] was requested by Our Lord Himself. It was not a feast day that the Church in its wisdom decided to include in the liturgical calendar. It was a feast day, rather, that Jesus requested through extraordinary means by appearing to his servant Saint Juliana, and showing her a moon that He said was symbolic of the liturgical calendar. And the moon had a dark spot in which He said was symbolic of the feast day that was needed, that He wanted, that He requested, the feast day of Corpus Christi. And Saint Juliana said, "But Jesus, we have a feast day, Holy Thursday."
And Our Lord explained to her that…he wanted one special feast day set aside in honor of His Real Presence in the Most Blessed Sacrament. [To remind people that] the Eucharist is the Body, Blood, Soul and Divinity of Christ. That this is not a symbol of Jesus, but the reality of Jesus Himself. The same Jesus born in Bethlehem two thousand years ago, the same Jesus who died on the cross for our sins, and the same Jesus that rose again on Easter Sunday is really truly, bodily, personally present in the Most Blessed Sacrament."
After this vision, Juliana networked with all her clerical acquaintances to advocate for the institution of this feast day. Her ministry as a prioress was complicated by the religious and political tensions of the time, and she died in 1258, six years before the feast she fought for was indeed instituted by Pope Urban IV in 1264, but her love for the blessed sacrament lives in in the music she wrote for its veneration, which you can hear here.