The Elate Eighty continues as Jonathan Daniels face Florence Li Tim-Oi. The winner will join Joanna the Myrrhbearer in the Faithful Four following her overwhelming victory over Blandina 78% to 22%.
To get to the Elate Eight, Jonathan defeated Rutilio Grande and Josephine Bakhita, while Florence took down Nicolaus von Zinzendorf and Enmegahbowh.
Vote now!
Florence Li Tim-Oi
When Florence last made it to the Saintly Sixteen in 2013, there was no kitsch to speak of. Thankfully, that's changed, and there's some solid Florence Li Tim-Oi merch out there. Kitsch can be funny and cute, and it can be inspiring and informative. I'll let you decide which direction this kitsch goes.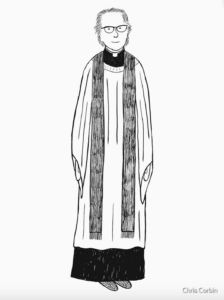 Chris Corbin is one of the folks who solved our "I need a Rev. Li poster" needs with his drawing of Rev. Li. Vested, smiling, and ready to adorn your gear - thanks, Chris, for creating this opportunity to put Florence Li Tim-Oi on front street! Poster, postcard, t-shirt - Rev. Li will go where you take her. Which, of course, could be staying on the wall in your home. That's fine, there's lots of ministering needed there, I'm sure.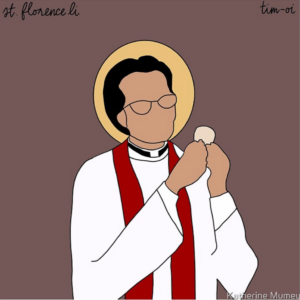 Katherine Mumey was like, hold on: I create minimalist saint icons. I've got a visual of Rev. Li for the people. She created this stylized image of Rev. Li, which you can get as a sticker, phone case, tote bag (my favorite - IYKYK), and pet bowls. Your pets already know about Florence; she's on the bowl to remind YOU about deep faithfulness. Thanks, Katherine, for the opportunity to evangelize!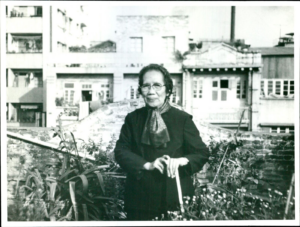 On eBay, you'll find this 1984 photo from a newspaper archive on the 40th anniversary of Florence Li Tim-Oi's ordination. The caption says that the celebrant was Bishop Gilbert Baker, Bishop of Hong Kong, and the preacher was the Rev. Joyce Bennett, a friend from Hong Kong who happened to be the first English woman ordained to the priesthood in 1971.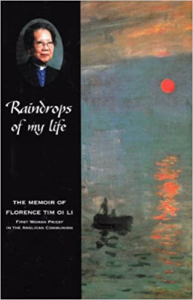 You can read Raindrops of My Life: The Memoir of Florence Li Tim Oi, First Woman Priest in the Anglican Communion by Florence Li Tim-Oi. Published in 1996, copies of the book are expensive and rare. If you can read Chinese, you can read the original version published in 1993. Or you can borrow it from libraries that own it using WorldCat.
You can get a copy of Much Beloved Daughter: The story of Florence Li by Ted Harrison. Getting your hands on this book is much easier and affordable. Perhaps someone needs to write another book about Rev. Li! I'm sure this one is great, it's got some pretty good reviews. And it's the only published book about her.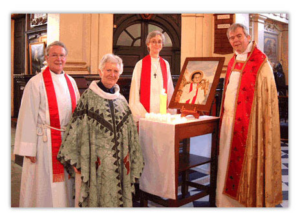 Finally, this piece of kitsch is a photo of an icon of Rev. Li at its dedication service in 2004. The details in the caption show great intention to bring relics from her ordination to this celebration. It reads: From right to left: the Revd Nicholas Holtam, then Vicar of St Martin-in-the-Fields, now Bishop of Salisbury, who dedicated the icon, wearing the cope made for Bishop R. O. Hall who ordained Li Tim-Oi in 1944; the Rev. Dr. Ellen Francis OSH who wrote the icon; Canon Ruth Wintle, then chair of Li Tim-Oi Foundation, who presided at the eucharist, wearing a chasuble from Zimbabwe; Canon Christopher Hall, secretary and founder of the Foundation and son of Bishop R. O. Hall.
Jonathan Myrick Daniels
So, "kitsch"—not a word that springs easily to mind when considering the legacy of a murdered 26-year-old civil rights worker. I don't think we need to hesitate, though. Jon was a serious young man, but that doesn't mean he took himself too seriously.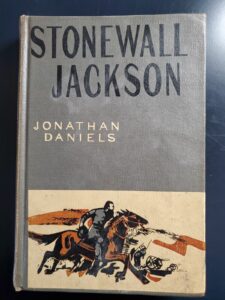 Although Jonathan Myrick Daniels is a newer and lesser-known addition to our saintly pantheon, there are more than a few ways to remember Jon, and walk in his footsteps.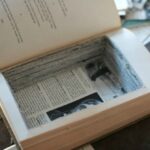 But your search for JMD merch might be waylaid briefly by material related to Jonathan W. Daniels, a prolific author and White House Press Secretary for all of 45 days. Should you acquire one of his books on Confederate history, do what Jon M. Daniels did – hollow it out, and use it for storage.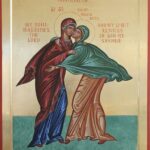 Two calls brought Jonathan to Selma, Alabama. The first were the words of Martin Luther King, Jr., in the aftermath of Bloody Sunday. The second call came during evening prayer, in the words of the Magnificat. Why not get yourself an icon so you can find yourself, like Jon did, "peculiarly alert, suddenly straining toward the decisive, luminous, spirit-filled Moment…I knew then that I must go to Selma."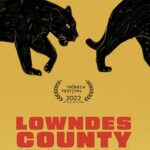 Jonathan and his classmate Judy Upham felt called to work with in Lowndes County, Alabama. There they joined SNCC workers in voter registration efforts; the county population was over 80% black yet there was not a single black person on the voter rolls. You can watch the documentary Bloody Lowndes, to learn more about the struggle for freedom and safety there. Here's the trailer.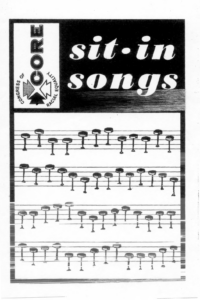 Despite the terror of Lowndes County, Jon and his friends sang songs of freedom, love, and the power of God's justice. When he was arrested, Jonathan kept on singing in jail. Check out the 16th chapter of Acts and then scoop up a copy of the CORE sit-in songbook, published by the Congress of Racial Equality in Summer
1962.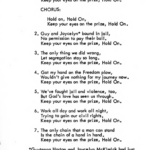 When Jon was arrested for the last time, in Ft. Deposit, Alabama, bail for each participant of the sit-in was set at $100. Jonathan paid his bail but chose to stay locked up with his companions, in solidarity and out of concern for their safety. Perhaps you'd like to contribute to a bail fund in Jonathan's honor, or spend some time learning about this complex issue and its relationship to racism and classism in our criminal justice system today.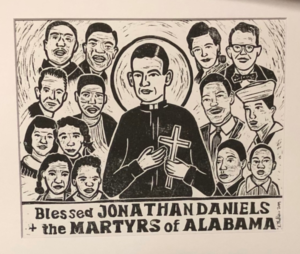 Jonathan ultimately gave up his life to save another person, throwing a young Ruby Sales out of the way of a shotgun blast. This icon commemorates Jonathan and so many others who were murdered for the cause of legal equality and human dignity for black people in the United States. As we approach Palm Sunday, consider Jonathan's words from a Texas Observer article, only published posthumously: "Death at the heart of life, and life in the midst of death. The tree of life is indeed a Cross."