Welcome to the Saintly Sixteen! With your help, we have successfully whittled our field from 32 saints to 16. For this round, rather than the basic biographical information, we enter the realm of Quirks and Quotes. Our brilliant Celebrity Bloggers will provide unusual information or legends surrounding their saints along with quotes either by or about their saints.
Yesterday, in the closest battle of Lent Madness 2022 to date, Thomas Aquinas narrowly defeated Jerome by the absolute thinnest of margins. See the update added at the conclusion of yesterday's post for a note on some voting irregularities. The SEC regrets confusion that was caused by several cheaters -- with a few more people cheating on behalf of Jerome than on behalf of Thomas.
If you're a competing type and, well, maybe your original bracket blew up, you can start anew with the Saintly Sixteen! This new feature allows you to pit your predictions against others in the Lent Madness voting public. Give it a try here!
But enough jibber jabber. It's time to cast your first vote of the Saintly Sixteen, as Stephen squares off against Teresa of Avila. Go vote!
Stephen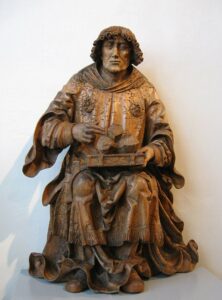 You can find the whole of Stephen's "authorized biography" in Chapters 6 and 7 of the Acts of the Apostles. It is a fairly sparse account.
We read how Stephen preaches the longest of the sermons recorded in that book – a sermon which ends with the accusation of his hearers: "You stiff-necked people, uncircumcised in heart and ears, you are forever opposing the Holy Spirit." Stephen's honesty is commendable, as is the realization that it directly leads to his martyrdom.
But like many other leading figures of the early church, Stephen's story is continued in legends and traditions handed down through the generations. And many of these traditional stories concern the holiness of Stephen's earthly remains – a visible sign of the holiness that Stephen showed in life and the grace that dwelt in him.
According to the Golden Legend, none other than the well-known Pharisees Gamaliel and Nicodemus uncovered Stephen's remains and gave them a proper burial. But the remains of Stephen did not remain in Jerusalem – in death the first deacon was very well travelled!
Augustine of Hippo devotes an entire chapter of his Confessions to the miracles attributed to Stephen when his relics were in North Africa. These included the healing of wounds, blind gaining sight, and numerous accounts of raising the dead.
The remains of Stephen eventually wound up at Basilica of Saint Lawrence outside the Walls – the resting place of Saint Lawrence, one of the first seven deacons of the church in Rome. Apparently, Lawrence was excited to welcome the first martyr of the church and the patron saint of deacons. When Stephen's remains were brought there, the remains of Lawrence "as if enjoying his coming and smiling" moved over on their own accord to make room for Stephen.
Very early on, the church made the remembrance of Stephan a part of the Christmas celebrations. The Golden Legend proclaims that "Yesterday Christ was born in earth, that this day Stephen should be born in heaven." The Feast of St Stephen falls on December 26 in the West (December 27 in the East), a reminder of the connection between the Nativity and the call for us to be prepared to lay down our very lives.
The Feast of Saint Stephen is often an occasion to remember his work  as a deacon – caring for the poor, hungry, and all people in need. It was just such a remembrance that drove a particular 10th century Bohemian royal to head out into the deep, crisp, and even snow to provide for a local peasants. The carol "Good King Wenceslaus" by John Mason Neale recalls for us the work of Stephen: "Ye who now will bless the poor, will yourselves find blessing."
Preaching on St. Stephen's Day, Kaj Munk draws out the Christmas connection of Stephen's martyrdom: "True Christmas joy, no matter how much or how little of it you comprehend, means that you go where He wants you to go."
-- David Hanson
Teresa of Avila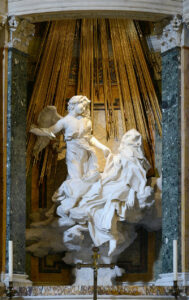 Look around and you'll see the marks of Teresa of Avila all around - in art, popular culture, movies, and common idioms.
As a child, she was known to pray and repeat this quick familiar prayer: "For ever, for ever, for ever, for ever, they shall see God."
In art, she is the subject of well-known and recognizable portraits by Pieter Paul Rubens and François Gérard. Bernini's imposing sculpture Ecstasy of Saint Teresa is located in Rome, depicting her mystical visions.
In music, she is found in a wide swath of styles: from classical (Marc-Antoine Charpentier's compositions for her feast for two voices and two flutes); to current ("Theresa's Sound-World" by Sonic Youth on the 1992 album Dirty, and Saint Teresa  on Joan Osborne's Relish album, nominated for a Grammy Award in 1996); to opera (Four Saints in Three Acts by composer Virgil Thomson with libretto penned by Gertrude Stein).
Worldwide literary greats highlight her: Simone de Beauvoir, Thomas Hardy (Tess of the D'Urbervilles), George Eliot, and Kathryn Harrison's popular novel Poison.
Numerous films and television shows in various languages portray the life or interpretation of Teresa. In movies, who can forget the blockbuster Angels and Demons where her sculpture is an important link to the tale.Nonetheless it's her words that are notable and known (how many do you know?):
"Be gentle to all and stern with yourself."
"There are more tears shed over answered prayers than over unanswered prayers."
"To have courage for whatever comes in life - everything lies in that."
"I know the power obedience has of making things easy which seem impossible."
"We can only learn to know ourselves and do what we can - namely, surrender our will and fulfill God's will in us."
"I do not fear Satan half so much as I fear those who fear him."
"Accustom yourself continually to make many acts of love, for they enkindle and melt the soul."
"Our body has this defect that, the more it is provided care and comforts, the more needs, and desires it finds."
"To reach something good it is very useful to have gone astray, and thus acquire experience."
"For prayer is nothing else than being on terms of friendship with God."
She wrote much poetry, including this popular piece: "God alone is enough."
Let nothing upset you,
let nothing startle you.
All things pass;
God does not change.
Patience wins
all it seeks.
Whoever has God
lacks nothing:
God alone is enough
The final words of St. Teresa, muttered after a prolonged illness, were telling of her entire life: "O my Lord! Now is the time that we may see each other."
-- Neva Rae Fox