Welcome to the Elate Eight! From 32 saints, we've whittled the field down to an octet of saintly souls. Today, Joanna the Myrrhbearer takes on Blandina, and from here we'll see Jonathan Daniels vs. Florence Li Tim-Oi, Bertha of Kent vs. Chief Seattle, and Martin de Porres vs. Johann Sebastian Bach.
The Elate Eight is also known as the Round of Saintly Kitsch. After basic biographies, quirks and quotes, what else could there be? Now, there are always some folks who take offense at this approach — we call them Kitsch Kranks. Please remember that this round is not meant to belittle or demean our saintly heroes but to have some fun and gaze in wide wonder at the breadth of devotional practice. So kindly relax and enjoy the spirit of the Madness as we push ever onward toward our goal.
To get to this point, Joanna defeated Monica and Augustine of Hippo, while Blandina bested Simeon Bachus and Brendan of Clonfert.
Vote now! (after watching Monday Madness)
Joanna the Myrrhbearer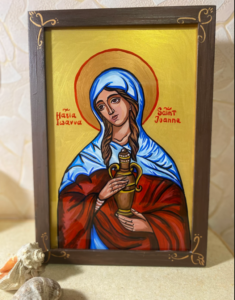 Last time I was tasked with finding Joanna the Myrrhbearer kitsch, I leaned into the myrrh, the thing with which Joanna is most identified. That was pretty easy: Myrrh-scented candles and bath bombs proliferate on the internet.
This year, I'm embracing some deep cuts.
First up, the obvious: A less kitschy, more lovely handwritten icon of Joanna, the better to contemplate her story.
The Gospel of Luke says Joanna, a member of Herod's court, followed Jesus to the margins and provided for Jesus and his disciples from her own means. This T shirt echoes Joanna's story with the message that Jesus empowered, respected and was funded by women, among other things.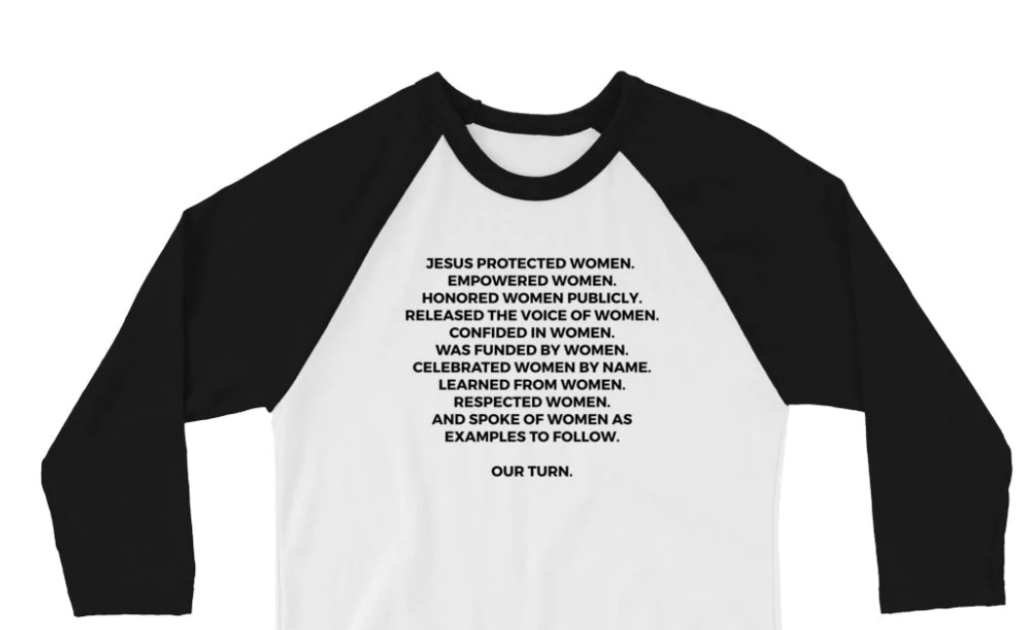 Luke also says Joanna was one of the women who followed Jesus to the tomb, bearing myrrh and other spices they had prepared to anoint his body for burial.
Hence the name.
She was not, as one friend thought when I mentioned I was writing about Joanna the Myrrhbearer, a "merbear" — that is, a mythical combination of fish and bear. Merbears are, however, a thing you can purchase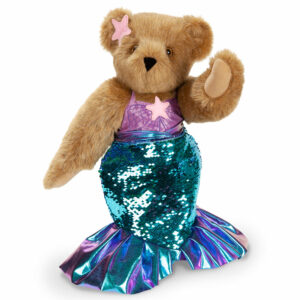 to lift your spirits at this point in the story, like this sparkly, snuggly mermaid bear made by the Vermont Teddy Bear Company, a sentence I never thought I would type during Lent Madness.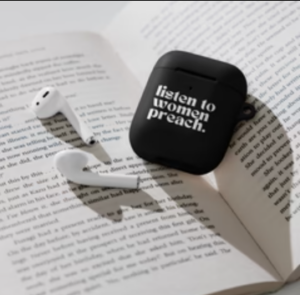 Those who know the story know the women found the tomb empty that first Easter and were told by angels, "He is not here; he has risen!" The women returned to the apostles and shared the good news. Some consider them the first to preach the Gospel. But, Luke says, the apostles "did not believe the women, because their words seemed to them like nonsense." If only they had had this AirPods case to encourage them, "Listen to women preach."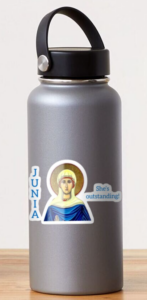 Some scholars believe Joanna may have been one of Luke's sources for his Gospel and a leader in the early church, perhaps even the same person as Junia, who is described in the Book of Romans as "outstanding among the apostles." So I have to sneak in a little Junia kitsch, just in case — like this vinyl sticker of Junia with the words, "She's outstanding!"
Blame that other Joanna — designer Joanna Gaines of "Fixer Upper" fame — if you will, but I've been making an effort to decorate my home for Lent and Easter this year, and one of my favorite finds is this wooden Easter "nativity" scene depicting Jesus, an angel and three women at the tomb. I'm going to go ahead and claim one of these little figurines as our saint and also maybe dust off some of Joanna Gaines' brunch recipes for Easter morning. There are many ways to provide for others like Joanna.
Blandina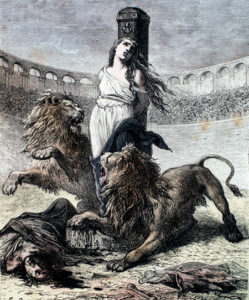 Blandina, a 15-year-old slave, was known for one phrase: "I am a Christian, and nothing bad is done among us." Her story, her words, and the vivid images of her prolonged torture and martyrdom in 177 in modern day Lyon, France, survive and prove the lasting effects of those words. 
She is most often depicted surrounded by the vicious animals that tortured her. Illustrations, prayer cards, books, bracelets, stained glass windows, mugs all herald her tale.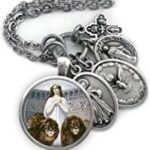 But perhaps the most awe-inspiring tribute is a song by Manuel Fúria:
Irreducible to fragile Blandina,
I repeated these words
I raised these words
I'm a Christian, nothing bad is done between us

Blandina was taken to the arena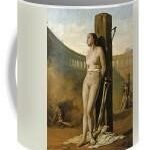 All open, raw to arena
Blandina hanging on the wood
She prayed hanging on the tree
The lions that cast him
They didn't even touch you
I'm a Christian, nothing bad is done between us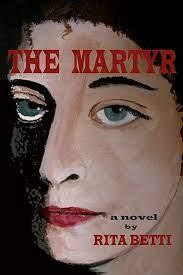 Blandina was taken again
Thrown in the arena again
After the beasts in the arena again
After the flames in the arena again

They threw her to a bull
Thrown up by the beast
Was harvested, sacrificed
went to the other side
I'm a Christian, nothing bad is done between us.